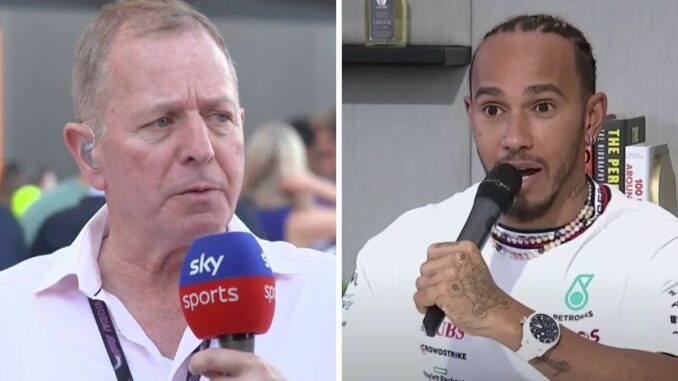 Martin Brundle has backed up Lewis Hamilton's opinion that F1 must ensure the sport doesn't become 'too soft' off the back of conversations regarding the conditions in the cockpits at the Qatar Grand Prix.
The sweltering temperatures at the Lusail International Circuit two weeks ago left multiple drivers feeling under the weather with Logan Sargeant forced to retire from the race with heatstroke and Lance Stroll and Alex Albon both needing assistance after exiting their cockpits.
These challenging conditions led to a widespread debate within the paddock on what constitutes temperatures too dangerous to race in with the likes of George Russell and Lando Norris suggesting that the heat in Qatar was on the border of what was manageable.
However, Hamilton, who crashed out of the race on the opening lap after a tangle with his team-mate, had a difference of opinion and told Sky Sports F1: "This is an extreme sport and we are paid very highly for what we do.
Click here to join our WhatsApp community to be the first to receive breaking and exclusive F1 news.
Don't miss… Lewis Hamilton launches fresh attack on FIA as Perez breaks silence on retiring[LATEST]
"And from my perspective, when I've not been feeling great at the end of the race, I've just got to train harder. And that's how it's been for me. I don't personally want them to shorten the races and make it easier for us. I want it to be extreme. 
"I want to feel the difference, I want to feel pain in my body. I want to be able to, hopefully with that extra bit of training that you put… helps you get that extra lap and win that race. That's what this is about."
This view was supported by Brundle during the Sky Sports F1 broadcast for the United States Grand Prix at the Circuit of the Americas with the legendary broadcaster admitting: "I'm with Lewis on this."
More F1…
Lewis Hamilton adds to Max Verstappen fury in United States GP qualifying[US GP]
Max Verstappen fumes with Red Bull over Perez incident at United States GP[VERSTAPPEN]
Red Bull dish out 'evolution' warning to F1 rivals as weary fans told to 'brace'[RED BULL]
Advert-free experience without interruptions.
Rocket-fast speedy loading pages.
Exclusive & Unlimited access to all our content.
He went on to add: "Hundreds of millions of people tune in. Hundreds of thousands spend hard-earned money to turn up to see something incredible, something you couldn't or wouldn't want to do yourself.
"After the race, the drivers looked like total heroes. I could see they were struggling. We edit out most of the danger. Many would say that's a good thing. We can't edit out the challenges. We have to keep them.
"You're not going to pass out in the car. You're going to pull into the pits, as Logan Sargeant did. I've said my piece on that. Interesting what others think. I do feel quite strongly about that."
Source: Read Full Article