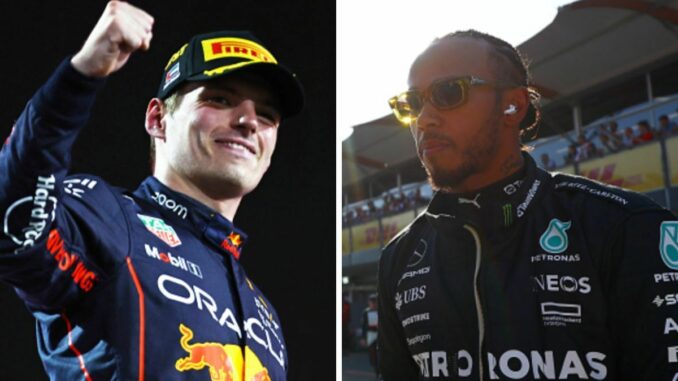 Lewis Hamilton has now missed out on his £15 million World Championship bonus for the second season in a row after Max Verstappen claimed his third consecutive title at the Qatar Grand Prix last month.
According to figures from the Daily Mail, Hamilton's contract makes him the second-best-paid driver on the grid behind Verstappen with the seven-time world champion raking in £27.5m per year, as well as an additional £15m for securing the Drivers' Championship title. 
Unfortunately for Hamilton, he hasn't come close to securing that extra £15m in the past couple of years. 2022 was a particularly challenging year for the legendary Brit, who ended the campaign in sixth place in the standings, despite climbing onto the podium nine times. 
2023 has been an improvement for Hamilton from a personal standpoint with his consistent performances meaning that he heads into the final two rounds of the campaign with a shot – albeit a narrow one – at passing Sergio Perez in the battle for second place in the Drivers' Championship standings.
Click here to join our WhatsApp community to be the first to receive breaking and exclusive F1 news.
Don't miss… Red Bull urged to follow Mercedes' lead as F1 legend tees up major twist[LATEST]
Despite this, however, Mercedes remain worlds away from being able to consistently fight Verstappen for victories, let alone for a World Championship, and the team's inability to understand the behaviour of the W14 is a cause for concern heading into a critical winter of development.
The Silver Arrows looked to have taken a major stride forward with their new floor upgrade at the United States Grand Prix, finishing second on the road before Hamilton was ultimately disqualified due to a technical infringement. This was then backed up in Mexico City with another strong showing relative to Ferrari and McLaren.
Many expected Hamilton and Mercedes to therefore challenge Verstappen for victory in Brazil, especially given how strong they were at Interlagos one year ago. Instead, the Brackley-based team endured their worst weekend of the season so far.
More F1…
Red Bull offer Lewis Hamilton hope after grim prediction for him and Mercedes[LATEST]
F1 icon has worrying theory to explain Lewis Hamilton and Toto Wolff's woes[LATEST]
New McLaren recruit explains Lando Norris trait that helps him fight Verstappen[LATEST]
Support fearless journalism
Read The Daily Express online, advert free
Get super-fast page loading
Hamilton was left pretty downbeat following that performance, stating: "I think, ultimately, all I can do is try to remain optimistic. The Red Bull I think is so far away. I think they're probably going to be very clear for the next couple of years." 
Verstappen, meanwhile, is poised to frustrate Hamilton for yet another season. With Red Bull able to turn their development priorities towards the 2024 car earlier than their rival, the three-time world champion will likely have championship-winning machinery underneath him once again next year.
Source: Read Full Article