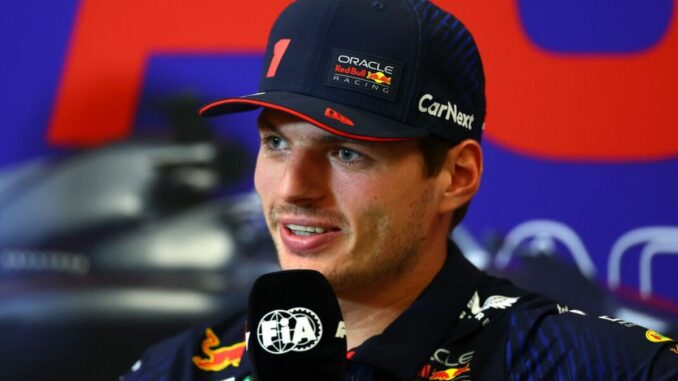 Max Verstappen wins third consecutive Formula One world championship
Max Verstappen would like to see if anyone "could do a better job with track limits" by letting someone else drive his Red Bull car. The latest Formula One talking point came under focus at the Qatar Grand Prix where McLaren driver Lando Norris claimed that he was denied a shot at pole position for both the sprint and the race itself after he had times deleted during the race.
Lance Stroll, Sergio Perez and Pierre Gasly also picked up five-second penalties for breaches during the race.
Track limits in Formula One are defined by the thick white lines that run around the edge of the racing circuit. Drivers must make every reasonable effort to stay within the track limits at all times and must not cross the lines without having a justifiable reason.
If a driver exceeds track limits during practice or qualifying, their time for that lap is deleted. During an actual race, drivers are given two warnings before being shown a black and white flag for a final warning. After that, they will incur a five-second penalty that can either be added to their next pit stop or to their final race time.
The issue with track limits appears to be in relation to more modern F1 circuit designs and Verstappen is fearing a repeat of the issues this weekend at the US Grand Prix in Austin, Texas, so much so that he has joked that someone else should check out the issue for themselves.
He said: "I will happily let anyone else drive my car, and see if they can do better with track limits.
"Some tracks have just a lot of runoff, so naturally you probably [handle] the limits a bit easier because we never really talk about track limits, for example, in Suzuka and that's a bit more of an old school track.
"The latest track standards, they have a thing to do with it and it's a bit of a shame – because I feel like with some of these new tracks that you're more focused on a Quali lap to not go over a white line than actually finding the limit or just the pure enjoyment of pushing.
"It's more like you're looking at: 'Did I make it or not? Oh, yeah, I made it.' It's a bit odd. We need to do a better job because I think this weekend will be the same story."
Don't miss…
Max Verstappen stance on Red Bull sacking Marko as Hamilton gets timely boost[VERDICT]
Toto Wolff tells Lewis Hamilton what he can't say anymore as Mercedes battle on[LATEST]
Max Verstappen makes Michael Schumacher request after winning third world title[REQUEST]
Advert-free experience without interruptions.
Rocket-fast speedy loading pages.
Exclusive & Unlimited access to all our content.
One of the key differences between old and new circuits is the use of white lines for determining the track limits instead of the traditional use of red and white painted kerbs, something Charles Leclerc picked up on.
The Ferrari driver said: "I've always preferred, in the past, to use the red and white kerb because this is a reference that we can actually feel inside the car, whereas the white line… we are so low in the car that it's very difficult to see exactly where we are.
"If we are two centimetres out or exactly on the line is very difficult, whereas with the kerb, you can feel much more about what's going on and it's a better reference."
Source: Read Full Article