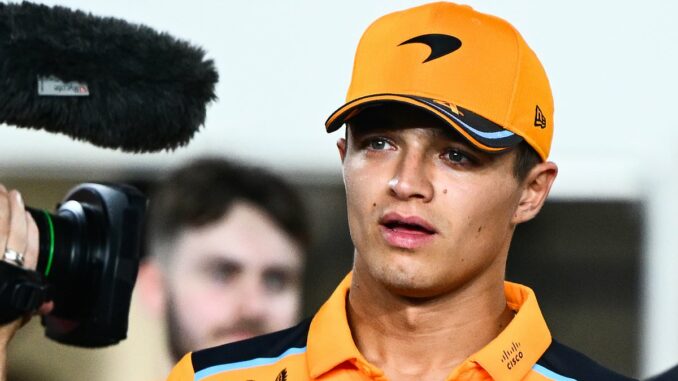 Nico Rosberg says he has seen worrying signs of a 'mental struggle' in Lando Norris – and reveals he 'wanted to write to him' about psychological support… after the Briton's challenging race weekend in Qatar
Nico Rosberg has spoken about the power of getting psychological support
Lando Norris has been open about his mental health struggles in the past
Former champion Rosberg thinks Norris must contextualise self-criticism 
Nico Rosberg is concerned about Lando Norris' 'mental struggle' and has considered writing to the McLaren star about psychological support. 
Norris was frustrated with himself after qualifying tenth at the Qatar GP having had three lap times deleted for exceeding track limits and losing a front-row berth.
He ultimately put in a strong drive to finish third and sits seventh in the Drivers' Championship but in the past he has spoken about being 'depressed' and struggling.  
Former F1 World Champion Rosberg sympathised with his honesty over performances but said it was a 'worry' when the 23-year-old went into a mental 'spiral'. 
He told the Sky Sports F1 podcast: 'I think Lando has been doing really well when he wasn't really challenged so much. He was always at his best. 
Lando Norris has opened up about his mental struggles in the past and was frustrated with himself after the final Qatar GP qualifying session
Nico Rosberg said Norris sometimes goes into a 'spiral' of saying 'I'm not good enough' 
Norris ultimately finished third in the Qatar GP and has been positive about the progress McLaren are making but is often highly self-critical
'If you look at Qatar now, suddenly you've had Lando a little bit off, never putting a lap together in qualifying, therefore having a worse grid slot and not getting the best out of the weekend, because Oscar [Piastri] beat him both on Saturday and on Sunday.
'What was a little bit of a worry, because Lando always says himself how he sometimes has challenges with mental health, I saw some signs of that unfolding again this weekend.
'He goes into this spiral of saying "I'm not good enough, I'm making mistakes and I've done a bad job" and he just repeats it over and over. That's a typical example of a little bit of a mental struggle there.'
Norris's struggles mirror those that Rosberg had in his own racing career. 
Rosberg used to see a psychologist every couple of days and underwent therapy in order to defeat Lewis Hamilton. 
Despite his Mercedes team-mate's dominance, Rosberg sealed the World Drivers' Championship in 2016 thanks to 'intense' mental work. 
He said: 'I was going to write [to] him [Norris] maybe, because I studied with a psychologist for 10 years. I was really the driver who was most dedicated to improving my mental performance, and also my mental wellbeing, because it came hand-in-hand.
'I wanted to say that one thing is thinking you are not good enough, but the other thing, which you can influence and avoid, is what you are saying. If you keep repeating that, you start to believe what you say.
Rosberg said he used to see a psychologist every couple of days to help him overcome Mercedes team-mate Lewis Hamilton
Norris and McLaren team-mate Oscar Piastri (pictured) have traded 2-3 finishes in recent GPs
Max Verstappen is World Champion for a third consecutive year but Norris believes McLaren can make strides towards catching Red Bull 
Rosberg said there needed to be a 'balance' between being open about mistakes and not allowing them to dominate what you say and how you think. 
About reflecting on errors, he said: 'There's a difference between saying it once and just repeating it over and over for the whole weekend.'
Norris has already collected more points this season than he did in the entirety of the 2022 edition and McLaren have showed signs of progress. 
The British team have finished 2-3 in the last two Grands Prix in Japan and Qatar and Norris recently said that they could even be favourites to win some races next season. 
His contract with the team lasts until 2025 after he penned an extension last year.  
Source: Read Full Article