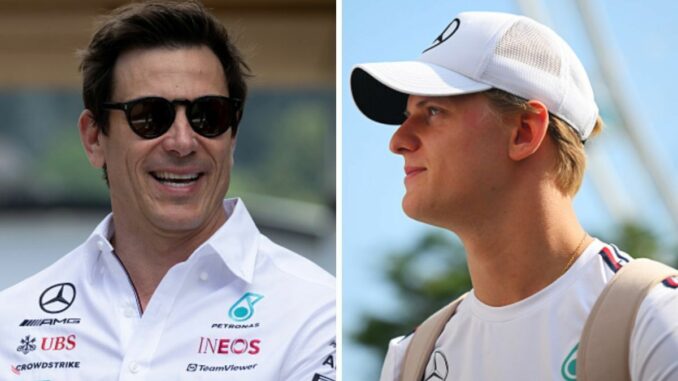 Mercedes team principal Toto Wolff has confirmed that he is happy for Mick Schumacher to stay in his role of test and reserve driver for the Silver Arrows, even if his prospective move to the World Endurance Championship goes ahead.
The young German driver has been attempting to rebuild his F1 career after leaving Haas at the end of the 2022 season following two underwhelming seasons with the American team but with little success.
Schumacher joined Mercedes as their test and reserve driver for 2023, learning from Lewis Hamilton and George Russell while also touting himself as a potential option for the likes of Alfa Romeo and Williams in 2024. 
Speaking to a German newspaper BILD about Schumacher's long-term Mercedes future, Wolff said: "Mick has a place here as a reserve driver – he is part of the family. We hope he stays in the role with us and we'll give him time in the car.
Click here to join our WhatsApp community to be the first to receive breaking and exclusive F1 news.
Don't miss… Lando Norris' boss considered huge gamble that Lewis Hamilton would have loved[LATEST]
"If he can get a seat with another manufacturer in WEC, in sportscars or somewhere else, he will always have this home base here. Whatever program he does on the side, he can stay with us as a reserve driver if it is also possible from the other side."
Schumacher and Wolff have tried desperately to recover the 24-year-old's F1 career this season, but it looks like the next chapter of his motorsport career could play out in a different discipline.
According to a report from the German weekly magazine Motorsport Aktuell, Schumacher is in talks with Alpine about joining the team's World Endurance Championship project for 2024 and beyond as the team ventures into the Hypercar class for the first time.
Don't miss…
Max Verstappen's conversation with Christian Horner over Russell crash surfaces[RED BULL]
Lewis Hamilton shares personal concern after snatching Singapore podium[SINGAPORE]
Adidas cause F1 storm as sportswear giant 'consider becoming team name sponsor'[RUMOUR]
We use your sign-up to provide content in ways you've consented to and to improve our understanding of you. This may include adverts from us and 3rd parties based on our understanding. You can unsubscribe at any time. More info
The report states that Schumacher and new CEO Bruno Famin have already agreed that the German racer will conduct a test with the team later this season with a view to driving in Alpine blue in WEC moving forward.
If Schumacher does complete the move to endurance racing he will join fellow ex-F1 drivers Brendon Hartley, Kamui Kobayashi and Antonio Giovinazzi on the grid for the championship next season. 
Speaking to Sky Germany about the prospect of another season outside of F1, Schumacher said: "It hurts, of course. I would be lying if I said I liked it. I'm a racing driver. All I want to do is win. But I have to come to terms with reality, keep going work with me, keep trying to have conversations and present myself."
Source: Read Full Article