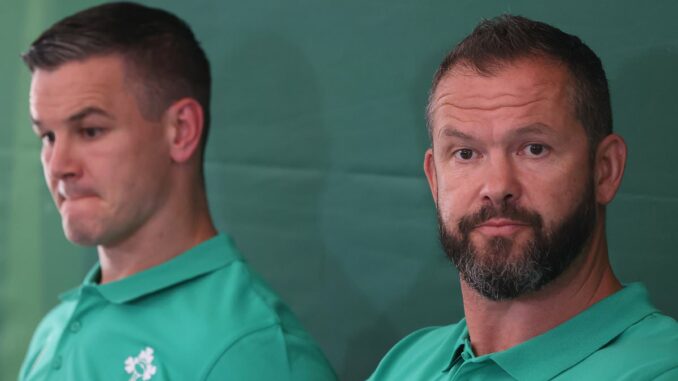 Ireland look to FINALLY banish their World Cup curse – there have been moments of bad luck, self-destruction and even a promising career ended due to injuries from an IRA car bomb… Andy Farrell's side are out to end 40 years of hurt
Ireland have never got past the quarter-final stage of the Rugby World Cup
Their curse started from the inaugural staging of the competition back in 1987 
Johnny Sexton, Andy Farrell and Co will look to end their hoodoo in France 
Tutankhamun, the Hope Diamond, the Bambino, Biddy Early… when it comes to the great 'curses' of our time, Ireland at Rugby World Cups ranks right up there.
It's a staggering run of mishap and malfunction that stretches all the way back to the inaugural staging of the tournament in 1987.
That was the World Cup where Ireland's preparations were disrupted by an IRA car bomb injuring three of their players and ending the career of brilliant flanker Nigel Carr before their charismatic head coach Mick Doyle suffered a heart attack on the team's arrival in Australia.
That set the tone for a tournament-on-tournament run of calamity that has seen Ireland established as the only top-tier nation never to reach the last four. Between 1987 and 1999, there were low expectations accompanying Ireland's efforts for the simple reason that they were, well, pants, but given the consistent success enjoyed by the national side since 2000, not winning a single World Cup knockout game is a shocking return.
There has been no shortage of bad luck, including Scotland's Finlay Calder escaping a red card in 1991, David Humphreys' drop goal missing by inches against Australia which would have set up a quarter-final clash with Matt Williams' Scots in 2003 and injuries ripping the heart out of Ireland's spine in 2015, when they were firing under Joe Schmidt.
Ireland are hoping to end 40 years of hurt at this year's staging of the Rugby World Cup
Nigel Carr suffered career ending injuries from an IRA car bomb before the 1987 tournament
David Humphreys missed a drop goal by inches against Australia which would have sent them to the quarter-finals
Ireland have self-destructed too, struggling against France in 1995 after going on the lash for three days
Ireland's self belief and ability also consistently vanishes at World Cups, including in 2003 when a quality side trailed 37-0 before the break against France in a 43-21 defeat
There has also been the weird phenomenon of Ireland's self-belief and ability consistently vanishing, Bermuda Triangle style, when it truly mattered – witness Lens 1999 against Argentina; Melbourne 2003 against France (when a quality side including the holy trinity of O'Driscoll, O'Gara and O'Connell trailed 37-0 before the break) as well as the entire 2007 and 2015 campaigns.
Equally, there have also been numerous examples of Ireland walking head-first into the propellers of World Cup implosion.
Highlights here include banning players from any games in the run-up to the 1987 tournament; missing touch from the kick off after Gordon Hamilton's try had set up a shock win over Australia in 1991 only for Michael Lynagh to touch down for the winner shortly after and Eddie O'Sullivan's refusal to rotate his team as things were collapsing around him in 2007.
But top of the pile in the pantheon of Irish self-destruction shimmies occurred at the 1995 tournament in South Africa.
Gerry Murphy's outfit dug their way out of the pool stages courtesy of a grim but gutsy victory over Wales in their final outing to set up a quarter-final tie with France in Durban.
That was at sea level and, coming from altitude in Johannesburg, the team was advised on two courses of action. One: go straight down to sea level in Durban and give bodies a week to adjust. Two: travel to Durban the day before the game when bodies would retain altitude benefits.
Ireland ignored the advice and went with a third option: go on the lash in Sun City for three days and then head for Durban in midweek.
Physically, it was the worst decision they could have taken and the smirking French ran their tired opponents out the gate.
40 YEARS OF HURT
It is this sort of history that should fuel Irish desire as they set out on their latest attempt to reach a first World Cup semi-final at the 10th time of asking. If they fail to do so, yet again, it means by the time Ireland suit up for the 2027 tournament in Australia, it will be 40 years of hurt.
Ireland won the grand slam a few months ago and it was a superb achievement, but it did not alter a whole lot on a broader scale for Ireland's fourth sport. As it stands, there is a good chance elite Ireland players like Caelan Doris, James Ryan and Hugo Keenan could walk around most Ireland towns unbothered and unrecognised.
Indeed, only Johnny Sexton carries any sort of 'celebrity' status for wider Ireland.
That situation will change should Ireland make it to a World Cup semi-final in a few weeks' time.
Only Johnny Sexton carries any 'celebrity status' despite Ireland winning a Grand Slam
Elite stars like Caelan Doris (left) and James Ryan (right) could walk around most Ireland towns unrecognised – though that could change if they make it into the semi-finals of the World Cup
The country will go crazy – the 'Olé, Olé' pile-on accentuated by the flatness of the recent women's football World Cup campaign when the nation was craving any excuse to go wild.
At a time when the game is struggling to attract numbers through justifiable fears over safety, it needs something special to ignite those who believe rugby is a thuggish pastime rooted in private-school elitism.
A World Cup semi-final would provide that. Conversely, another failure would render the grand slam essentially meaningless and Ireland would head for home with the cackles of their rivals ringing in their ears – four more years, boys.
Last February, we claimed that reaching a first World Cup semi-final meant more than winning the grand slam. This led to a torrent of abuse from those delightful people of the internet but it was true at the time and even more so now.
Perhaps people will wise up to that fact over the next few weeks.
SEXTON GETS IT
So, how do Ireland prevent a 10th straight failure? Well, first they have to embrace their horrible history and you wonder how many of them are even aware of it?
There has been talk from the players and coaches in the build-up how the past is 'irrelevant' with one of several tub-thumping ads even employing the phrase: 'What is the point in looking back?'
It is the whole point, actually.
Current players may feel the game has moved on, circumstances have changed, etc etc but when a pattern has been repeated for this long, it merits proper recognition before it can be broken.
You suspect names like Mick Doyle and Finlay Calder mean little to the current squad, especially the imported contingent, but it is comforting to know Ireland's most influential figure is utterly immersed in their rugby past.
The most encouraging quote to emerge in advance of this tournament came from captain Sexton when asked about his pre-match rituals: 'I will be changing all my rituals from the last three World Cups,' he said.
Sexton (left), Andy Farrell (right) and the other drivers have to embrace what has happened at World Cups before and ensure they change the script in France
Sexton gets it.
The key to busting this curse is showing up.
Rocking up to the quarter-final and giving the best performance possible. If they still lose to a better team, then so be it, at least they showed up – something Ireland have not done when it counted in nine previous goes.
Andy Farrell, Sexton and the other drivers have to embrace what has happened before and ensure they change the script.
That could mean resting key players against South Africa to protect them for the vital game against the Scots and the knock-out stages, it could mean a changed approach to training and greater off-field recreation to preserve mental and physical freshness – it could mean anything, as long as it means change.
This cycle of failure has gone on far too long and has created a chronic aversion to hope.
However, there is something different about Farrell's Ireland – confirmed by last year's series win in New Zealand – and there is something special about Sexton. Neither is afraid of change.
Enough combined to break 'the curse'?
Fingers crossed…
Source: Read Full Article