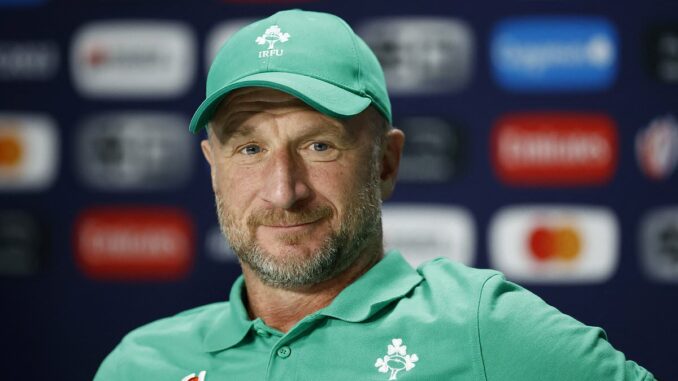 Mike Catt DENIES Mack Hansen was left out of Ireland's side for World Cup opener against Romania due to disciplinary reasons… and refuses to entertain claims of a row made by Danny Cipriani
Catt claimed Hansen was left out of Saturday's side because of squad rotation
Andy Farrell had said that Hansen wasn't injured which fuelled speculation
Cipriani, meanwhile, claimed in his autobiography that he fell out with Catt
Latest Rugby World Cup 2023 news, including fixtures, live scores and results
Mike Catt has denied that the surprise omission of Mack Hansen from the Irish team for their World Cup opener was for disciplinary reasons – while also refusing to respond to Danny Cipriani's sensational claims.
Hansen will not feature in the match-day squad for tomorrow's clash with Romania in Bordeaux, and he is the only one of Andy Farrell's regulars, who are to fit to feature, not to make the 23.
Other front-line stars like Josh van der Flier and Robbie Henshaw are on the bench, but Hansen has been left out altogether. 
Farrell made clear at Thursday's team announcement that the winger wasn't injured, leading to speculation about a possible disciplinary reason. 
The head coach had mentioned how some of his younger players had struggled with the environment in Biarritz ahead of their warm-up match against Samoa.
Mike Catt (pictured) has denied that Mack Hansen was left out of the Ireland team for their World Cup opener because of disciplinary reasons 
World No1 side Ireland will kick off their tournament against Romania on Saturday afternoon
Hansen (middle) was left out because of squad rotation, according to Catt, who spoke on Friday afternoon
But when Catt, Ireland's attack coach, was asked today if Hansen was out because of a discipline breach, he replied, 'Not at all, no'.
Catt had earlier suggested it was a simple matter of squad rotation.
'It's a long tournament first and foremost and there is making sure that we look after everybody,' he said.
'In the same breath there is good competition in that area, too. There is nothing that Mack has done wrong. It's not that he, you know, he's performed badly at all.
'He's done exceptionally well in his pre-season games and like we say, it's a long competition and we need to keep people fresh too.'
Catt refused to entertain claims of a row between himself and Danny Cipriani (right) made in the latter's autobiography
Catt was much less forthcoming when asked about his place in Cipriani's sensational memoirs.
Cipriani did not make the final England squad for the 2015 World Cup, in which Catt, along with Farrell, served as assistants to Stuart Lancaster.
While he is heavily critical of the set-up in his newly released autobiography, Cipriani goes into particularly vivid detail about a row with Catt at a pre-tournament training camp, which he claimed ended with Catt screaming at him, 'As long as I'm involved, you'll never play for England again'.
Asked if it was a distraction, Catt replied, 'Not at all, no'. Pressed further on whether he had any thoughts on Cipriani's claims, Catt smiled and said, 'No'.
Source: Read Full Article