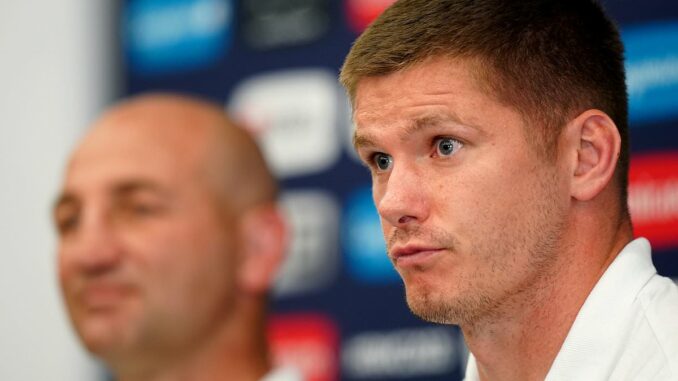 SHAUN EDWARDS: Don't give South Africa any scraps and England have a good chance of winning Word Cup semi-final due to their similar playing style
France were beaten 29-28 in pulsating encounter at the Stade de France in Paris
Mail Sport's new WhatsApp Channel: Get the breaking news and exclusives here 
Latest Rugby World Cup 2023 news, including fixtures, live scores and results 
Everyone is saying that England do not have a chance against South Africa, but I disagree. 
I think it will be a hugely tactical game that could well be decided by one score. Our match against the Springboks on Sunday night was such an intense match and it is often hard to get back up after a game like that. 
I think England have got a good chance because they play a similar style. 
Steve Borthwick's expertise is the line-out and I am sure he will be plotting to stop South Africa's driving maul. 
I have not been through our match in detail yet — it still stings — but there are a few obvious areas that England will look at.
Steve Borthwick, pictured with Owen Farrell, added George Martin and Joe Marler to his squad
In a tense and tightly-contested game last week, South Africa edged France out by a single point 
France players were dejected at full-time as they were knocked out of the competition
SPEED
People always talk about South Africa's size and power but they have serious speed on the wings. If you lose the ball you are in trouble. Kurt-Lee Arendse and Cheslin Kolbe are lethal. 
Kolbe's best in the 100 metres is 10.70 seconds but what is most important in rugby is the speed over 40m. It is the same in the NFL, where they time the guys over 40 yards. 
They could probably run it in about 4.2sec and that is world-class sprinting speed. South Africa's speed comes into play off turnover ball. 
They feed off scraps and when they get away they are very difficult to stop. England must not give them any scraps.
AERIAL GAME
We lost the aerial game on Sunday night. Again, South Africa fed off the scraps. 
One of our players tapped back a high ball instead of catching it and we were punished. 
They kick smart. They try to find weak points and that is why England had to pick Freddie Steward at full back. 
He is the best in the world under the high ball and England's aerial game is very good. 
Jonny May and Elliot Daly are hugely experienced international players and I do not think they will have too many issues.
'Full-back Freddie Steward is is the best in the world under the high ball'
THE BENCH
What we did not do was match their finishers in the scrum. Ox Nche made a phenomenal impact on the scrum from the bench. 
We have got a very good scrum but they got the better of us. Even when it is not a 6-2 split (6 forwards, 2 backs) on the bench they were still formidable. 
You need similar size men coming on yourself and I think it is a good tactic against the Boks to have your best scrummagers on the bench. 
Joe Marler and Dan Cole have a lot of experience and size… I thought Borthwick might have brought them off the bench but Ellis Genge and Kyle Sinckler are just as capable of making an impact. 
It is a 23-man game. South Africa start with their best attacking players and finish with their best defensive options.
Ox Nche came off the bench to have a huge impact in the set-piece against France on Sunday
INNOVATION
It is the first time I have ever seen a player call a mark and ask for a scrum; a lot of people would not know you could even do that. 
It shows how good South Africa's understanding of the game is. To have the guts to take a scrum from the 22 against us on Sunday shows the confidence in their set piece. They are innovators. 
I have been in rugby union 20 years and I have never seen anyone do that. They utilise the rules to their advantage. 
They slow the game down. They are very explosive for four or five rucks. They do not go through 10 or 11 rucks like the All Blacks. They go maximum speed and intensity in the first three rucks and we looked closely at that. England must do the same.
Source: Read Full Article