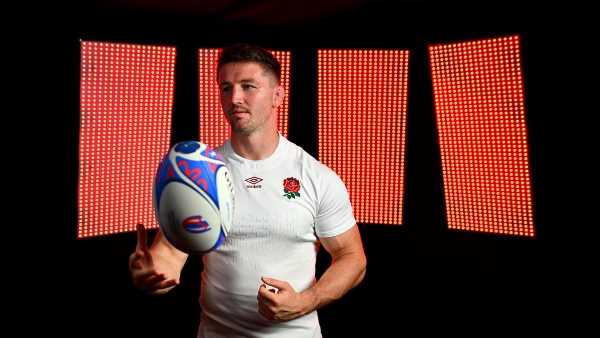 Tom Curry is set to start in England's World Cup opener against Argentina on Saturday despite three-MONTH injury absence
Tom Curry is poised to go straight back into England's starting team on Saturday 
The Sale flanker has not played for three-and-a-half months due to an injury 
England management hopes the openside star can alleviate the defensive crisis 
Latest Rugby World Cup 2023 news, including fixtures, live scores and results
Tom Curry is poised to go straight back into England's starting team for the World Cup opener against Argentina on Saturday – despite not playing for three-and-a-half months.
The 25-year-old Sale flanker's last competitive appearance was when his club faced Saracens in the Premiership Final on May 27. 
Several weeks later, he suffered an ankle injury in training which meant that he missed England's four warm-up matches last month. And this Curry – unlike twin brother Ben – is yet to play a Test under Steve Borthwick, having missed the last Six Nations due to a hamstring problem.
Now that he is finally fit and in full training, the Red Rose management regard the Lions openside as someone capable of alleviating the defensive crisis which came to a head in the shock defeat against Fiji at Twickenham, when England missed a staggering 27 tackles. 
'We're delighted Tom is available,' said defence coach Kevin Sinfield. Asked if throwing him straight in to face the Pumas represented a risk, he added: 'No. He is ready.'
Tom Curry is poised to go straight back into England's starting team for the World Cup opener
The 25-year-old Sale openside flanker has not played for three-and-a-half months due to injury
England management hopes the star can alleviate the defensive crisis after losing against Fiji
Sinfield has been under increasing pressure in light of England's worrying inability to hold the line against a variety of opponents. When he was challenged on why the defence hasn't been properly functioning, he thought carefully and, after a long pause, said: 'Good question. I think it really helps having Tom Curry back available.
'We just miss Tom Curry the player. He speaks well, he tidies a lot of things up, he's an incredible athlete and he does things a lot of other players can't do. Being a defence coach, the nitty gritty stuff which is really important – that pulls teams together – Tom does every single day, in many, many different actions. 
'You suddenly throw Tom back in the mix and there are a couple of back rows looking over their shoulder and understanding they have to raise their game.'
While Curry is regarded as the man who can solve defensive issues, England's coaches are hoping 'magician' Marcus Smith can pull a rabbit out of a hat in attack, as he continues to train at full-back. That new ploy had an encouraging impact in the games against Ireland and Fiji, despite England's collective malfunctions.
'You'll have all seen what a magician he is with the ball,' said Sinfield. 'He can step off both feet, he's quick and can beat the opposition for fun. So why not try to give him a bit more time and space than he would typically get at 10, try to get him a little bit wider? 
'It would be crazy of us to put Marcus in the team and not try to put the ball in his hands and give him space to attack.
'We have been working on it for some weeks now with him in training. He's been incredible at the back. So to have him in the team and available, to have the option of him either coming on at 10 or 15, has been really good for us.
'He embraced it straight away (being used at full-back). It was a question that was posed to him. Have you ever played 15? His first answer was, "No, but I would love to". The response was music to our ears because you're looking for tactical variation in the players we select. This gives us a bit more variation.'
Source: Read Full Article