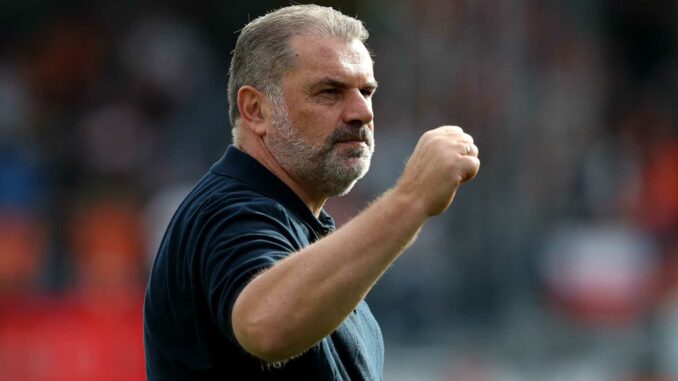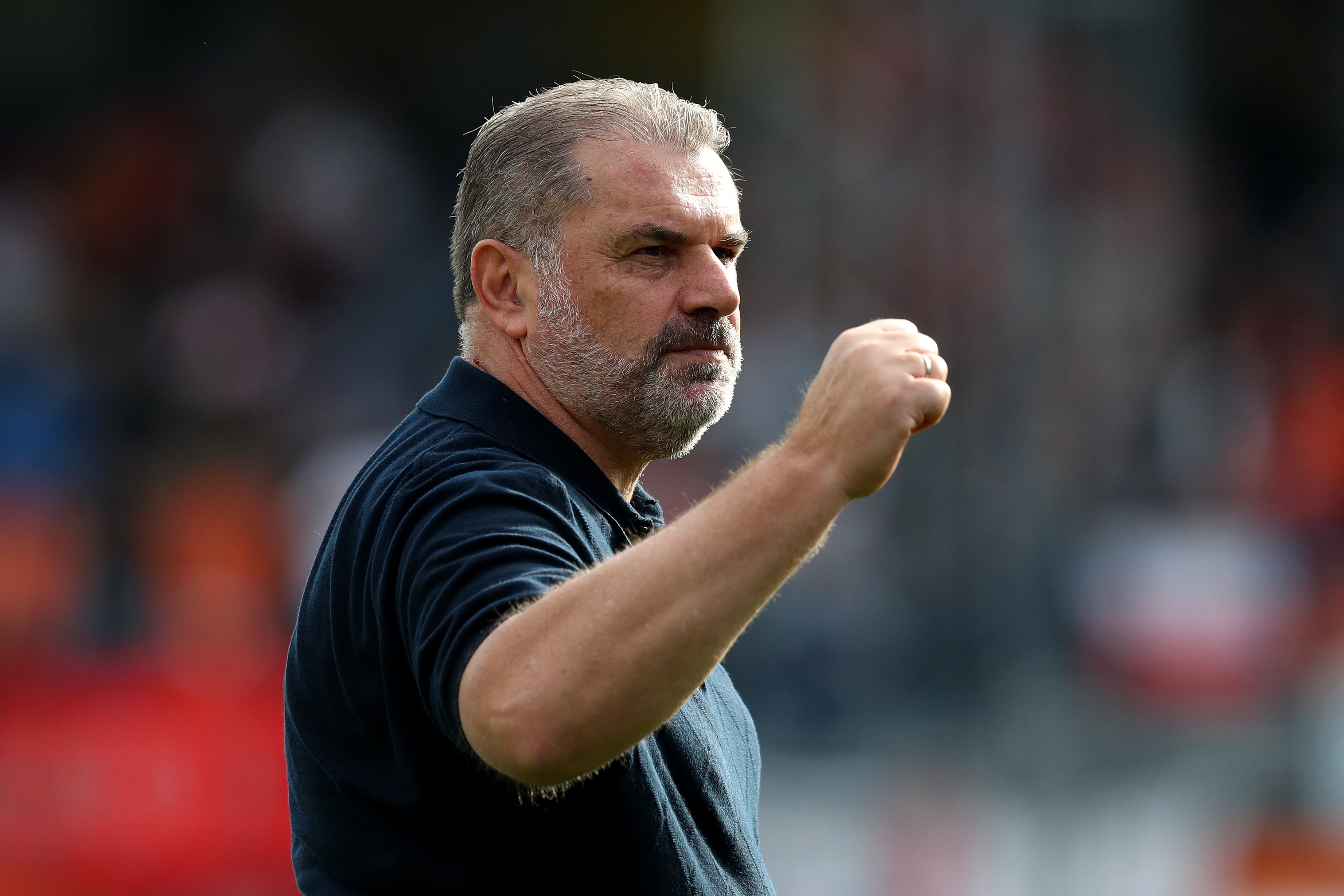 Ange Postecoglou has won back-to-back manager of the month awards
And much like the element of "Spursiness", Tottenham's impressive start has been rooted in the intangibles, in heart and feeling. The fact the departure of Harry Kane has not yet felt as significant is another sign of how Postecoglou has managed to bring the divided sides of what appeared to be a broken club together. While Kane has gone, there is a freshness about Spurs. Through the impact of signings such as Maddison, Destiny Udogie and Guglielmo Vicario, the relationship between players and fans has been repaired.
What has stood out about Postecoglou's team has been backed up, too, by the numbers. Last season, Tottenham were often passive and frequently easy to play against. Even though they carried the threat of Kane, Spurs would appear to pass through games without showing any urgency or ambition; opposition teams would find it alarmingly simple to play through a static, immobile midfield.
But under Postecoglou, Tottenham have become one of the most active teams in the division, progressive with the ball and disruptive without it. Spurs lead the Premier League in shots on goal, passes into the penalty area, forward dribbles, but also in tackles won and interceptions. If it reflects that Tottenham now press higher up the pitch than last season, when they barely engaged under Conte, Bissouma has been the key piece in a revamped midfield a year after being frozen out by the Italian.
Maddison, meanwhile, has helped ease the post-Kane transition, a role he appeared ready to step up to when he took the No 10 jersey previously worn by the club's record goalscorer. Spurs will never be able to replace Kane, but Postecoglou has so far been able to negate his absence through Maddison and a resurgent Son Heung-min, who looks back to his clinical best after moving to a central forward role. Maddison, though, has been integral as Tottenham's creator-in-chief, with five assists so far this season.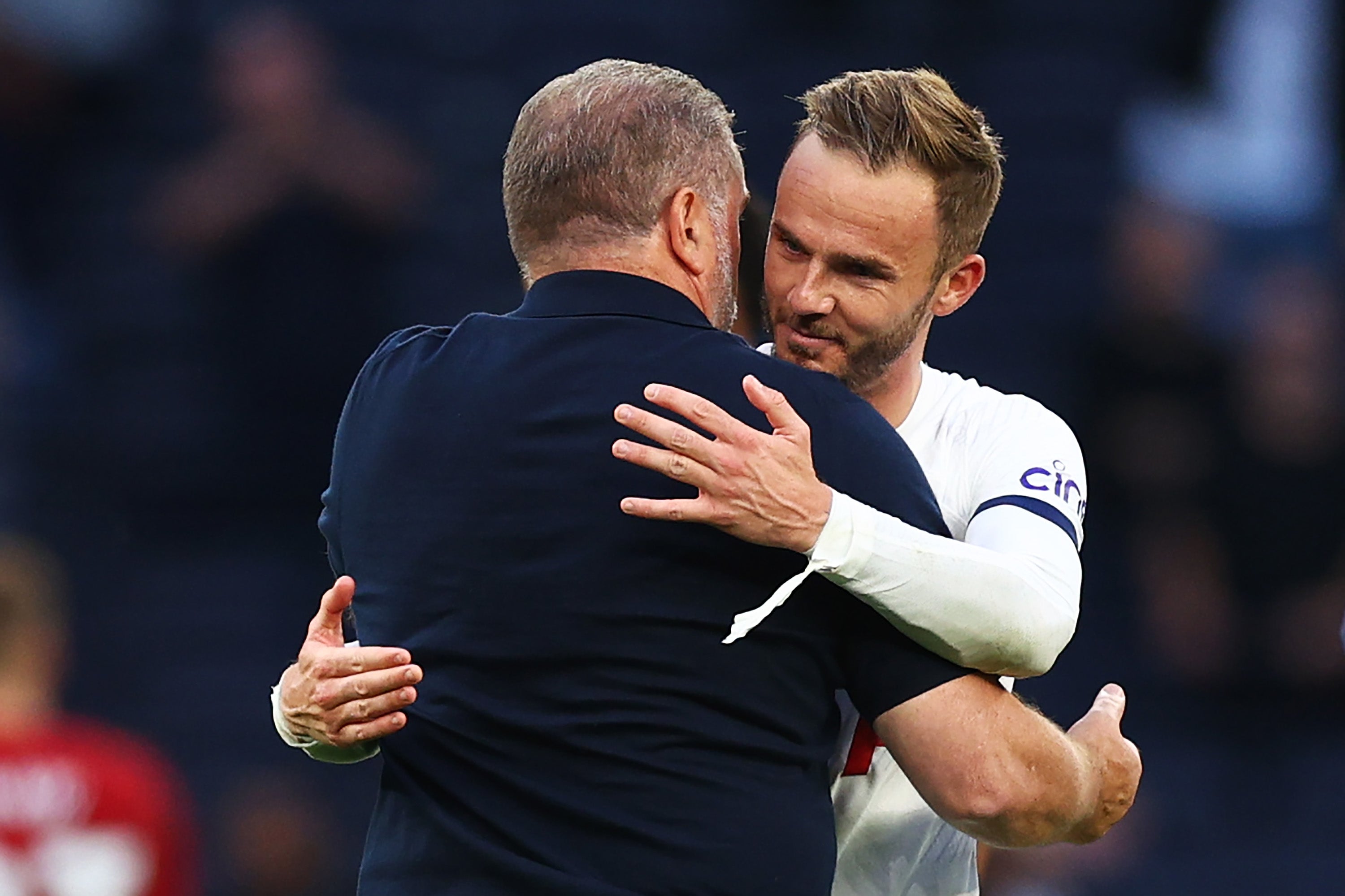 James Maddison has helped spark Tottenham into life this season
If some of Maddison's early statistics seem unsustainable – the England international also leads the Premier League in a number of other areas, such as key passes and shot-creating actions – the same could be asked of Postecoglou's side at this stage. Tottenham, really, shouldn't be near the conversation of title challengers, but timing has played a part. The win at Luton, which moved them top, came as Manchester City lost their second Premier League game in a row at Arsenal. If it's a sign of what's to come from City this season, it was a result that widened the pool of potential challengers to include Spurs.
The manner in which City eased away from Arsenal last season, however, showed how inch-perfect title contenders must be as long as Pep Guardiola remains in England. Tottenham, who finished eighth last year, are coming from an even lower floor than Mikel Arteta's side, albeit with a more dramatic transformation under Postecoglou. As a side who are still developing together, Spurs should be allowed some inconsistency, even if they are yet to show it.
The early evidence this season suggests they are one of the four strongest teams in the top flight, alongside last season's title rivals and Jurgen Klopp's refreshed Liverpool. In the past, signs of promise around Spurs have often been followed by a swift yet crushing crash back to earth. But now as Tottenham head deep into October with two winnable London derbies next week, starting with Fulham on Monday followed by a trip to Crystal Palace on Friday, Postecoglou can continue to show why this Tottenham is different.
Source: Read Full Article