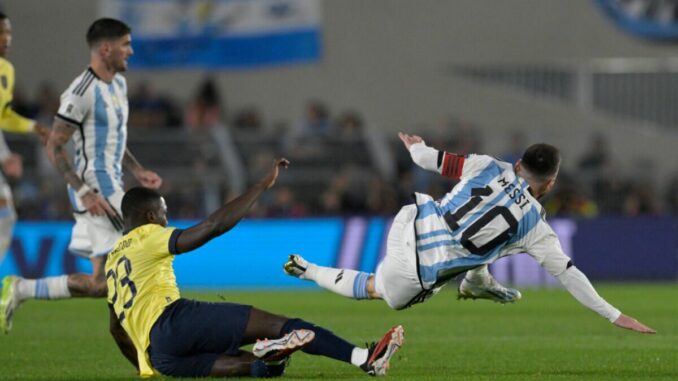 Mauricio Pochettino makes quick Nicolas Jackson U-turn after difficult Chelsea start
Chelsea new boy Moises Caicedo may not have taken too kindly to being sat down by Lionel Messi years ago and finally got his own back during Ecuador's 1-0 defeat to Argentina in the early hours of Friday morning. The South American World Cup qualifiers saw Caicedo and Ecuador travel to Buenos Aires, where the Inter Miami star scored the only goal of the game.
The last time the two met, the typically dazzling Messi received the ball in midfield and jerked his body back and forth with Caicedo attempting to win the ball back. However, he was unsuccessful after drifting to the right to follow the former Barcelona and Paris Saint-Germain man.
Messi feinted left and right before standing Caicedo up and then jinking past the young midfielder, who in his attempts to stay with the attacker could only fall to the floor as Messi set up another promising attack in typical fashion, continuing his incredible form since moving Stateside.
Caicedo may have felt that he got his revenge on Messi last night after putting in a stern challenge on the Argentina captain that sent him flying through the air. The Blues midfielder was on hand to help Messi up and also avoided a booking in the process, despite the seven-time Ballon d'Or winner clearly unhappy with the foul.
JUST IN Four players that regret leaving Chelsea after scathing criticism and loan woes[ANALYSIS]
Messi will feel that he got the last laugh over Caicedo and Ecuador though as his 78th-minute free-kick was all that could separate the two sides, as Lionel Scaloni's side got off to a winning start as they look to qualify for the 2026 World Cup in the US, Canada and Mexico and defend their trophy.
Caicedo came directly up against his Chelsea midfield partner Enzo Fernandez during the match, as the two new team-mates kept in touch over the international break and the Argentine managed to convince his opponent on Friday to snub the likes of Messi and Angel Di Maria in order for the two Blues to swap shirts after the match.
We use your sign-up to provide content in ways you've consented to and to improve our understanding of you. This may include adverts from us and 3rd parties based on our understanding. You can unsubscribe at any time. More info
Don't miss…
Man City 'eye Chelsea raid' as Ian Maatsen uncertainty looms large after impasse[REACTION]
Man Utd, Chelsea and Spurs bottom with Fulham top in alternative ticket table[LATEST]
Chelsea 'asked about Awoniyi' 48 hours before deadline with Jackson struggling[TRANSFERS]
"Moises is a great person," Fernandez told ESPN Ecuador when asked about Caicedo. "He has now arrived at Chelsea, we have talked a little about everything.
"Not specifically about the game [between Argentina and Ecuador] but about changing the shirt [swapping shirts after the game]."
Fernandez himself caught the eye with a stunning backheel flick over his head during the match, while perhaps coming out of the game much happier with Caicedo than Messi – even though Argentina's talisman did get the last laugh over Ecuador with his matchwinner.
To celebrate the new Premier League season, Sky has slashed the cost of Sky Sports from £25 down to £0 for the first six months of your contract! You'll also enjoy the same free Sky TV + Netflix bundle available with all Sky Glass bundles right now, as above
FREE delivery | Screen size: 43, 55, and 65-inch available | Set-up costs: £10
Unlock all Sky Sports channels, including Sky Sports Main Event, Sky Sports Premier League, and Sky Sports Golf. And unlike other channel bundles from Sky, its sports coverage arrives in High Definition as standard! 
Virgin Media bundles all TNT Sports (formerly BT Sport) channels with its Bigger + Sports broadband and telly bundle at no extra cost! You'll even be able to watch in 4K Ultra HD as standard
Sign-up for a 30-day free trial with Amazon's Prime Video service to catch all of the Premier League fixtures exclusive to the streamer this season. Cancel anytime during the trial and you'll be charged nothing 
Source: Read Full Article