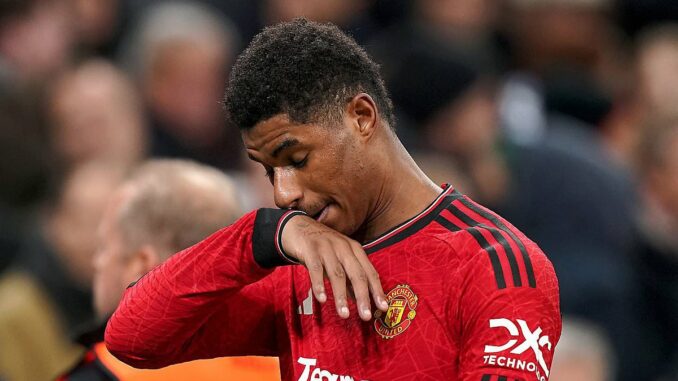 CHRIS WHEELER: Last season Marcus Rashford hit 30 goals. This season he has one, a red card and looks sullen and sulky again… and no one at Manchester United knows quite why
The Man United No 10 was sent off in Copenhagen for second time in his career
This season has proved to be worryingly poor for the England international
Man Utd are NOT good enough to have a ball-playing keeper – It's All Coming Up
The referee held up his red card and Marcus Rashford broke into a broad grin. It wasn't a happy smile, though. It was a smile of incredulity at Lithuanian official Donatas Rumsas and his decision to send off Manchester United's No 10 for only the second time in his career.
We were nearing the end of the regulation 45 minutes and a whole heap of added time at the end of the first half in Parken Stadium, and Rashford was on his way.
United were two goals up on Copenhagen but when Rumsas blew his whistle for half-time it was 2-2. By full-time, United's 10 men were staring at a 4-3 defeat and, quite possibly, Champions League elimination as well. The red card had changed the course of the game.
For Rashford, it completed a difficult week in what has been a worryingly poor season by the England forward's standards.
Should he have been sent off for his challenge on Copenhagen's Elias Jelert? Rumsas had missed Rashford raking his studs down Jelert's shin and ankle but VAR hadn't. Once the referee went to the monitor, there was only going to be one outcome.
Marcus Rashford has endured a worryingly poor start to the season, only scoring once
Erik ten Hag (left) publicly criticised Rashford for publicly celebrating his 26th birthday
Your browser does not support iframes.
Like most of the calls on Wednesday night, it was a tight one. Technically correct perhaps, and always worse in slow motion, but definitely on the soft side.
None of which made an iota of difference to the United player. He was sent on his way and a bad night had just got worse for the Rashford camp.
Shortly before kick-off, it emerged that Rashford's brother Dane had been arrested in Florida on suspicion of battery.
Dane is a director of the management company that handles Rashford's affairs along with his brother Dwaine Maynard. They act as Marcus' agents, although that is in some jeopardy after they failed the FA's new exam in the summer. Last week, Rashford was publicly criticised by manager Erik ten Hag for celebrating his 26th birthday at Manchester nightspot Chinawhite hours after United's humiliating defeat in the Manchester derby, branding the get-together 'unacceptable'.
Suspicions were raised when Rashford then missed Saturday's Premier League win at Fulham with a leg injury, according to Ten Hag, but the player was back in the line-up in Copenhagen.
The decision to party at such a high-profile venue was simply a case of poor timing on Rashford's part, and probably no worse than the publicity experts at Nike who chose last week to launch his new clothing range with the US sportswear giant.
'He sees the pieces in the collection as tools that can transport athletes to new heights,' gushed the press release, ignoring the fact that an ineffective Rashford had delivered another abject performance against City little over a day earlier. Sadly, it is one of many this season, raising concerns that he has suffered a loss of confidence similar to that which followed his penalty miss for England in the European Championship final shootout against Italy in 2021.
Rashford bounced back to enjoy his best season yet for United, scoring 30 goals in Ten Hag's first campaign and earning a new £300,000-a-week contract with his hometown club.
It's emerged that his brother Dane (on the left) was arrested in Florida on suspicion of battery
Dane Rashford (L), Dwaine Maynard (C) and Marcus Rashford are seen in an undated photo
Last year, pundits and fans alike felt Rashford was back to his very best and scoring goals
The England forward enjoyed a stellar season last year scoring 30 goals for United
This season, however, he has looked a shadow of that player and no one at United knows quite why. Just one goal in 15 games tells its own story, and Rashford's body language is back to that of a sullen, sulky youngster.
Those close to him have always said that he struggles to hide his feelings, and it's no secret that earlier this year he split permanently from fiancee Lucia Loi who is said to have had a steadying influence over him. 
Even though they were on a break when Rashford missed that penalty in the shootout, he is said to have sought support from his childhood sweetheart – before seeing a sports psychologist. Maybe Lucia would have persuaded him not to respond to a debate about his future promoted by a fans' website earlier this week after he missed the Fulham game.
'Please STOP spreading malicious rumours,' he posted. It felt like one of those moments that reacting only added fuel to the fire given that no one is seriously questioning his commitment to the club. But something is clearly eating Rashford again. He doesn't seem like himself and he isn't playing like it either.
Earlier this year it was revealed that Rashford split permanently from fiancee Lucia Loi
Maybe it's time to dismiss any more thoughts about nights out or Nike launches and get back to what he does best, because there is no doubt that Rashford remains one of United's – and England's – finest players.
He wasn't on top form again in Copenhagen, but he did play a key part in Rasmus Hojlund's first goal and it's more than likely that United would have gone on to win the game if he had stayed on the pitch.
Rashford started on the right and that could be an interesting option for Ten Hag going forward if he plays as a more conventional winger, whipping in crosses with his stronger right foot for Hojlund, who has suffered from poor service so far in his United career.
Most of all, Ten Hag needs Rashford firing on all cylinders at a time when his own future is coming under fierce scrutiny.
IT'S ALL KICKING OFF! 
It's All Kicking Off is an exciting new podcast from Mail Sport that promises a different take on Premier League football.
It is available on MailOnline, Mail+, YouTube, Apple Music and Spotify.
Your browser does not support iframes.

Source: Read Full Article