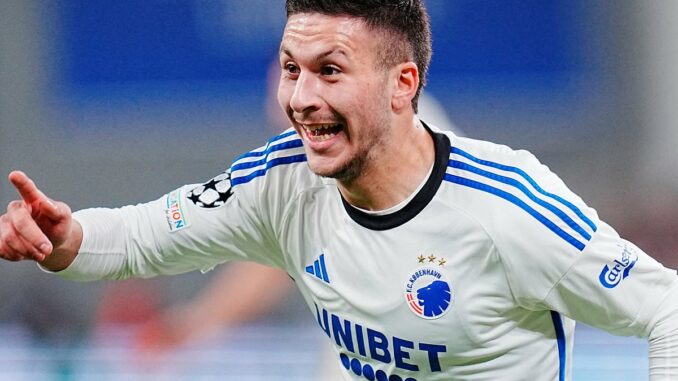 Copenhagen fans mock Man United with 'Roony, Roony' chant after 17-year-old Roony Bardghji bags the winner for the Danish champions in cruel twist on club legend chant
Copenhagen fans chanted 'Roony, Roony' after Roony Bardghji's winning goal
It was an unfortunate but humorous twist on the iconic 'Rooney, Rooney' chant 
CHRIS SUTTON: Arsenal manager Mikel Arteta is a CLOWN – It's All Kicking Off
Copenhagen fans seized the opportunity to turn one of Old Trafford's iconic chants into a nightmarish knell against Manchester United in the Champions League.
When 17-year-old Roony Bardghji scored the winning goal in their 4-3 win over United, Copenhagen's fans knew the exact chant for the occasion: 'Roony, Roony'.
It harked back to the sounds that English football became accustomed to as Rooney tore through a fearsome career at United, scoring 253 goals for them. 
The irony was not lost as the Danish fans witnessed United's figurative fall from grace encapsulated before them – from a 2-0 lead, United succumbed to a loss via two late goals.
Bardghji's finish was excellent, as he swept in a powerful left-footer past Andre Onana before the Parken Stadium erupted into the 'Roony, Roony' mockery.
Roony Bardghji scored a fantastic goal to give Copenhagen a precious three points at home
Fans chanted 'Roony, Roony' in mocking celebration after he condemned Man United to another defeat
The 17-year-old talent has scored 10 goals already this season and is one to watch for the future
Your browser does not support iframes.
Rooney became United's youngest-ever Champions League scorer when he scored a hat-trick aganst Fenerbache, but now Copenhagen's Roony is the youngest player to score against them in Europe's elite competition. 
His age of 17 years and 358 days means he surpasses the previous record and his goal put United bottom of the Champions League group. 
One suspects we will see a lot more of Bardghji in years to come, as he has already bagged 15 goals in 57 outings for the Danish champions – a fine record, especially for such a young age. 
Erling Haaland managed 20 goals in his first 50 games while cutting his teeth in Norway, which has a similar domestic footballing level to Denmark.   
Bardghji has already scored ten goals in 23 appearances this season and is definitely one to watch out for.  
IT'S ALL KICKING OFF! 
It's All Kicking Off is an exciting new podcast from Mail Sport that promises a different take on Premier League football.
It is available on MailOnline, Mail+, YouTube, Apple Music and Spotify.
Your browser does not support iframes.

Source: Read Full Article