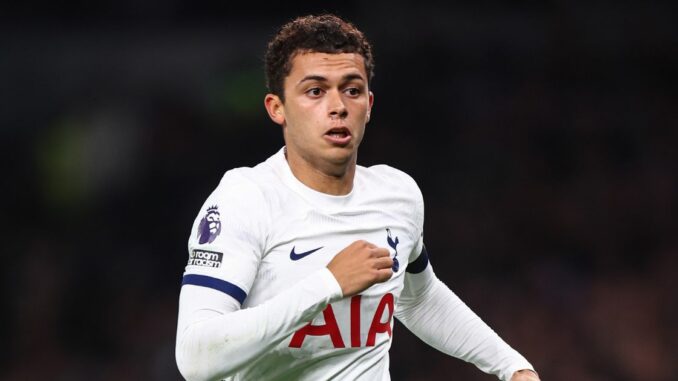 Bookmark
For the latest from the pitch sign up for our football newsletter
Thank you for subscribing!
For the latest from the pitch sign up for our football newsletter
We have more newsletters
Brennan Johnson's £48million move to Tottenham received a double superstar seal of approval – from David Beckham and Gareth Bale.
Former England ace Becks has been a friend of the family since getting to know Johnson's dad David during their time in the youth ranks at Manchester United. The Bale connection is more contemporary. The pair even crossed paths on the international stage for Wales, including Johnson replacing Bale in his final Red Dragons appearance – at the World Cup finals in Qatar.
Either way, to have two of Britain's greatest roundball legends wishing him the best certainly made an emotional summer switch from his beloved Nottingham Forest to Spurs easier. On Beckham following his career, Johnson declared: "He just wished me all the best at Tottenham. Of course, coming from a player like that, it's crazy. It's disbelief for me.
READ MORE: Ange Postecoglou rollicked Spurs star in front of whole squad for stepping out of line
READ MORE: Harry Kane called out by Tottenham-supporting WWE star after performing in Munich
"I'm not claiming to be mates with him. He is a similar age to dad and they played together. He has sent me a few nice messages before – after going up with Forest, after signing a new contract or whatever. It's really nice of him and definitely not something I'd take for granted."
If too young to have seen Becks in his prime, performing wonders on the wing at Old Trafford and the Bernabeu, it is a very different story regards Bale. Indeed, as a nipper Johnson's idol was his fellow countryman and he vividly recalls the inspirational sight of Bale ripping it up at full throttle along the Tottenham flanks. Those memories made a lasting impression – much to the benefit of the North Londoners.
Will Brennan Johnson become a top Premier League player? Have your say in the comments section below
"Growing up, he was one of my favourite players. Watching him play for this club did give me a drive to want to do it as well," explained playmaker Johnson, 22, ahead of Chelsea's visit tomorrow.
"Seeing how well he did here was definitely a factor in me coming. Of course, it was a different time, different managers. It's just the club they are, they're really developing and always forward-thinking. I didn't speak to Gareth before I signed but afterwards we did and he wished me luck."
So far, Johnson's impact for Ange Postecoglou's surprise Premier League pacesetters has been limited. Having signed on deadline day, he was then injured in the draw at Arsenal.
However, a brilliant assist off the bench for Heung-min Son in the 2-0 win at Crystal Palace on Monday – and subsequent praise for his performance from the Aussie coach – suggests he will start against Chelsea. Postecoglou has stated there is much to come from his unbeaten outfit – especially in the attacking department.
Cue further motivation for fully-fit Johnson to prove him right by adding a dynamic cutting edge to the N17 set-up. Johnson, with 22 Wales cap, said: "It was extremely frustrating picking up the injury. It's been a bit staggered in terms of settling in.
"The football we've been playing is really good. I'm loving it. I do think there's a lot more we can do. It's a still new system for most of the players."
David Beckham
Gareth Bale
Premier League
Tottenham Hotspur FC
World Cup
Family
Source: Read Full Article