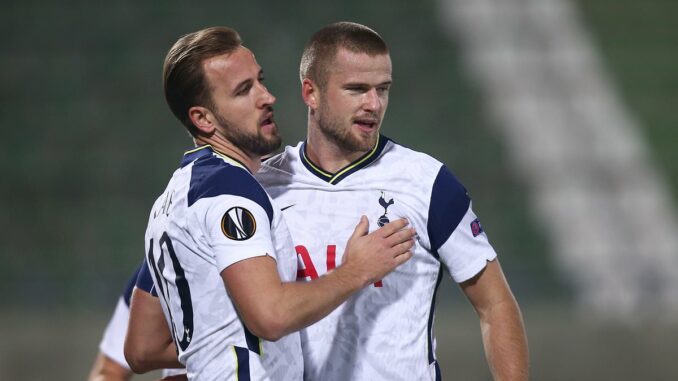 Harry Kane reveals the best defender he's ever faced, the Germany star he wished played for England and why Eric Dier is the worst team-mate to sit next to on a flight
Harry Kane has blasted through Bundesliga defences with 17 goals in 11 games 
 England will face Malta on Friday before a trip to North Macedonia on Monday
Southgate's loyalty to his players is an issue and a weakness – It's All Coming Up 
Harry Kane was faced with a number of quick-fire questions – ranging from the best biscuit for dunking into a hot cuppa to the player he would most like to play with – and has revealed the single best defender he has ever come up against. 
The England captain is busily preparing for international duty alongside the rest of the Three Lions, as they look to take on Malta on Friday at home, before a trip to North Macedonia on Monday. 
Gareth Southgate's side are three points clear at the top of Group C with five wins and a draw, and will be looking to put themselves in an even stronger position with two wins heading into the final round of Euro 2024 qualifiers. 
It's been an electric start to the 2023-24 campaign for Kane after his big-money move to Bayern Munich, having scored a staggering 17 goals in 11 Bundesliga games. 
Yet the striker made time to answer 20 questions about his life on and off the field, making some perhaps surprising statements in the process. 
Harry Kane was asked a number of quick-fire questions which lead to some interesting revelations
The England captain was quick to dig out former Tottenham and England team-mate Eric Dier 
Kane is busily preparing for the visit of Malta on Friday in England's Euro 2024 qualifying campaign
Your browser does not support iframes.
After admitting that his boyhood hero was David Beckham and that the worst Christmas present he ever received was a guitar that went untouched, Kane was asked who the toughest defender he ever faced was. 
'I faced John Terry early in my career and I thought he was one of the best defenders in the world. Really smart, really intelligent.' 
And when asked about any Germany players he would want to see line up in an England shirt he offered a perhaps less than shocking response.
'I'm playing with Jamal Musiala at the moment,' he said of the player born in Germany but who represented the Three Lions at youth level. 
'He is pretty much English, but he obviously chose to play for Germany. Incredible player, great guy as well, so I would have liked it if he chose England over Germany.' 
Musiala was born in Stuttgart to a British-Nigerian father and German-Polish mother and lived in Germany until 7, before moving to London. 
He would go on to rack up 19 youth appearances for England, before declaring for Die Mannschaft in 2021, whom he has gone on to represent on 25 occasions. 
Kane was also quick to dig out one of his former Tottenham team-mates, Eric Dier, with whom he played on 360 occasions for club and country.   
The 30-year-old has been in explosive form in Germany, scoring 17 in 11 Bundesliga games so far this term
Kane admitted that John Terry (left) was the best defender he had ever played against
The Chelsea legend is widely considered one of the best centre backs in Premier League history 
When asked which player he would least like to sit next to on a long-haul flight, he said: 'I'm going to put Eric Dier in there. 
'Eric Dier just sleeps everywhere – on the coach, on the plane, so I'll be getting no conversation from him. He'll probably sleep the whole 12 hours, or whatever the flight is.'
But of all the players in the history of the game, it was Lionel Messi that got the nod from Kane – perhaps unsurprising given his record tally of eight Ballon d'Or gongs awarded to the best player in the world each year.  
'I'd love to play with Messi, one of the greatest players to ever play our game – I'm sure he would be able to give me a few assists!'
The Bayern Munich star claimed that Lionel Messi was the player he wished he could have played with
IT'S ALL KICKING OFF! 
It's All Kicking Off is an exciting new podcast from Mail Sport that promises a different take on Premier League football.
It is available on MailOnline, Mail+, YouTube, Apple Music and Spotify.
Your browser does not support iframes.
Source: Read Full Article