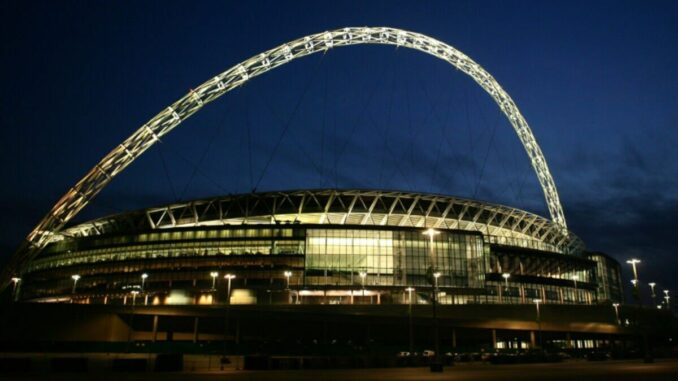 Football Digest: Southgate 'reluctant' to ponder England's options
The Football Association have made the decision not to light up the Wembley arch in the colours of the Israel flag as a result of fearing backlash from certain communities. The government has not asked the FA to make such a gesture before Gareth Southgate's England take on Australia on Friday. Instead, they are set to take a different approach.
The BBC have claimed that while the government have written a letter to encourage governing bodies in sport to "appropriately" mark the attacks in Israel with shows of support, that will not involve the Wembley arch being lit up in blue and white – despite blue and yellow colours being broadcast in solidarity with Ukraine after the invasion by Russia.
The FA instead will relay a message of peace and unity while there will be some form of acknowledgement for the victims prior to kick-off. Football Australia have already been contacted to be made aware that an act of support will be taking place.
A precedent has been set of illuminating the national flag of countries that have suffered from terrorist attacks in recent years, while a decision must also be made over how they will respond to pro-Palestine chanting after protests in London.
JUST IN Gary Lineker ready to host Match of the Day in his pants again on one condition[LATEST]
Some in attendance at Wednesday's FA meeting spoke about how lighting the Wembley arch could be divisive and senior officials are wary of being perceived as taking sides.
Instead, the FA announced in a statement on Thursday that both sets of players will wear black armbands and there will be a period of silence before kick-off. However, flags from Israel and Palestine will not be permitted inside the stadium for matches against Australia and Italy. The FA said it "will remember the innocent victims of the devastating events in Israel and Palestine".
We use your sign-up to provide content in ways you've consented to and to improve our understanding of you. This may include adverts from us and 3rd parties based on our understanding. You can unsubscribe at any time. More info
Don't miss…
Arsenal boss Mikel Arteta having profound effect on Jorginho as plan emerges[REACTION]
Chelsea boss Mauricio Pochettino can use football break to blood five talents[COMMENT]
Southampton's incredible team if they didn't sell 11 stars – where they are now[FEATURE]
"Our thoughts are with them, and their families and friends in England and Australia and with all the communities who are affected by this ongoing conflict," the statement added. "We stand for humanity and an end to the death, violence, fear and suffering."
The president of the FA – Prince William – has commented on the situation in a joint statement with his wife through a Kensington Palace spokesperson. In part, it read: "As Israel exercises its right to self-defence, all Israelis and Palestinians will be continued to be stalked by grief, fear and anger in the time to come."
This has come after the Department of Culture, Media and Sport have encouraged sports governing bodies to mark the lost lives "appropriately" without giving strict guidelines on how to do so.
Watch one of the biggest crossover fights of the year on DAZN as KSI and Logan Paul face off against the opponants in Manchester on October 14th.
It costs £20.99 and you also get to enjoy DAZN for the rest of the month for just £1 thanks to a special deal.
The Pay-per-view costs £20.99 and you'll be able to enjoy all the action on the night.
Source: Read Full Article