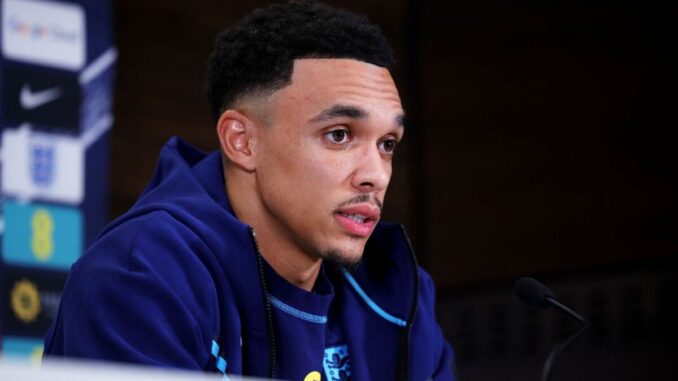 There has been a discernible change in Trent Alexander-Arnold of late as an England player – and not just in his position. It is more than five years since one of Liverpool's brightest lights made his international debut but it is only now, recast as a midfielder rather than as a back-up full-back, that he feels his moment is arriving.
He is in the starting team on Friday against Malta at Wembley as a man on a mission for a similar role with England in Germany next summer. "I see an opportunity for me to go and play in the Euros and represent my country and it's an opportunity I want to go and take," he said.
"Every game for me between now and the end of the season and any time I'm performing, it's to earn a place to start in the Euros. There's a chance for me to go and do that. That is where my head is at when I'm turning up to camp. It is full focus to go and achieve that.
"I want to start those games at the Euros and be someone who can help win silverware for the country."
The switch flick moment came when Gareth Southgate called him over the summer – ahead of the away trip to Malta – and told him he wanted to use him as a midfielder going forwards.
"When I heard those words, it ignited something within me. There was a chance for me to go out there and take it and I think that's what I did," he said. "I would say the Malta game was my best performance in an England shirt. Hopefully I'll be able to build on that."
READ MORE: Scotland trying to get in-form England star to swap sides after Southgate snub[LATEST]
A repeat of the long-range strike in Valletta in June on Friday would be just the job as he tries to shape Southgate's thinking in the countdown towards the finals.
"I've played roughly around 20 games for England. If I remember back to my first 20 games for Liverpool, I wasn't a regular starter but I wasn't someone who rested on my laurels and was content, I always strived for more," he said.
"I see myself in a similar position. I've had some opportunities, I've had games, I've had minutes. But now I feel like there's a real opportunity for me, especially in a role that I think will get the best out of me."
The position that suits him best? That is an interesting take given Alexander-Arnold is still a full-back – albeit a hybrid one – for his club.
It is not that he no longer cares for full-back duties at Anfield but he feels his game fits the creative opportunities offered higher up the pitch.
Support fearless journalism
Read The Daily Express online, advert free
Get super-fast page loading
DON'T MISS…
Jude Bellingham leaves Gareth Southgate with big issue as team meeting called[QUOTES]
Sir Bobby Charlton laid to rest as thousands pay tribute to Man Utd legend[LATEST]
Ex-Chelsea youth ace Jay Dasilva ditches England for Wales despite Euros glory[NEWS]
"Growing up in my teenage years I was a midfielder so it's a position I have some knowledge of," he explained. "It probably is best suited to someone who controls the tempo, creates, breaks lines, progresses the ball up the pitch.
"You probably get more out of me from being in the middle where I'm able to show off that skillset as much as possible."
Alexander-Arnold knows he is not the finished article as a top-level midfielder – positionally there is so much to take on board – but he is soaking it up as quickly as he can. Games like Friday night will help with that process – and with his lofty long-term aspirations.
"I do have high ambitions, massive ambitions, for club and country. I do also believe that dreams do come true if you work hard enough for them," he said. "That's where my head is at right now – going to achieve what I believe is possible."
And he is desperate to put on a show at Wembley for the England fans on Friday. He added: "My role is always to perform as well as I can but specifically, to go and create and make things happen.
"Control the game in the middle of the pitch, get the ball on to the attackers, play forward, run forward, goals, assists, create chances, get people off their seats. That is what I want to go and do in the game.
"As a team, our responsibility is to win the game and win it in a manner which we believe is acceptable for us. We have high standards here and there is a way in which England teams need to perform.
"Hopefully all the England fans who make the trip to Wembley will leave happy with the performance and excited from what they have seen."
Get every single Sky Sports channel with Sky Stream, Netflix and Sky TV for £46 a month.
You can enjoy all the best Sky has to offer without needing a satellite connection.
Sky Sports also offers all live events from the Premier League and the F1 and more.
If you're already with Sky, you can get the full Sky Sports experience for £22 a month.
You get all the channels you'll ever need for £18 a month in time for all the top matches to take place in 2023.
If you need a brand new TV and want to watch the best sporting events around on it, Sky is offering a deal where you get Sky Glass, Sky Sports, Sky TV and Netflix for just £34 a month.
Source: Read Full Article