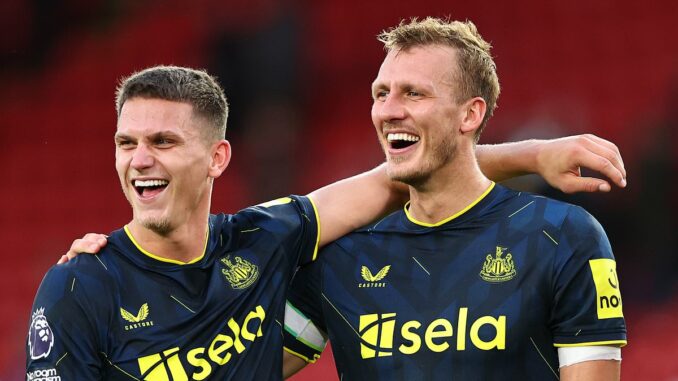 Fantasy Premier League Wildcard guide: The BEST players to pick in FPL for GW9 if you're activating the chip – with now an excellent time to overhaul your squads after the second international break of the season
FPL is back after the international break – and GW9 is only just around the corner
Mail Sport's chief reporter OLIVER HOLT has activated his Wildcard this week
Listen to the latest episode of Mail Sport's podcast 'It's All Kicking Off'
Thanks to the international break, FPL managers have been given an extra few days to stew over their squads ahead of GW9, which promises to be an enthralling weekend of Premier League football.
Across the 10 fixtures, Liverpool host Everton in Saturday's Merseyside derby, Manchester City take on Brighton after successive league defeats and Chelsea take on in-form Arsenal at Stamford Bridge.
Now almost a quarter of the way through the season, FPL managers have taken several lessons from the opening weeks – some good, some bad – and are looking ahead to what is destined to be yet another congested schedule of fixtures over the Christmas period.
With teams such as Liverpool, Tottenham and Aston Villa on the cusp of favourable fixtures swings, an excellent window of opportunity has opened up for those looking to use their first Wildcard of the season. 
Mail Sport's chief reporter OLIVER HOLT has decided to activate his Wildcard chip ahead of GW9, using the international break as an opportunity to reflect on his FPL squad and the fixtures on the horizon. 
The thrills and spills of the Premier League have returned after the second international break of the season – and now could be the perfect time for FPL managers to play their first Wildcard
Liverpool talisman Mo Salah will be very popular among those using their Wildcard in GW9
So, with that in mind, Mail Sport has taken a look at the best players to include on your Wildcard if you're hitting the button now or in the next couple of weeks. 
Highest xG in 2023-24 so far
Erling Haaland, MCI – 7.94
Alexander Isak , NEW- 5.41
Mohamed Salah, LIV – 5.20
Bryan Mbeumo, BRE – 4.71 
Nicolas Jackson, CHE – 4.09
Bukayo Saka, ARS – 4.05 
Ollie Watkins , AVL – 3.67  
Callum Wilson, NEW – 3.60
Jarrod Bowen, WHU – 3.58
Carlton Morris , LUT – 3.29
*xG = Expected goals
GOALKEEPERS 
Must have… 
ALPHONSE AREOLA (£4.2m) – Boasts a glorious fixture run until Christmas and is one of the cheapest keepers in the game. Worth spending the extra cash elsewhere and backing the West Ham shot-stopper to tick over every week.
Should have…
MATT TURNER (£4.1m) – Another cheap option and a solid back-up FPL keeper at Nottingham Forest. Be warned, he may lose his place to ODYSSEAS VLACHODIMOS soon, so don't rely on him as a No 1.
Avoid… 
NICK POPE (£5.5m) – Too expensive despite Newcastle's excellent defensive record. Not worth the extra money over another Magpies defender because of his low FPL points ceiling.
DEFENDERS 
Must have…
DAN BURN (£4.7m) – Or any other Newcastle defender. Extremely reliable defence with great long-term fixtures. KIERAN TRIPPIER could be worth a shot but you'll likely need the extra money in midfield and attack.
Should have…
GABRIEL MAGALHAES (£4.7m) – Shake off the trauma from earlier in the season. Arsenal are among the three best defences in the league and have great fixtures after GW9. He offers a cheap route in and seems to have his place back at Arsenal.
Avoid… 
TRENT ALEXANDER-ARNOLD (£7.9m) – Not producing the points he once did and thus far too expensive. ANDREW ROBERTSON is now injured which will only hurt Liverpool's clean sheet potential. Pump the money into attack.
Alphonse Areola offers superb value at £4.2m having emerged as West Ham's No 1 this season
Newcastle's Sven Botman (left) and Dan Burn (right) continue to look like top picks in defence
Honourable mentions…
GOALKEEPERS:  
BERND LENO (£4.7m)
GUGLIELMO VICARIO (£5.1m)
EMILIANO MARTINEZ (£4.9m)
MARK FLEKKEN (£4.5m) 
DEFENDERS:
MATTY CASH (£5.1m) 
PEDRO PORRO (£5.1m)
MARC GUEHI (£4.5m)
LEWIS DUNK (£5.0m)
Tottenham's Pedro Porro is providing plenty of goal and assist threat from right-back
MIDFIELDERS 
Must have… 
MOHAMED SALAH (£12.6m) – Continues to prove his reliability in FPL with goals and assists. Fantastic fixture run and best captaincy option in GW10, GW14 and GW15. Fully worth his price at this stage in the season.
Should have…
SON HEUNG-MIN (£9.5m) – Another superb option if price isn't an issue. Playing No 9, takes penalties and is the main man under Ange Postecoglou. JAMES MADDISON offers a cheaper Tottenham option at £8.1m. 
Avoid… 
BRUNO FERNANDES (£8.4m) – Not delivering enough to warrant his FPL price. Arsenal, Manchester City, Liverpool and Tottenham assets should be prioritised. Could be kept against Sheffield United in GW9 ahead of a GW10 Wildcard.
Your browser does not support iframes.
Son Heung-min looks back to his very best for Tottenham and is well worth his value at £9.5m
Meanwhile, Manchester United's Bruno Fernandes is struggling to justify his £8.4m price tag
FORWARDS 
Must have… 
ERLING HAALAND (£14.0m) – Most destructive FPL player in the league and not worth betting against. Worst fixture against Arsenal has passed. Still the best captaincy option in GW9 and GW11 and has potential to haul big points in any given game.
Should have…
OLLIE WATKINS (£8.2m) – On a hot streak worth riding. Aston Villa have a glorious fixture list until GW13 and he's at the centre of Unai Emery's attacking plans. One to put in now before looking to move on when the fixtures turn.
Avoid… 
GABRIEL JESUS (£8.0m) – Other similarly-priced Arsenal attackers offer better points potential. Both BUKAYO SAKA and GABRIEL MARTINELLI provide more goal threat for their price. Only averaging 2.7 points per match.
Don't let his vacant performance against Arsenal in GW8 fool you – Erling Haaland is capable of scoring multiple goals in any game and should be firmly in your Wildcard thoughts for GW9
Honourable mentions…
MIDFIELDERS:
BUKAYO SAKA (£8.5m)
JARROD BOWEN (£7.3m)
MOUSSA DIABY (£6.7m)
ANTHONY GORDON (£5.6m)
FORWARDS:
JULIAN ALVAREZ (£7.0m)
DARWIN NUNEZ (£7.4m)
ODSONNE EDOUARD (£5.5m)
LYLE FOSTER (£5.0m) 
West Ham talisman Jarrod Bowen is continuing to impress in his new No 9 role in attack
OLIVER HOLT's GW9 team
*This draft could change depending on Friday's press conference news. Head to Mail Sport's socials to see the final team on Saturday!
GOALKEEPERS: 
Alphonse Areola; Matt Turner
DEFENDERS: 
Pedro Porro; Matty Cash; Dan Burn; Sven Botman; Jan Paul van Hecke
MIDFIELDERS:
Mohamed Salah; Son Heung-min; Anthony Gordon; Gabriel Martinelli; Moussa Diaby 
FORWARDS: 
Erling Haaland; Darwin Nunez; Cameron Archer
Mail Sport's chief reporter OLIVER HOLT (left) played his Wildcard ahead of GW9 and is set to include the likes of Erling Haaland, Mohamed Salah, Darwin Nunez and Gabriel Martinelli
IT'S ALL KICKING OFF! 
It's All Kicking Off is an exciting new podcast from Mail Sport that promises a different take on Premier League football, launching with a preview show today and every week this season.
It is available on MailOnline, Mail+, YouTube , Apple Music and Spotify
Your browser does not support iframes.

Source: Read Full Article