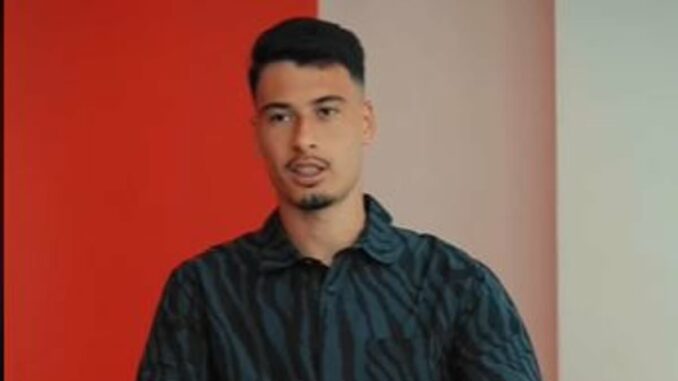 Oleksandr Zinchenko is the biggest JOKER at Arsenal while Mohamed Elneny is the LEAST likely to fork out for dinner as Gunners stars spill the beans in quick-fire questions… but who do they think will write a book?
Arsenal's stars have recently taken part in a quick-fire questions challenge 
They revealed the best dressed, biggest jokers and most vain players at the club 
Listen to the latest episode of Mail Sport's podcast 'It's All Kicking Off!'
Gabriel Jesus, Gabriel Martinelli and Aaron Ramsdale have revealed all about their Arsenal team-mates after taking part in a quick-fire questions challenge. 
The Gunners are flying in the early stages of the 2023-24 campaign and are currently unbeaten in the Premier League from their opening eight matches. 
It's a testament to the hard work and dedication that the Gunners stars – such as Bukayo Saka, Martin Odegaard and others – have put in over the course of the last couple years.
Now, in a quick-fire questions session with Footballer Fits, a group of Arsenal stars have revealed who works hardest out of their team-mates – as well as admitting who is the most vain star in the squad! 
In the video, the trio of Arsenal stars were asked who was the best trainer at the club, to which Ramsdale suggests it's Declan Rice, Jesus names Jorginho and Martinelli claims it's his compatriot Jesus.
Gabriel Martinelli (L) and Aaron Ramsdale (R) sat down to talk about their Arsenal team-mates
Quick-fire questions with the with Arsenal boys. Gabriel Jesus is too funny 😂 #football #fashion #style #music #martinelli #ramsdale
Your browser does not support iframes.
It's a somewhat surprising range of answers from the Gunners stars, with many expecting club captain Odegaard or winger Saka to be in contention. 
The quick-fire questions continued and the players were asked who was the funniest member of the squad. 
Ramsdale listed Ben White, Kieran Tierney and Rob Holding as three stars who crack him up the most, while Martinelli suggested it's Fabio Vieira. 
Brazil star Jesus offered an interesting take as he suggested Polish defender Jakub Kiwior and full-back Oleksandr Zinchenko. 
In a similar question, regarding the 'biggest joker' in the Gunners squad, all three players answered with former Man City star Zinchenko. 
Then, the players were asked who was least likely to pay for dinner, to which Jesus named Nelson, Ramsdale said Mohamed Elneny and Martinelli named Vieira again. 
They were also asked who they thought would be most likely to write a book, which Ramsdale quickly suggested would be defender Ben White.  
When quizzed on the best dressed in the squad, both Martinelli and Jesus suggested it was themselves, while Ramsdale claimed it was summer signing Rice. 
Arsenal's stars claimed that full-back Oleksandr Zinchenko (L) is the biggest joker in the squad
They then claimed that midfielder Mohamed Elneny (R) was least likely to pay for a dinner
The Arsenal stars were also asked the age-old question as to who spends the longest sorting out their hair, to which full-back Cedric Soares was the most common answer.
Ramsdale, who has fallen out of favour within Mikel Arteta's side this season, suggested it was former West Ham star Rice. 
Looking ahead for the Gunners, they'll be hoping to maintain their unbeaten start to the 2023-24 campaign when they take on Chelsea on Saturday. 
Arteta's side travel to Stamford Bridge in good spirits but will do well to triumph over the Blues, who have won their last three matches in a row.  
IT'S ALL KICKING OFF! 
It's All Kicking Off is an exciting new podcast from Mail Sport that promises a different take on Premier League football.
It is available on MailOnline, Mail+, YouTube, Apple Music and Spotify.
Your browser does not support iframes.

Source: Read Full Article