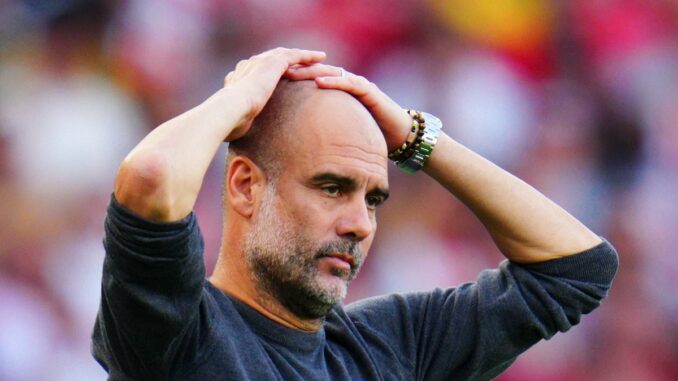 Pep Guardiola admits defending the Premier League this season is his biggest challenge as Manchester City manager… as the Cityzens look to get back to winning ways against Brighton
Pep Guardiola said defending the Premier League was his biggest challenge 
After back-to-back league defeats, they face Roberto De Zerbi's Brighton 
Listen to the latest episode of Mail Sport's podcast 'It's All Kicking Off!'
Pep Guardiola admitted that this season's defence of the Premier League title is his biggest challenge as Manchester City manager.
City last lost two consecutive league games back in 2018 and will attempt to avoid a third against Roberto De Zerbi's Brighton, an opponent Guardiola considers one of the toughest in the division.
The Catalan insists that his players are 'humble' enough to go again after completing an historic Treble but warned they cannot cede further ground on their rivals.
'We have to admit that we have to break it quickly because in the Premier League if you sleep a little bit, take some naps after lunch, then the opponents fly,' Guardiola said.
'It will (then) be difficult to catch them. Every season gets tougher. We have to accept and understand that the challenge is bigger than ever. We have to accept that the others are better and we have to improve.' The City boss was glowing about De Zerbi, whom he has forged a bond. 
Pep Guardiola admitted defending the league title is his biggest challenge as Man City boss
Brighton's Roberto De Zerbi is considered a favourite to eventually succeed Guardiola
The Italian, 44, is considered a favourite to eventually succeed Guardiola, whose contract expires in 18 months. Guardiola insisted on Friday that he will have no say on the next man.
'It's none of my business,' he said. 'If the chairman asks my opinion I will give my opinion but it's none of my business.
'I'm not sporting director. It's not my responsibility to say what's going right or wrong. I'm sure Roberto can train in any team around the world. I don't have any doubt.
'He's converting Brighton into a top club. I'm a spectator as a manager and I enjoy his teams play. Everything he does makes sense. His success is not a surprise.
'They are unique. I admire him in that it doesn't matter what team he is at, he's proven you don't have to have top, top exceptional players to play the way you like.'
IT'S ALL KICKING OFF! 
It's All Kicking Off is an exciting new podcast from Mail Sport that promises a different take on Premier League football, launching with a preview show today and every week this season.
It is available on MailOnline, Mail+, YouTube , Apple Music and Spotify
Your browser does not support iframes.
Source: Read Full Article