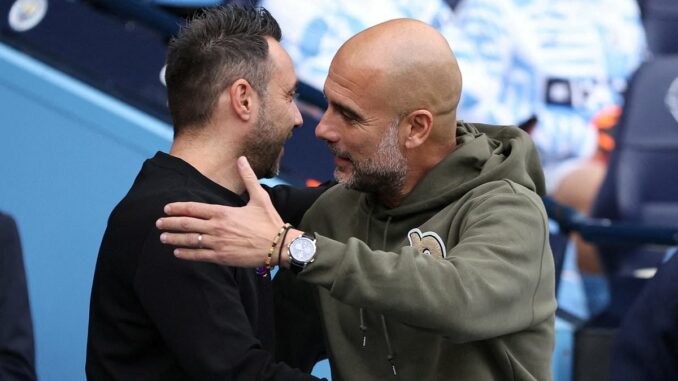 Pep Guardiola says 'I don't remember' tipping Roberto De Zerbi to succeed him as Man City manager… as Treble winner admits he can learn from Brighton boss
Guardiola has cast doubts on clams he tipped De Zerbi to succeed him 
High-flying Man City face Brighton in the Premier League on Saturday 
Listen to the latest episode of Mail Sport's podcast 'It's All Kicking Off!' 
Pep Guardiola says he cannot recall telling anybody he believes Roberto De Zerbi will succeed him as Manchester City manager.
A story has emerged claiming the Catalan privately tipped the Brighton boss to succeed him after City drew at the Amex Stadium in May.
Yet, while Guardiola may have cast doubt over whether that occurred, he has repeatedly been effusive in his praise of the Italian and remains so ahead of Saturday's meeting between their two clubs.
Guardiola, whose future beyond the expiry of his contract in 2025 is unclear, said: 'I don't remember that.
'Maybe I have bad memory but I'm sure Roberto can train in any team around the world. I don't have any doubt.
Pep Guardiola cast doubts on clams he tipped Roberto De Zerbi to succeed him at ManCity
Your browser does not support iframes.
'I don't remember saying that to the players. I remember saying before he arrived, one or two games in, about sustaining the manager, but I don't remember saying that honestly.
'It's none of my business. If the chairman asks my opinion I will give my opinion but it's none of my business.
'I'm not the sporting director. It's not my responsibility to say what's going right or wrong.'
Former Sassuolo and Shakhtar Donetsk boss De Zerbi has made a big impression since taking over at Brighton just over a year ago.
He guided the club into European competition for the first time with a sixth-placed finish in the Premier League last season and they have started the current campaign strongly.
Guardiola feels this proves a manager need not have had experience at the highest level to land the biggest jobs.
He said: 'It doesn't mean you have to be at the top clubs to be manager of the top clubs. I was appointed Barcelona first-team (manager) coming from the fourth division with no experience at the top level.
'You have the idea of the club, the sporting director follows the idea, they hire the manager for this idea, they hire players to follow the idea. When that happens it's going well.
'Man City have done this, Liverpool with Jurgen (Klopp) for many years – winning titles with the same process and same ideas.'
Guardiola, 52, is widely considered the greatest coach of his generation having last year added a third Champions League title to a glittering CV that also includes five Premier League wins.
Yet even he feels like he can learn from a relative youngster like 44-year-old De Zerbi.
Guardiola, 52, feels like he can learn from a relative youngster like 44-year-old De Zerbi
He said: 'His players are always in the perfect body-shape position to get the ball.
'It's a stupid thing to say but one of the key points. Everyone moves in the right moment, tempo.
'Football is not 'you have to move', it's when. It's body shape in the perfect shape. It's really good.
'Everything he does makes sense and I learn.'
IT'S ALL KICKING OFF! 
It's All Kicking Off is an exciting new podcast from Mail Sport that promises a different take on Premier League football, launching with a preview show today and every week this season.
It is available on MailOnline, Mail+, YouTube , Apple Music and Spotify
Your browser does not support iframes.
Source: Read Full Article