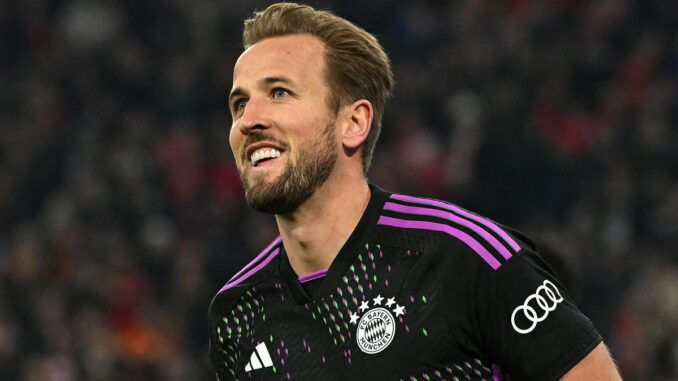 Harry Kane is on course to break ANOTHER Bayern Munich record by Christmas… as the England captain continues his incredible start to life in Germany both on and off the pitch
Harry Kane has enjoyed a brilliant start to life at new club Bayern Munich
The England skipper is now on course to break another record by Christmas
Trent and Bellingham can play together but can't get in each other's way – IAKO
Harry Kane-mania has well and truly gripped Germany following his record-breaking start to life at Bayern Munich – and it's not just on the pitch where he's excelling. 
Since completing his £100million from Tottenham in the summer, Kane has become an instant fan favourite in Bavaria after netting a staggering 21 goals in just 16 games.
This saw him become the first player in Bundesliga history to score 17 goals in his first 11 appearances while also becoming the first to net a hat-trick in their first Klassiker appearance.
The England captain is already one goal better than last season's Bundesliga golden boot winner – who won the award with 16 goals – and already has three hat-tricks in his debut German top-flight campaign, another record he holds.
And while his performances on the pitch have been second to none, he is now on course to break another record for Bayern Munich off of it.
Harry Kane is set to break another Bayern Munich record by Christmas
Kane has become a fan favourite at Bayern after netting a staggering 21 goals in just 16 games
Your browser does not support iframes.
According to German publication Kicker, Kane is set to break the record for most shirts sold in a single Bundesliga season, with Bayern expecting to have sold more than 100,000 shirts with his name and number on the back before Christmas.
What's more impressive is that no player will have achieved those numbers in the club's history and the England skipper is expected to smash the record before even reaching the season's half-way mark.
Kane's replica shirts flew off the shelves on the day of his arrival in Munich, with the German giants selling over 10,000 in what was a record total for the club.
Bayern are now expecting to sell over 100,000 shirts with Kane's name and number on by Christmas – a club record for most in a single Bundesliga season 
That total doubled by the end of that weekend and the number of shirts sold has only risen given his brilliant form.
Reports in Germany now expect Kane to smash through the six-figure barrier and for it to keep on rising until the end of the season.
Bayern announced revenue of £96m for the 2022-23 campaign but that figure is expected to be eclipsed with Kane now spearheading their attack.
IT'S ALL KICKING OFF! 
It's All Kicking Off is an exciting new podcast from Mail Sport that promises a different take on Premier League football.
It is available on MailOnline, Mail+, YouTube, Apple Music and Spotify.
Your browser does not support iframes.
Source: Read Full Article