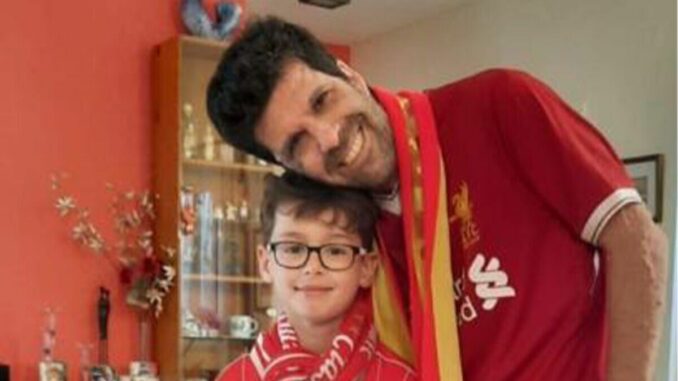 Israeli Liverpool fans told of their devastation after club officials barred them from holding a tribute to friends killed in the Hamas massacre on October 7.
Rotem Zmora, 30, said his friend was told to pack up his banner with the words "In Loving Memory of The Fallen Israeli Reds" at the Kop End before the game against Everton at Anfield.
Mr Zmora, who hosts an Israeli Liverpool FC podcast, was paying tribute to his friend and lifelong Reds fan Roee Munder, 50.
He was killed when the terror group attacked his safe house.
Roee's nephew Ohad, due to turn nine, his mother Keren, 54, and 78-year-old grandparents were taken hostage that day.
Mr Zmora told the Sunday Express: "It's devastating. What really disturbs us is our banner is not political, it's not provocative. It is simply a banner for friends.
"One of them is a personal friend of mine. I was talking to him on the morning of October 7 just minutes before he was murdered and it was really important for us to have their faces in The Kop. We decided to have a banner in memory of our fallen friends.
"The banner was allowed initially by security and it was hung up.
READ MORE: Jurgen Klopp may deploy forgotten Liverpool man against Everton
"Our guy decided he wanted to hold it and asked for approval from another steward.
"The steward called the supervisor and the supervisor asked for approval from control.
"They didn't see the banner – the steward just read out what was written on it and then they asked us to remove it."
The three other men in the banner were Ori Tchernichovsky, Yuval Yoffe and Netta Epstein, who also died in the terror attack.
Mr Zmora, who lives near Tel Aviv, added: "Since the events started we were trying to reach the club and ask for something like a formal recognition for our friends, maybe have them in the match day programme.
"All we got from Liverpool was a copy and paste message saying there will be a minute's silence and nothing personal relating to the Israeli fans that were murdered."
Liverpool Football Club were contacted for comment.
Advert-free experience without interruptions.
Rocket-fast speedy loading pages.
Exclusive & Unlimited access to all our content.

Source: Read Full Article