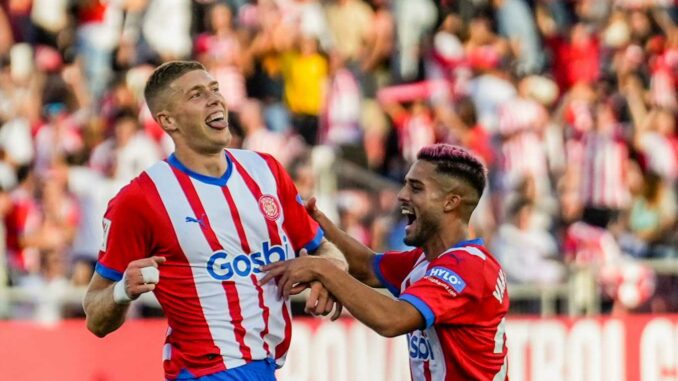 Girona are flying in LaLiga this term

Sign up to Miguel Delaney's Reading the Game newsletter sent straight to your inbox for free
Sign up to Miguel's Delaney's free weekly newsletter
Thanks for signing up to the
Football email
In one of Europe's biggest three-horse races, an unexpected fourth leads the way. Where usually FC Barcelona or Real Madrid reside, and on sporadic occasions Atletico Madrid, there's an altogether less-expected club sitting top of LaLiga after a third of the campaign – a free-scoring, attack-minded team who spent a net of barely £4m in summer, have a stadium capacity of fewer than 15,000 and whose best-ever season in LaLiga to date saw them finish 10th.
Welcome to Girona FC.
The story of their rise is a tale in itself, but their opening 12 games of this campaign might yet make for the stuff of local legend.
As recently as 1999 the club was playing in the Catalan regional leagues, the fifth tier of Spanish football, but after achieving their first-ever top-flight campaign in 2017/18 and surviving for a second, they returned to LaLiga for 22/23 and ended 10th last year – just as they did five years earlier in fact.
There appears to be no danger of season four emulating season two, though. Where then they were relegated, this term they top the table, two points ahead of Real Madrid, four clear of champions Barcelona and a full six ahead of Atletico. Between Girona and fifth is a massive 10 points, after just a dozen matches.
Masterminding this unexpected rise is head coach Michel Sanchez Munoz, better known just as Michel, a former Rayo Vallecano and Real Murcia player who has been in the dugout at Estadi Montilivi since 2021. Michel has the team playing offensive football – they've not just won more games than anyone this term, they've outscored everyone in LaLiga too – and the manner of it is even more impressive given the turnover of the squad: 10 in, three out, another half a dozen loaned away.
That new group has been quickly moulded into a cohesive unit with a very identifiable approach to matches, as one of those new arrivals, former Manchester United and Ajax defender Daley Blind, told The Independent.
"It's always difficult to compare managers, every one has his own ID and way of playing. But what stands out is the manager is really clear in how he wants to play football, he has a really clear idea about every game we play and having a real tactical plan," Blind said on a call. "He tries to give that to the team and make sure we understand the gameplan.
"The story he told me before I came to Girona was really intriguing and I can't say anything other than he did not lie – I got excited and wanted to play here after speaking to him.
"You can't know it for sure beforehand but we're really happy with how it's going and it's always important for a coach to be clear about that."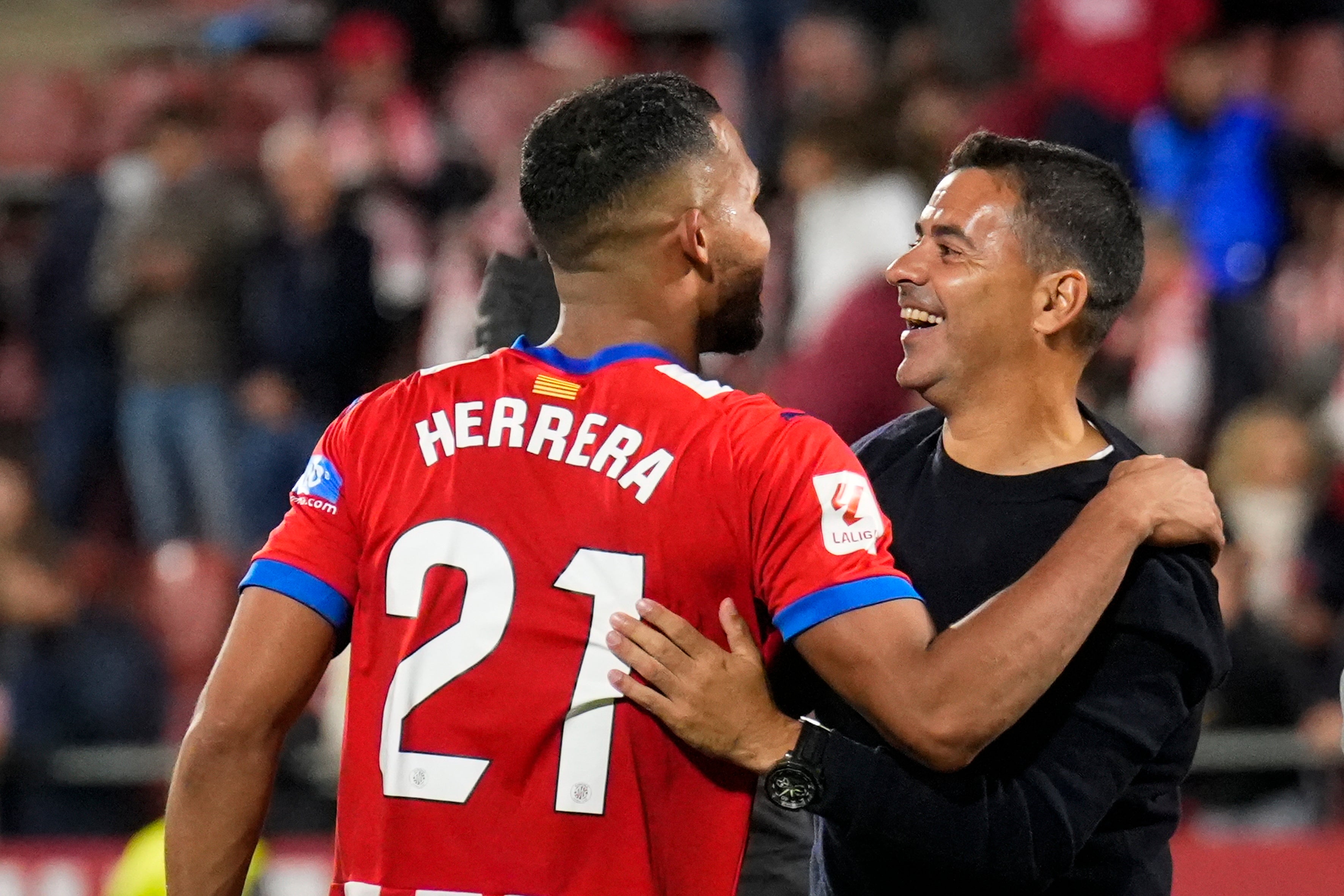 Michel has earned the respect of his players
Blind is happily effusive about Michel's man management as well as his tactical acumen. Having spent most of his career under the likes of Louis van Gaal, Jose Mourinho, father Danny Blind and others, he's well-placed to talk about who is impressive or otherwise on the coaching ground.
And while he won't directly look at matching up Michel's attributes to anyone else's, he makes the point that there's a real connection between coach and squad.
"I don't want to compare [to others] but, for me, he's a manager who is human, who connects on a personal level as well. He joins in the rondo [training game of keep-ball] and is part of the guys; at the moment training really starts he's then really on top of it and not holding back," the centre-back explains.
"He expects every training [session] to be the best but there's always time for a joke here and there. He has a good connection with every player – that's very special."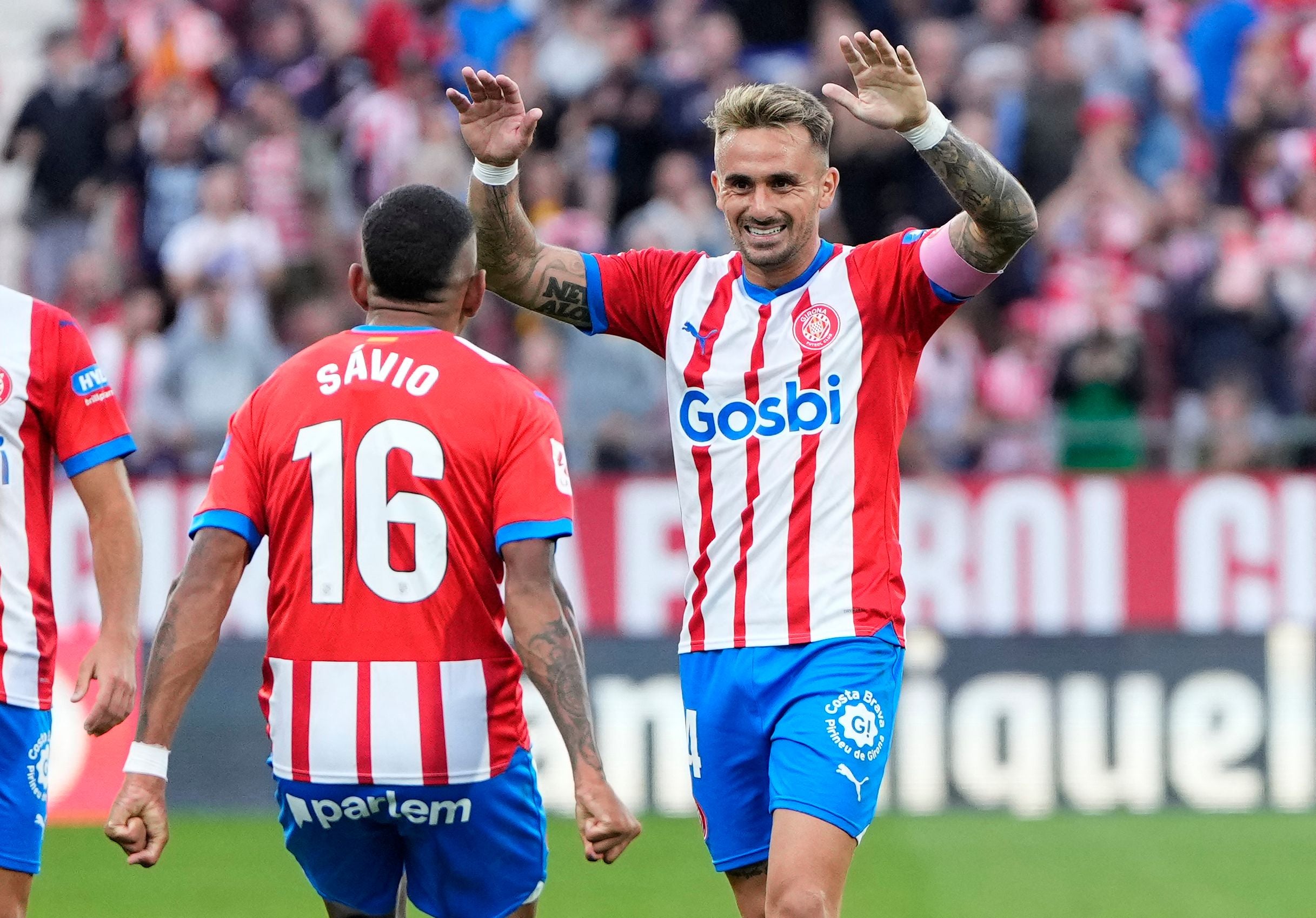 Savio and Aleix Garcia have impressed for Girona
Blind freely admits that his spell in Spain came at the second time of asking. He got the call from Girona last year after leaving Ajax; while considering his next move, Bayern Munich swooped in and he felt he needed to go. This summer, though, he was confident Girona was the right move.
While the Dutchman has been a mainstay at the back this term, central midfielder Aleix Garcia has caught the eye, while in attack young winger Savio has been impressive and new centre-forward Artem Dovbyk has not so much hit the ground running as thundering through defences, scoring six in eight starts or one every 109 minutes. Among LaLiga's best goal-getters, only Gerard Moreno (105), Alvaro Morata (105) and top scorer Jude Bellingham (95) can beat the Ukrainian's strike rate.
So has the fast start by Girona altered their season aims, made them look higher than might have been the objective at the start of the campaign? Not for Blind, who maintains the 'one game at a time' mantra.
"For me it hasn't changed, you want to finish as high as possible in the league and that's what we aim for. We'll see where that is at the end of the season," he said.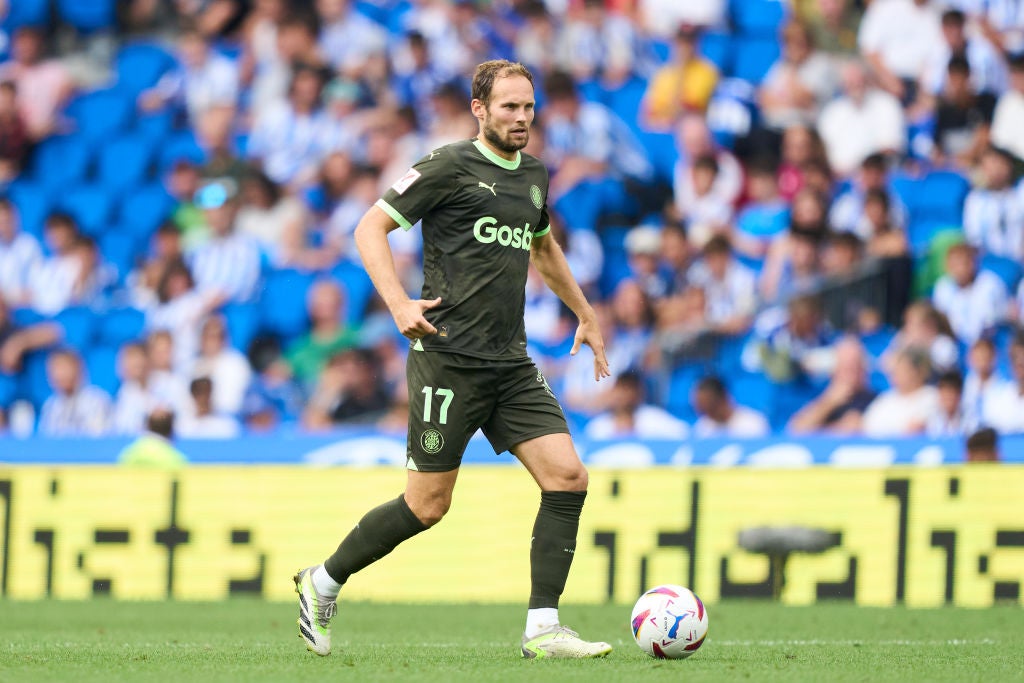 Daley Blind made the switch to Girona over the summer
"You always be ambitious and have an aim but in the end you look game-by-game because the next one is most important and you want the three points. But you see which games are in the next couple weeks and be ambitious about it. It's not for me to reveal what we say about [those runs] but it always comes back to the next game."
For Girona, the next game is away to Rayo, Michel's oldest and most closely linked club.
Beat them and the Catalonian club will remain top across the international break, the envy of not just smaller clubs around Europe hoping to improve their own fortunes and challenge higher in the league, but of every club in Spain – including the very biggest and the supposed best. Perhaps, just perhaps, they won't be this year.
Source: Read Full Article