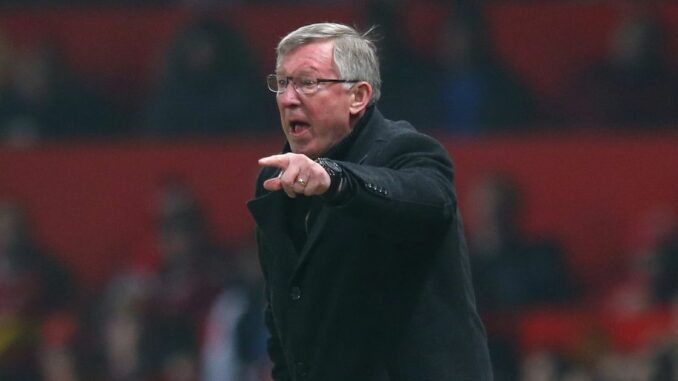 Bookmark
For the latest from the pitch sign up for our football newsletter
Thank you for subscribing!
For the latest from the pitch sign up for our football newsletter
We have more newsletters
West Ham and Fulham legend Tony Gale has launched his autobiography full of fascinating stories – including a great wind up of Manchester United's legendary manager Sir Alex Ferguson.
The book, titled 'That's Entertainment', reflects on a career spanning 21 years, in which he played more than 720 games across English football's four divisions. His successful punditry career since has seen him cover a further 3,000 live games.
Gale came through the youth ranks at Fulham, making his first team debut aged 16. He learned directly from England's legendary World Cup-winning captain Bobby Moore before becoming captain himself at 18.
After 277 league appearances with the west Londoners, Gale opted for a move to the east side of the capital with West Ham in 1984. He made a name for himself there over the next decade – but perhaps the highlight of his career was being signed for Blackburn Rovers by Kenny Dalglish before winning the 1994/95 Premier League title.
Gale, 63, has now recounted anecdotes from the golden era of greats, including stories of Sir Alex Ferguson and that historic title-winning season.
I pranked Fergie so bad he said 'that's enough, that's enough'
In 2008, there was a remembrance dinner at Upton Park for former West Ham managers Ron Greenwood and John Lyall. Sir Alex Ferguson flew down from Manchester especially for it and I was in charge of introducing him.
I started by saying: 'Here he is. The man that must be fed up with us. We stopped him winning the title in 1992, when we were already relegated' – then he sat down.
As he got up again, I carried on and said, 'We also stopped them in the FA Cup when Fabian Barthez put his hand up appealing for offside and Paolo Di Canio went through and scored.'
So Fergie sat down again. After a few more times, he got his white handkerchief out, waved it in the air and said 'That's enough, that's enough' and then came up and did his speech, which was brilliant. He got a standing ovation when he got up to do it and another when he finished.
Fergie flew back the same evening as United were playing Wigan in the last game of the season to win the Premier League, which they did. To come down for the dinner, with all that going on that week, it showed the true colours of the man.
‌
The moment we won the league with Blackburn
Within a week in 1994 I went from being out of contract at West Ham to playing at non-league Barnet, then playing for Blackburn against Manchester United in the Charity Shield at Wembley.
At the time, owner Jack Walker had all the money in the world and could buy any player he wanted, but he listened to Kenny Dalglish and Ray Harford, taking me on a free transfer.
I'm sure a lot of fans and media were thinking 'Why?' – well, they took a gamble on me and there was no way I was letting them down.
Everything was looking great until the last six games of the 1994-95 season, where you could see a nervousness in our play, scrambling with 1-0 wins, 1-1 draws and losing by the odd goal.
Our final game of the season was at Anfield against Liverpool. United, meanwhile, were away at my old club West Ham.
We were two points ahead, so they needed to win and hope we slipped up. I was sitting in the dugout at Anfield, watching the West Ham v United game on a TV.
When we went 1-0 up, I thought 'I don't even need to watch the telly now', but then it went 1-1, then 2-1 to Liverpool and I was s****ing myself.
I was watching the West Ham game, which was also 1-1, and Ludek Miklosko was making save after save, with defenders throwing themselves across the ball.
United only needed one goal to win the league. It was like a siege on the West Ham box.
When the whistle went full-time at West Ham, I said, 'We've f***ing done it!' Ray Harford looked at me and said 'You sure?' I said 'I'm sure, I'm sure!'
Then the message got out to the players on the pitch and it was surreal for about two minutes while we were playing.
Prime Video is available as part of the Amazon Prime membership, which costs £8.99 per month or £95 annually for an individual.
The membership gives access to all the perks of Amazon Prime (including free Premium and Same- Day Delivery in selected residential postcodes, and other benefits) plus the full library of content available through Prime Video.
Prime also offers a discounted membership, Prime Student for higher education students.
You can also sign-up for Prime Video on its own for £5.99 per month, however, you won't get the other benefits that come with Prime — like free One-Day Delivery and Same-Day Delivery on eligible orders and fast grocery delivery and pickup.
£5.99 per month for Prime Video only, or £8.99 per month for Amazon Prime membership
The fans around the pitch were going mad and even the Liverpool fans were cheering for us. If we weren't going to win it at home, then the best place for Kenny would be at Anfield.
The drinks started in the changing room straight after, but when we got on the coach after the game, we were like, 'f***ing hell. We've won the league!"
I was fortunate to have played 21 times in total for Blackburn. Many people said when I got there I was like a new player and person.
That season at Blackburn was almost like a fairy tale – from non-league football to Wembley and then becoming champions.
Tony Gale: That's Entertainment is out now, published by Reach Sport.
Manchester United FC
Sir Alex Ferguson
Premier League
Fulham FC
West Ham FC
Blackburn Rovers FC
Source: Read Full Article