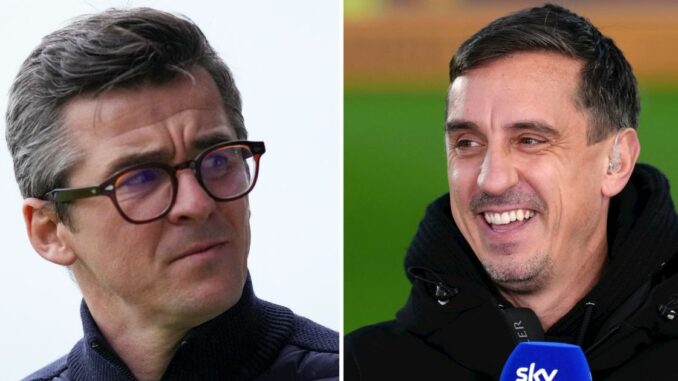 Former Premier League hardman Joey Barton couldn't help but get involved in the reaction to a completely chaotic first half between Tottenham Hotspur and Chelsea.
The famous 'Battle of the Bridge' was made to look a tame game following the most exhilarating half of football in memory, as countless controversial VAR checks and flash points littered the opening 45.
Dejan Kulusevski put Spurs ahead after six minutes when his effort was deflected beyond Robert Sanchez in the what proved to be the first firework of the night. Cristian Romero and Destiny Udogie, initially, later avoided red cards as the game grew into a frenzy.
READ MORE: Tottenham survive two 'blatant' red cards and Chelsea brace before star is sent off
READ MORE: Chelsea fans fume at Cristian Romero with Tottenham star sent off for 'leg breaker'
And following Romero's horrible challenge on Enzo Fernandez that saw Chelsea awarded a penalty via a VAR check and the Argentine sent off, seconds after his high challenge was spotted in the build-up to Moises Caicedo's disallowed goal, Gary Neville was beside himself with excitement as the full range of his 'oooooohhhs' were on display. Chelsea converted the penalty and drew level before half-time.
And a man who no doubt would've revelled, and likely overstepped the boundary of the game, Barton, took to Twitter to react to the half and Neville's commentary.
What do you make of Joey Barton's comments? Let us know in the comments section.
He wrote: "Gary Neville thrives in the potential of a red card incident. It seems to almost make him aroused. Decent game this mind. Good bit of needle. Added 15 mins per half for VAR."
Carrying on from the first half in the same vein, there was soon another red card moment for Neville to get the hots for, as Udogie, eventually saw justice from his two-footed lunge in the first half on Raheem Sterling as he was shown a second yellow and reduced Ange Postecoglou's side to nine men.
Although he never played for either team, we can only imagine the smile on Barton's face sat watching the madness at home, probably wishing he could be involved. The midfielder received six red cards and 78 yellow cards in his 269 Premier League appearances.
Source: Read Full Article