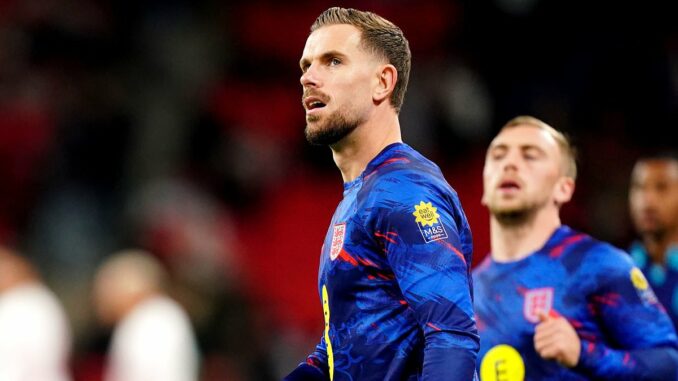 Jordan Henderson reveals he was unaware of England fans booing him during Australia until post-match and admits the jeers HURT… but is cheered by supporters at Wembley after coming on against Italy
Jordan Henderson revealed it hurt to be booed by England supporters
The former Liverpool midfielder was booed by fans at Wembley on Friday
Listen to the latest episode of Mail Sport's podcast 'It's All Kicking Off!' 
Jordan Henderson admitted being booed by England supporters as he departed the pitch against Australia 'hurt' after later being told that some fans inside Wembley were unhappy with his decision to move to Saudi Arabia.
The former Liverpool captain has been criticised for moving to the nation in the summer given Saudi Arabia's human rights record and homosexuality being illegal in the country.
Henderson left Anfield to join Al-Ettifaq but has maintained his position in Gareth Southgate's England set-up at the expense of other Premier League stars, despite playing in a lesser league.
The 33-year-old explained he wasn't first aware of boos following him off the pitch when he was substituted in the 62nd-minute of England's win over Australia before being told about it by others. However, was cheered by fans at the same ground on Tuesday evening when introduced from the bench in the 70th-minute versus Italy.
'At the time, not really [hear the boos] but after game got told there was a little bit going on,' he told Channel 4.
Jordan Henderson admitted being booed by England supporters as he departed the pitch against Australia 'hurt'
Henderson was booed off by some England supporters in Friday's friendly win vs Australia
The 33-year-old offered a deeper explanation behind his decision to move to Saudi Arabia
'Of course it hurts because every time you pull on shirt it's a proud moment, playing for team-mates, country and fans really.
'Of course it hurts but that's part and parcel of it, I have had enough criticism over career to have stuff like that.'
'I asked that question after the game and a journalist said it's because I play in Saudi Arabia. That's a decision I made few months ago but it doesn't change who I am as a person.'
Henderson previously advocated for LGBTQ + rights during his time at Anfield and has since faced backlash from fans after agreeing to move to the Middle East where he reportedly earns £700,000-per-week.
It has been suggested that the Champions League and Premier League winner was motivated to ditch England for the Saudi Pro League by the obscene sums of money being offered to stars.
However, such claims were previously denied by Henderson after insisting his presence in the country should only be viewed as a good thing given his viewed on political and social issues.
Henderson reiterated similar reasons for making the switch before England 's game against Italy at Wembley on Tuesday, but offered a deeper insight into the decision-making process to leave European football.
'In certain areas if people want to think that [his values have changed] that's fine, I think having someone like myself with values I have in Saudi Arabia is only a good thing. 
Henderson opted to move to Saudi Arabian side Al Ettifaq in the summer where he earns a reported £700,000-per-week
The 33-year-old has been backed by his England team-mates and management staff
'Before I went there they knew the groups I supported and not once was it ever mentioned when there that I can't do this or say this or do that.
'It's never been an issue at all. They know what my values are and accepted that and all they ask is I respect their values, culture, and religions which I have done.
'Of course [I still support LGBT], my values haven't changed as a person because I go to a different country to play football,' he said.
Henderson was named on the bench for England's match against Italy as Southgate opted Man City midfielder Kalvin Phillips to start in his place. 
IT'S ALL KICKING OFF! 
It's All Kicking Off is an exciting new podcast from Mail Sport that promises a different take on Premier League football, launching with a preview show today and every week this season.
It is available on MailOnline, Mail+, YouTube , Apple Music and Spotify
Your browser does not support iframes.
Source: Read Full Article