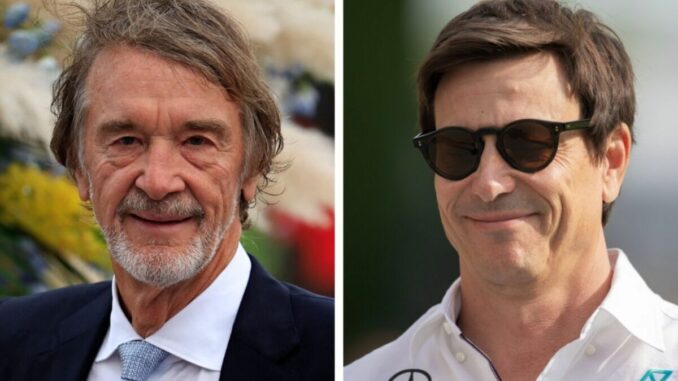 Jim Ratcliffe's potential Man Utd investment assessed | Football Digest
Mercedes chief Toto Wolff has offered an insight into what Sir Jim Ratcliffe can bring to the table at Manchester United if his minority takeover bid is successful. The 71-year-old is hoping to add to his sporting portfolio by purchasing 25 per cent of his boyhood club, having succumbed to not being able to strike a deal for a complete takeover.
The Glazer family has teased the prospect of a changing of the guard at Old Trafford for almost 12 months, and the situation now appears to be edging closer to a concrete resolution. After fending off the lucrative charge from Qatari royal Sheikh Jassim bin Hamad Al Thani, Ratcliffe is now in pole position to purchase a share in United.
The 71-year-old is hoping to oversee the footballing side of the operation upon his arrival and is expected to make a push to reshape the recruitment at the club and bring in his own members of staff. Ratcliffe is also keen to impact other departments as well, and Mercedes' Wolff has given him a significant vote of confidence.
The INEOS owner has a third of a share in the Formula One team and has played a key role in their success over the years, having also invested heavily in rugby and cycling previously. Wolff has no doubts that Ratcliffe will be able to have a positive impact at United as well, explaining: "Jim and his partners, Andy and John, they are first of all very complementary and this is a no bulls*** organisation.
Don't miss… Arsenal sweat over duo as Varane returns for Man Utd in latest FPL injury news[LATEST]
"They are huge in terms of revenue and profit and decisions being made very quickly, three bullet points on a page and here we go. With Jim, all the bull***t is cut out and I think that wherever he gets his power and resources and behind it I think that's going to be an add-on for any team."
Wolff also commented on how Ratcliffe would have the Red Devils' best interest at heart throughout his tenure because he supports the club. "He's a Manchester boy," the Austrian continued.
Advert-free experience without interruptions.
Rocket-fast speedy loading pages.
Exclusive & Unlimited access to all our content.
"He has the resources that are needed, the heart in the right place for this team and I'm sure that he can be very creative for Manchester United.
"With us, he's been a fantastic shareholder and a good sounding board for myself." It remains to be seen whether Ratcliffe is granted the permission required by the Glazer family to impact United in the way that he will be hoping to or may be forced to bide his time.
Source: Read Full Article