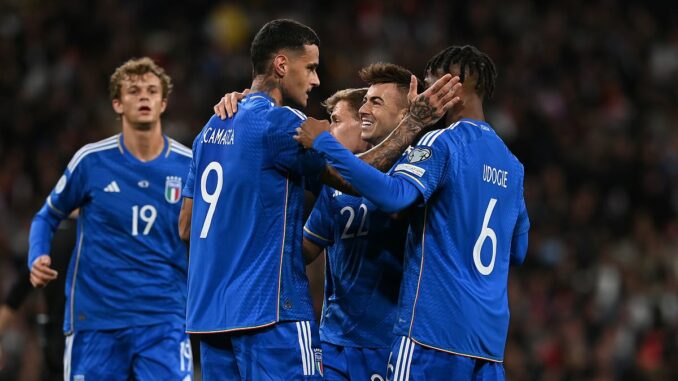 Micah Richards claims Jude Bellingham was outshone by a Premier League star in the opening stages of England's 3-1 win over Italy
England booked their ticket to next year's European Championship against Italy
Jude Bellingham turned in another starring performance for Southgate's side 
Listen to the latest episode of Mail Sport's podcast 'It's All Kicking Off!'
Micah Richards singled out a suprise name for praise in England's 3-1 victory over Italy that clinched EURO 2024 qualification at Wembley on Tuesday night. 
Jude Bellingham continued his incredible run of form with two assists – one for a resurgent Marcus Rashford – while Harry Kane grabbed a brace on his first home international as a Bayern Munich player. 
Gareth Southgate's side mounted an impressive comeback after former West Ham striker Gianluca Scamacca gave the visitors a 15th minute lead but it's in these early exchanges, where the Italians enjoyed some of their brightests moments, that Richards highlighted one of their key performers. 
The EURO 2020 champions were much changed from the outfit that beat England on penalties two summer's ago, fit with a host of different starters and a new manager. 
Richards reckoned that Tottenham full-back Destiny Udogie was the outstanding performer and even outshone Bellingham early on.  
Sky Sports pundit Micah Richards was keen to single out the Premier League starlet for praise 
20-year-old Tottenham left-back Destiny Udogie recieved his second international cap  
Your browser does not support iframes.
Bellingham (left) and Kane (right) starred as England qualified for next summer's EUROs
'I thought Udogie the Spurs left-back, before he got his yellow card,' he said on The Rest Is Football podcast. 'I thought he was outstanding. He was their threat down that left hand side.
'He's only 20, they got him a couple of seasons ago, got him on loan and sent him back on. He was, until he got his yellow card, the best player on the pitch.'
The former Udinese defender was making just his second international appearance following his debut in Italy's 4-0 win against Malta on Saturday. He's been an instant hit at club level for Ange Postecoglou's table-toppers and has started all eight Premier League games. 
Tuesday's result sees Italy fall to third in the Group C standings, three points behind Ukraine, who they face on the final matchday, with a game in hand. 
IT'S ALL KICKING OFF! 
It's All Kicking Off is an exciting new podcast from Mail Sport that promises a different take on Premier League football.
It is available on MailOnline, Mail+, YouTube, Apple Music and Spotify.
Your browser does not support iframes.
Source: Read Full Article