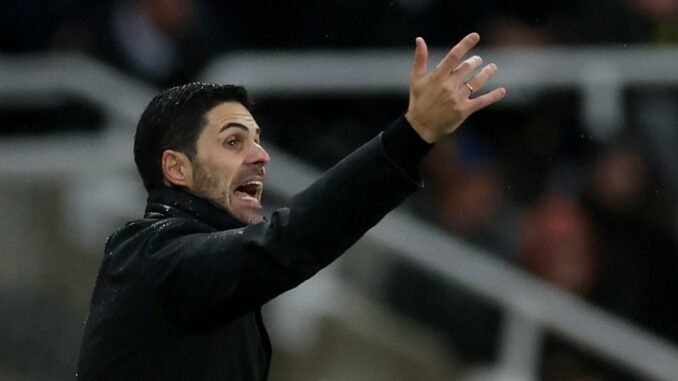 Mikel Arteta should focus on Arsenal's issues rather than VAR: The Gunners need a striker and there is uncertainty over the goalkeeping position
Mikel Arteta was livid with VAR but he should focus on his Arsenal team's issues 
The goalkeeping problem needs addressing and Arsenal must sign a new striker 
Havertz is a broken man at Arsenal: Listen to the debate on It's All Kicking Off 
As soon as Mikel Arteta strode into the post-match press conference at pace, with red eyes and a face like thunder, one could sense imminent fireworks.
What followed was a hyperbolic, angry speech as the Arsenal manager claimed to 'feel sick' and 'disgusted' after Anthony Gordon's winner passed three separate VAR checks to condemn his side to their first league defeat of the season.
Ultimately, there was no conclusive camera angle to show Joe Willock had not kept the ball in play; the push by Joelinton on Gabriel was not deemed to be a clear foul; there was no clear camera angle to show whether the ball had fallen to Gordon via the Arsenal or Newcastle player so it couldn't be adjudged offside. That all equated to 'no clear and obvious error', in VAR's books.
You could understand Arteta's anger. How many goals since the introduction of VAR have gone through three sets of checks, two of which fiercely divided opinion?
Arsenal backed up their manager on Sunday by releasing a statement, Liverpool-style, demanding PGMOL 'urgently improve' standards of officiating. Yet this morning, upon reflection, Arteta should be more concerned about a display which was overshadowed by the VAR drama. 
Mikel Arteta was livid with VAR but he should focus on the issues with his Arsenal team
Your browser does not support iframes.
The Gunners had 60 per cent of possession but only one shot on target, a weak Gabriel Martinelli strike straight at Nick Pope, in a performance which did not warrant three points.
The midweek 3-1 Carabao Cup defeat by West Ham was dismissed by some as irrelevant. It mattered to Arteta though, who brought on Martin Odegaard, Martinelli and Bukayo Saka in the final 25 minutes in a desperate bid to claw the game back.
It's now back-to-back losses and how Arsenal react over the coming weeks will give an indication of whether or not they can challenge Manchester City for the title again. Saturday's defeat has raised certain questions.
Eddie Nketiah, who is a solid option off the bench, is not a like-for-like replacement for the injured Gabriel Jesus, as his air-shot against Newcastle demonstrated. What Arsenal need in Jesus' absence, particularly away from home is a striker who can get in on goal and make things happen. Particularly on a night when chances are scarce.
It brings Brentford's Ivan Toney into focus for the January window. He will surely be a priority.
Then there is the goalkeeper spot. David Raya's distribution from the back was good against Newcastle, an area he has been heavily scrutinised in. Yet for Gordon's goal, prior to Joelinton's challenge on Gabriel, Raya flapped at the ball, completely missing it, with questions raised about his positioning.
The goalkeeping conundrum didn't need to be an issue at Arsenal. But it has become a problem of Mikel Arteta's making. Does he now go back to Aaron Ramsdale who had a fine 2022-23 season as Arsenal pushed for the title? There is scrutiny where there didn't need to be any.
As for Nketiah, he was starved of chances on Saturday and the absence of the man who creates goalscoring opportunities, Odegaard, was keenly felt.
How Arsenal react will give an indication as to whether they can challenge for the title
Eddie Nketiah (left) isn't a like-for-like replacement for Gabriel Jesus and Arsenal need more options. Additionally, David Raya (right) has been unconvincing 
ARSENAL STATEMENT IN FULL
Arsenal Football Club wholeheartedly supports Mikel Arteta's post-match comments after yet more unacceptable refereeing and VAR errors on Saturday evening.
We'd also like to acknowledge the huge effort and performance from our players and travelling supporters at St James' Park.
The Premier League is the best league in the world with the best players, coaches and supporters, all of whom deserve better. PGMOL urgently needs to address the standard of officiating and focus on action which moves us all on from retrospective analysis, attempted explanations and apologies.
We support the ongoing efforts of Chief Refereeing Officer, Howard Webb and would welcome working together to achieve the world-class officiating standards our league demands.
When the Norwegian is not in the team, that ability to provide service in between the lines is sorely missed. Where is the able deputy? Kai Havertz had another game to forget in a creative sense and of course was lucky not to be sent off. Saka and Martinelli also had quiet nights on Saturday. When they are doubled up on they become less effective. Where is Arsenal's plan B?
But Newcastle should also be applauded. They hung on despite limited possession and Arsenal created few chances.
Eddie Howe deserves great credit. His squad are stringing match-winning performances together in the face of an injury crisis. With at least six players out, and Sandro Tonali banned for 10 months for breaching betting rules, fringe players and those who have only just come back from injury are having to bed in immediately.
Jamaal Lascelles has excelled since his reintroduction to the team following Sven Botman's knee injury, and he blunted Arsenal's forward play. Newcastle have now won five and drawn two of their last seven league games.
The triple VAR check will dominate conversation, along with Arteta's outburst, but there are matters closer to home that Arsenal must ponder.
IT'S ALL KICKING OFF! 
It's All Kicking Off is an exciting new podcast from Mail Sport that promises a different take on Premier League football.
It is available on MailOnline, Mail+, YouTube, Apple Music and Spotify.
Your browser does not support iframes.

Source: Read Full Article