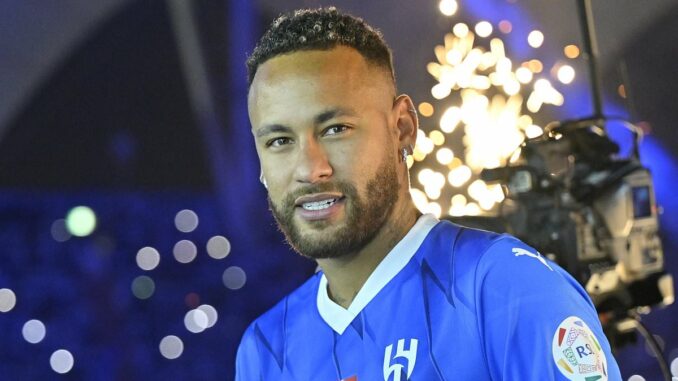 Neymar battles back against 'weak' Saudi Pro League jibes and suggests the division might be BETTER than Ligue 1 following a summer of superstar arrivals
Neymar believes the Saudi Pro League is emerging as a competitive division
The Brazilian left European football this summer for a move to the Middle East
He joined the likes of Cristiano Ronaldo and Karim Benzema in the nation 
Neymar has suggested the Saudi Pro League is a better standard than Ligue 1 and stressed the high-profile names starring in the Middle East has developed newfound competitiveness in the rising division.
The Brazilian became the league's marquee summer arrival after leaving Paris Saint-Germain to join Al-Hilal in a £78m deal that saw him cash-in on a career in European football.
Neymar joined esteemed company in Cristiano Ronaldo, Karim Benzema and Sadio Mane, while former Man City star Riyad Mahrez and ex-Liverpool captain Jordan Henderson similarly left England for Saudi Arabia.
Speaking after reporting for international duty with Brazil, Neymar explained the quality of talent in the Saudi top-flight makes it a strong league to compete in.
'I assure you that football there is the same. The ball is round, there is a goal. Because of the names that have gone to the Saudi league… I don't know if it is better than the French one,' said Neymar.
Neymar has hailed the competitiveness of the Saudi Pro League after making his move to the division
The Brazilian (left) starred for PSG over six years but suggested the Saudi Pro League is more competitive than playing in France
'The training pace is intense, the thirst to win is great. I want to win titles with Al-Hilal. 
'Nothing changes in my head. People say that the championship is not known, that it is weak… everyone said that when I went to the French championship and it was the place where I suffered the most in.
'It's not going to be easy to win the Saudi championship because there are other teams that have gotten stronger, there are well-known players and I'm sure it's going to be a very interesting league and that you're going to see it,' said the Brazilian.
Neymar starred in France for six years after arriving in Paris for a world-record £198m deal in 2017 from Barcelona and decided to call time on his career in the nation after approaches from Saudi Arabia were made.
He still had four-years left on his contract at PSG but sought a new challenge in the Middle East and signed a two-year deal with Al-Hilal that is understood to be worth £130million a year.
Riyad Mahrez was one of the league's biggest summer arrivals after leaving Treble-winners Man City for Saudi Arabia
Neymar joins several big-names in the Saudi top-flight with Cristiano Ronaldo one of the most high-profile players(right)
The Brazilian is still waiting to make his Al-Hilal debut as he continues to recover from an ankle injury
However, his fresh start in new surroundings has been blighted by injury concerns that also plagued large parts of his PSG career.
The 31-year-old is still waiting to make his debut as he recovers from an ankle injury that has side-lined him for the past six months, but was still selected for the Brazil national team.
But, Al-Hilal have continued to star in his absence with Jorge Jesus' side top of the league standings and unbeaten in their opening five league games as former Fulham striker Aleksandar Mitrovic continues to impress in attack.
Neymar is expected to be fit to make his Saudi debut soon after admitting he was close to being available before the international break.
Source: Read Full Article