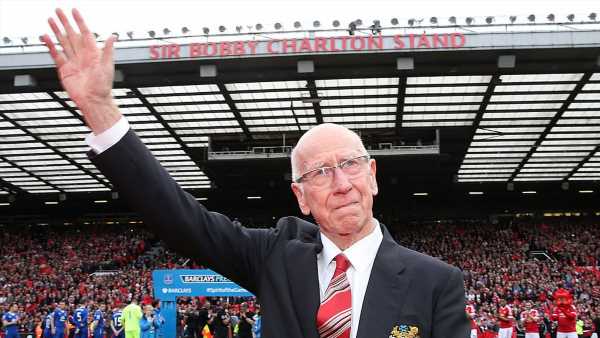 OBITUARY: With the death of Sir Bobby Charlton, the last gentleman of our national sport has departed… humble, brave and abundantly talented, the Manchester United and England legend was born to be an inspiration
England and Manchester United legend Sir Bobby Charlton has died at age of 86
He was the last great gentleman of our national sport and inspiration to millions
LIVE BLOG: Keep up-to-date with all the reaction to Charlton's passing 
The last time we broke bread together Our Bobby was under doctor's orders not to drink but he glanced round to make sure his beloved Norma wasn't watching and said: 'Go on then. A beer for old time's sake.'
Not that he ever had a serious relationship with alcohol . As with everything in a life well-considered, the odd drink took its measured place.
Everything, that is, except the football.
This was the most abundant midfield player ever born to the country which invented the world's game, a genius of flowing extravagance on the ball and gloriously unforgettable goals.
With his passing, the sun has set on the English football empire.
England and Manchester United legend Sir Bobby Charlton has died at the age of 86
An emotional Charlton, pictured in 2016, waves to the adoring Manchester United supporters
The last great gentleman of our national sport has departed all the theatres of our dreams.
Sir Bobby Charlton has made his exit with an awkward bow, a shy wave and a blush of those pale cheeks at all the fuss.
'Our Bobby,' as the population adored him.
'Wor Kid,' as his big brother Jack still referred to him even when their north-east family feud was at its frostiest.
'Sir Robert,' as we would sometimes embarrass him with our mix of gentle ribbing and abiding affection.
'Bobbee Charlton,' as he was called by wide-eyed kids across Africa, by old men with sun-wizened faces in Latin America, by multitudes the length and breadth of Asia at a time when those two words were the most spoken of the English language around the planet.
Charlton (third left) lifts the European Cup in 1968, the first time an English club managed it
The 1968 United triumph came two years after he helped England to win the World Cup in 66
Bobby Charlton (right) stands alongside his brother Jack in 1985 at Elland Road, Leeds
He knew not how special he was.
Modesty became him in life. Now it illuminates the legacy he leaves to young men of inferior talent yet with opinion of themselves as bloated as their wages, that delusion further inflated by cheap celebrity.
Here is a footballer to emulate, if you are able; a dignity which offers example, if you have the sense.
It may be difficult for youngsters bred into the pop culture of today to comprehend the importance of Charlton to previous generations, to grasp not only the scale but the nature of his impact.
Wherever he went, as a player, he was greeted not by screaming groupies but by reverential crowds. Often, near-silence was the mark of their respect. Rather than jostle the great man for selfies, they gazed at him with wonder.
Put it like this, not in invidious comparison but by way of explanation: David Beckham is a brand to buy, Bobby Charlton was an icon to worship. Had he worn a robe, they would have touched its hem.
So a beer for old time's sake? Go on then
Sip it by way of a toast to those golden days at Wembley when Charlton was central to England's only winning of the World Cup, then the catalyst for Manchester United in this country's first lifting of the European Cup.
Take a gulp in memory of how narrowly he survived that plane crash in Munich which claimed the lives of so many of his fellow Busby Babes – and how deeply he was traumatised that he was almost lost to the game.
Raise that glass to a magician who conjured countless chances for George Best and Denis Law, yet outscored both his companions in that hallowed triumvirate at Old Trafford.
Drain every last drop in full-throated salutation to the maestro whose virtuoso performances enthralled not just his own country but every land in which football is played.
The story began on October 11, 1937 in Ashington, Northumberland when Cissie Charlton gave birth to the second of her two sons, both of whom she wanted to work with their hands but who found fame with their feet.
This family was a matriarchy but in his first act of independence young Bobby took an apprenticeship in football at Old Trafford instead of electrical engineering, which was his mother's insistence.
Fate, as much as God-given ability, proved him right.
In 1958 he was only two years into his first-team career when the plane bringing United back from a European Cup tie in Belgrade crashed on take-off after a refuelling stop in icy Munich.
Charlton and his adoring wife Lady Norma have been through a lot in their life together
Charlton, who was thrown clear from the blazing wreckage while still strapped into his seat, and manager Sir Matt Busby were among the survivors taken to hospital. Thus they were the first to be told that Duncan Edwards had died in an adjacent bed.
Bobby mourned all who perished, grievously his seven team-mates. But it was the loss of Edwards from which he nearly never recovered.
From that moment until the day he died ask Charlton who was the greatest player who ever lived and the answer would be not Pele, not Maradona, not Eusebio, not Best, not Cruyff, not even Di Stefano who he idolised.
'Young Duncan,' he would say, without even considering himself. 'A colossus.'
He went into mourning so deep that at the age of 20 he was ready to hang up the heavy, toe-capped, leather-studded boots of the era.
In his distress he returned to the womb. While visiting Cissie in the old family house he wandered out into the back alley. Some kids were out there playing football. 'Look, it's Wor Bobby,' said one, and sent the ball in his direction.
United players celebrate on the pitch at Wembley after beating Benfica in European Cup final
The Busby Babes in their last team photo before the plane crash that took eight of their lives
'I kicked it back,' he used to recall. 'Instinct.'
What would really be the best way to honour Big Duncan?
He asked Busby, who would be a long time recovering. He
He went back to Old Trafford and listened as the remnants of the team and assistant manager Jimmy Murphy coaxed him back on the pitch. He joined them in an unlikely, emotional run to that year's FA Cup final.
The match at Wembley was lost to Bolton Wanderers but a phoenix had risen from those ashes smouldering in the midwinter snows of Bavaria.
Bobby Charlton had been saved, for the greatness of the English game.
Saved to launch an England career which would come to its zenith at Wembley in 1966. Saved to return again to those Twin Towers in 1968 to lead United to the European glory which, but for tragedy, might have been theirs 10 years earlier.
Charlton scored three times in those World Cup Finals, twice in the semi against Eusebio's Portugal. Come the final itself he acceded to manager Alf Ramsey's request to subjugate his own brilliance in preference for suppressing the new West German Wunder-kinder, Franz Beckenbauer.
Team first, self second.
He made the negative sacrifice while Geoff Hurst claimed the historic hat-trick in that 4-2 extra-time triumph.
Four years later, in Mexico, the roles were reversed. Beckenbauer was tasked with marking Charlton.
History has it that Ramsey threw away a two-goal quarter-final lead by substituting Charlton, even though the Kaiser had pulled one back before that change was made. Bobby exonerated Alf. But history was right. Beckenbauer had been liberated and he powered Germany's comeback to extra-time victory.
Between those World Cup epics, came United's momentous hour. Well, two hours to be precise.
Charlton, who was diagnosed with dementia in 2020, stares down the barrel of the camera
Sir Matt Busby (L) and Charlton both survived Munich air disaster but it affected them hugely
Best and Law had come to join Charlton in taking Busby's rebuilt team to Wembley. Old friend Eusebio was back, with Benfica, for the 1968 European Cup final.
Law was injured but Charlton scored twice – and George the unofficial 'fifth Beatle' once – to make more history.
Not for the first or last time, Bobby wept.
This was a deeply emotional human being.
Yet behind those sensitivities stood a man of steely conviction in what he believed to be right, albeit expressed with unfailing courtesy.
He disapproved of Best's boozy lifestyle and the pair never reached a rapprochement.
Perhaps he looked most askance at George's womanising. His own great romance with Norma, begun by a chance meeting at a Manchester ice-rink in 1959, had demanded of him the most profound resolve.
Charlton kisses his wife Norma on his arrival at Manchester Airport following an away trip
Charlton is a Manchester United legend still revered by the club's supporters to this day
Charlton and his wife Lady Norma watch a match from the Royal Box at Wimbledon in 2018
He and legendary boss Sir Alex Ferguson (left) had a great friendship over a number of years
That early determination to become a footballer was nothing compared with the defiance required when his mother took a dislike to the woman he knew at first glance he wanted to be his wife and the mother of his children.
The Charltons were of working-class stock. Norma was from a different social background and Cissie, instinctively if unfairly, regarded her as aloof.
This was to cost Bobby a fracturing of his relationship not only with his mother, who he did not see once during the last four years of her life, but also with his brother Jack, who sided with Cissie.
It was painful but the younger Charlton stood by Norma and was rewarded with a loving family of their own, complete with their daughters and grandchildren.
Together, they rounded out a life replete with records. For years, he held the accolade of the most appearances and goals for Manchester United – 758 and 249 respectively – before being overtaken by Ryan Giggs and Wayne Rooney.
He was the first to 106 caps for England and had the most goals for his country – 49 – a record which stood for more than 40 years until Rooney skipped past him again, before his tally was overtaken by Harry Kane
Together, he and Norma came through his struggles, at Preston North End while trying to become a manager at the end of his playing career.
Denis Law, Charlton and George Best (left-right) stand together in 1995 at a Sky Sports launch
Charlton (left) watches on during a match between Manchester United and Manchester City
Charlton was not cut out for coaching and management. Rather, he was born to be an inspiration.
As such he served as a director with United and an ambassador for England.
At Old Trafford he was a calming influence on the board, a firm defender of Sir Alex Ferguson, a reassuring visitor to the dressing room when the team endured difficult times, a generous advisor of Rooney as he closed in on Charlton's England and United scoring records.
As he dealt, most privately, with his own first signs of the dementia which has now taken Norma's beloved Bobby from us all, he thought of others.
A visit to the Balkans had alerted him to the horrendous injuries inflicted by land-mines, not least the crippling of boys and girls who had asked for nothing more than to be able to play football.
Charlton held the appearance and goalscoring records at United until Wayne Rooney beat him
Charlton and his brother Jack (centre), alongside Nobby Stiles (right) on a River Thames cruise
Barely was he off the plane home to Manchester than he was founding Find A Better Way, the charity which finances the most advanced research into both clearance of land-mines worldwide and sophisticated prosthetic limbs for the stricken.
As the legend built on his own rich gifts and his compassion for others became linked in the common good, Sir Bobby remarked: 'In its ability to touch every corner of humanity, football is the only game that ever needed to be invented.'
A beer for old time's sake? Go on then.
As we did when he and Sir Alex afforded me the honour of attending a dinner in London to recognise my umpteen years on the Daily Mail
As we have been doing to salve our sadness at the disease which has taken him from us
As we do now now to salute his glorious personification of the Beautiful Game
All over the world.

Source: Read Full Article