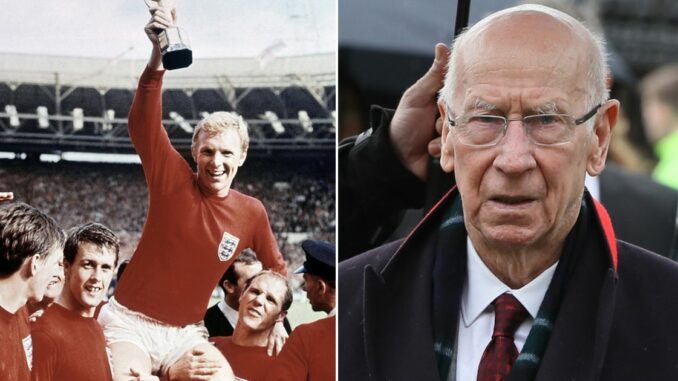 Sir Geoff Hurst is the last surviving member of England's World Cup winning squad after Sir Bobby Charlton passed away on Saturday.
Charlton, 86, was part of England's side that conquered the world in 1966. Alongside his brother, Jack, Charlton was named in Sir Alf Ramsey's starting line for that famous game against West Germany at the old Wembley.
And, following Charlton's death, only one member of the squad is still alive: Hurst. Helmut Haller opened the scoring for West Germany, before Hurst notched the first of his three to fire England level.
READ MORE: AI replays England's 1966 World Cup final win with VAR – including extra time controversy
READ MORE: How England celebrated 1966 World Cup from street parties to swimming in fountains
England finished the 90 minutes level with the West Germans, after Wolfgang Weber silenced the crowd with an equaliser in the 89th minute. Hurst was the man of the moment in extra-time, netting to send England ahead in the 101st minute. It was perhaps the most controversial goal the World Cup has seen, with the debate if the ball crossed the line raging on to this day.
And Hurst sealed England's only major trophy, and his hat-trick, in the final moments with some people memorably on the pitch.
What is your favourite Bobby Charlton moment? Let us know in the comments section below
George Cohen passed away in 2022, while Jimmy Greaves, Roger Hunt, and Ron Flowers all died in 2021.
On Saturday, Manchester United said in a statement: "Manchester United are in mourning following the passing of Sir Bobby Charlton, one of the greatest and most beloved players in the history of our club.
"Sir Bobby was a hero to millions, not just in Manchester, or the United Kingdom, but wherever football is played around the world."
Source: Read Full Article