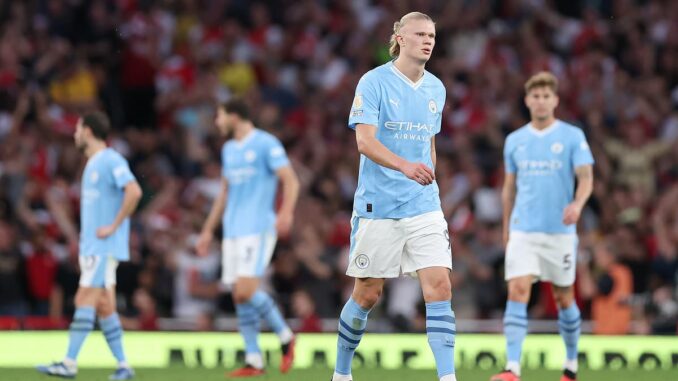 Opta's supercomputer now predicts Man City's title chances have fallen by nearly 20%, Man United have almost no chance of getting into the top four and Chelsea are likely to finish 10th – plus it's too close to call at the bottom
Opta have updated their Premier League predictions have eight match days 
Data has produced several changes in where teams are likely to finish this term 
Listen to the latest episode of Mail Sport's podcast 'It's All Kicking Off!'
Eight matches of data have altered figures predicting the final Premier League table as Manchester City's chances of a fourth consecutive title took a hit following defeats to Wolves and Arsenal. 
The first two months of the season have thrown up plenty of suprises at the top of the table with Tottenham leading the way ahead of their north London rivals. Five teams have already finished the day at the top – two more than in the whole of the 2022-23 season. 
Lower down the league lies the likes of Manchester United and Chelsea following their poor starts. While the newly-promoted sides have struggled to adapt to the step up in quality and occupy three of the bottom four spots. 
In the updated analysis by Opta's supercomputer, which crunches 10,000 match simulations to forecast final standings, City have seen their chances of defending their crown fall by nearly 20 per cent. 
The supercomputer gave them a 90.2 per cent chance of league success before the campaign but Pep Guardiola's side sit in third after suffering back-to-back league defeats and now have a 73.4 per cent chance of taking the title. 
Opta have released updated predicitions on the final standings following the new match data 
Manchester City suffered back-to-back defeats for the first time in five years before the break
Tottenham have been the suprise package so far and are top with six wins from eight games
The biggest beneficiaries of this reduction are Arsenal and Liverpool, who have seen their chances rise by 7.3 and 8.7 per cent respectively. 
Opta Premier League final table predicition
1. Manchester City
2. Arsenal
3. Liverpool
4. Tottenham Hotspur
5. Newcastle United
6. Aston Villa
7. Brighton & Hove Albion
8. West Ham United
9. Manchester United
10. Chelsea
11. Crystal Palace
12. Fulham
13. Brentford
14. Wolverhampton Wanderers
15. Nottingham Forest
16. Everton
17. Burnley
18. Bournemouth
19. Luton Town
20. Sheffield United
Mikel Arteta's Gunners are unbeaten so far this term and secured a crucial confidence-boosting 1-0 win against the Cityzens before the international break. Their most likely finishing position remains second just ahead of Jurgen Klopp's side. 
However, the early season pace-setters Tottenham have risen from a pre-season prediction of eighth into the top four. Ange Postecoglou has bagged successive Premier League Manager of the Month awards for his team's startling run which now has them tipped for Champions League qualification.
Spurs have a 24.6 per cent chance of finishing fourth, according to Opta's figures, ahead of Newcastle and Aston Villa. The latter has experienced a similar statistical reappraisal after a promising beginning. 
Unai Emery's team sit level on points with Brighton in fifth and only four points off the top of a congested league table. 
Man United and Chelsea fans will be disheartened – but unsurprised – to see their teams predicited to finish 9th and 10th this season. That result would remarkably represent progress for a Chelsea outfit that found themselves in the bottom half last term. 
United have been given a 3.4 per cent chance of finishing in any of the top four places. Meanwhile, Chelsea's odds are even slimer at 0.6 per cent. The Premier League giants will hope they can recover from lacklustre starts to return to their pre-season predictions of fourth and sixth respectively. 
Opta's supercomputer also provides some clarity at the foot of the table. Bournemouth and Sheffield United are the only side still waiting for their first win and naturally occupy the bottom two places in the division. 
Your browser does not support iframes.
Despite a crucial dramatic late win against Brentford in their last game, Man United sit 10th
Bottom club Sheffield United are one of two winless teams in the Premier League this season
After a slow start, Everton have been tipped to avoid relegation from the top-flight this year
As a result, they are predicited to go down this season, with the Blades now tipped to finish bottom after the pre-season model indicated 19th was more likely. Andoni Iraola's Cherries have remained in 18th. 
Luton, who currently sit outside the relegation zone in 17th, are still predicted to make an immediate return to the Championship and have a 27.3 per cent chance of finishing 19th. 
All three teams have seen their chances of relegation significantly rise compared to the start of the season. Paul Heckingbottom's team have had the sharpest hike from 49 to 85 per cent. 
Burnley and Everton are seen as safer bets to escape the drop, though there is not much in it. The Toffees, Clarets and Cherries are all within 3.2 percentage points of one another to finish 17th. Luton, Burnley and Bournemouth are seperated by just one per cent to end the campaign in 18th. 
IT'S ALL KICKING OFF! 
It's All Kicking Off is an exciting new podcast from Mail Sport that promises a different take on Premier League football.
It is available on MailOnline, Mail+, YouTube, Apple Music and Spotify.
Your browser does not support iframes.

Source: Read Full Article