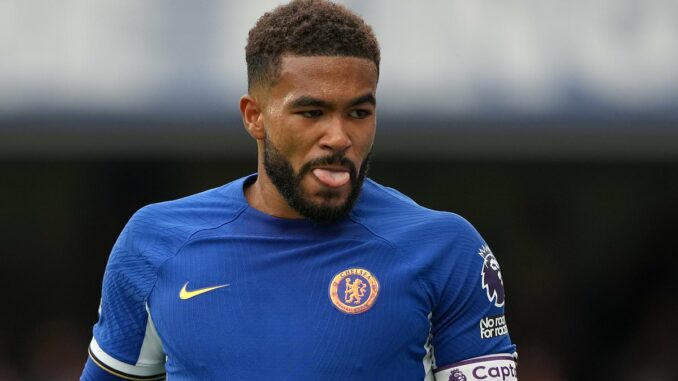 Mauricio Pochettino to make a late call on Reece James involvement against Arsenal after the Chelsea captain's return to training
Captain Reece James has been absent since the opening day of the season 
James returned to training this week ahead of the London derby with Arsenal 
Listen to the latest episode of Mail Sport's podcast 'It's All Kicking Off!'
Chelsea are assessing a string of players including captain Reece James ahead of Saturday's London derby with Arsenal.
Right back James has been out since after Chelsea's season opening game against Liverpool and returned to training this week.
On James, head coach Mauricio Pochettino said: 'He was training good the last few days. I think it's now to talk about with all the medical staff and decide if he can be part of the squad tomorrow.'
Axel Disasi and Nico Jackson are two others also been monitored after withdrawing from international duty due to a thigh problem and wrist surgery respectively.
Captain Reece James is one the Chelsea players being assessed ahead of a clash with Arsenal
Mauricio Pochettino will make a late call on James, who has been absent since the opening day
Axel Disasi, left, and Nicolas Jackson, right, are being assessed ahead of the London derby
Your browser does not support iframes.
Pochettino said: 'I think we need to assess now because we finished training session a little bit late. We need to assess Axel Disasi, assess Nico Jackson.
'We have a few players that we need to assess to see if they can be available tomorrow, if they can play, be on the bench or maybe out of the list.'
Midfield duo Enzo Fernandes and Moises Caicedo have trained after later returns to Cobham following international duty but striker Armando Broja will miss the Arsenal clash due to a knee issue.
IT'S ALL KICKING OFF! 
It's All Kicking Off is an exciting new podcast from Mail Sport that promises a different take on Premier League football.
It is available on MailOnline, Mail+, YouTube, Apple Music and Spotify.
Your browser does not support iframes.

Source: Read Full Article