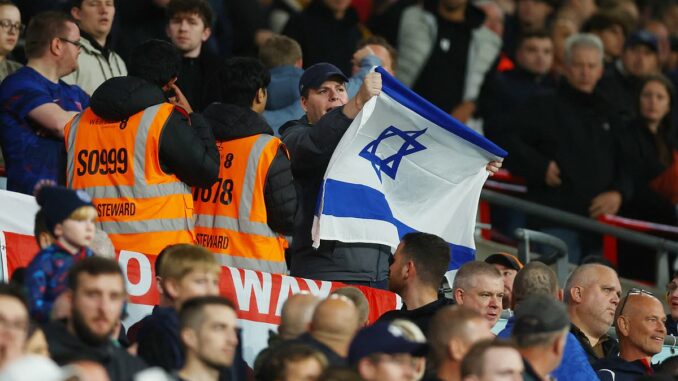 Premier League and EFL BANS Israeli and Palestinian flags from stadiums this weekend in an effort to avoid potential incidents… but players will wear black armbands and honour a moment of silence at matches
The Premier League and EFL has decided to ban the flags from stadiums
Players, staff and officials will wear black armbands at weekend matches
A moment of silence will also be observed at every stadium in the divisions
The Premier League and EFL  has banned any Israeli or Palestinian flags at matches this weekend in an effort to avoid any potential incidents.
The ongoing conflict in the Middle East between Israel and the Hamas terrorist group has generated mixed reactions within the UK and both footballing organisations want to stop any trouble from spilling over inside stadiums.
Their decision came just days after the English FA banned any of the flags from being shown inside Wembley during England's win against Italy on Monday evening.
Players, staff and officials will instead wear black armbands and a moment's silence will be held at every ground to remember the victims of the ongoing conflict.
The Premier League consulted with security officials and clubs before making their decision that means supporters won't be permitted to carry any of the mentioned flags into grounds at games.
The Premier League and EFL has banned any Israeli or Palestinian flags at matches this week
The Premier League made the decision to stop any potential conflict taking place at games
Supporters are not permitted to bring flags representing Palestine or Israel into matches
England and Italy players observed a period of silence before kick-off earlier in the week but boos were heard around some parts of Wembley during the moment of remembrance. 
An Israel flag was later spotted in the crowd at the home of English football despite the police ban with stewards approaching the supporter to take it away.
Protests have been held across parts of the country in both support of Israel and Palestine and the action to ban flags has been taken to prevent any conflict at matches.
The EFL – who operates the Championship, League One, and League Two – followed the decision of the Premier League.
Your browser does not support iframes.
Liverpool will host Everton in the Merseyside derby for the first league match of the weekend
Some players have begun to voice their concern over the violence in Israel and Gaza with Liverpool star Mohamed Salah issuing a video where he called for world leaders to come together to 'prevent further slaughter'.
The Egyptian's powerful social media message comes at a time when other players within European football have been banned for their social media activity in relation to the conflict.
Former Everton and Aston Villa winger Anwar El Ghazi has been suspended by Bundesliga side Mainz after he posted a now-deleted pro-Palestine update on Instagram.
Meanwhile, Tottenham star Manor Solomon has faced no sanctions after he claimed Hamas are 'blaming Israel for killing their own people' after a blast on a Gaza hospital left hundreds dead.
IT'S ALL KICKING OFF! 
It's All Kicking Off is an exciting new podcast from Mail Sport that promises a different take on Premier League football, launching with a preview show today and every week this season.
It is available on MailOnline, Mail+, YouTube , Apple Music and Spotify
Your browser does not support iframes.
Source: Read Full Article