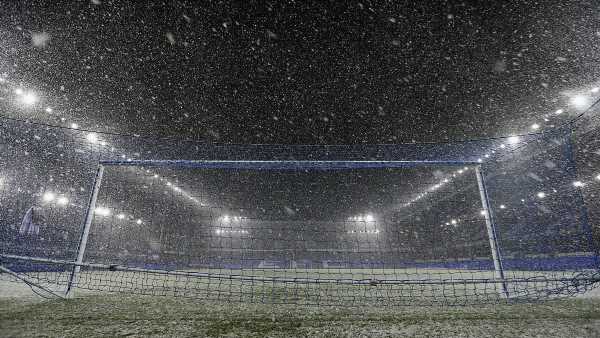 Premier League are 'in talks over having at least one match played on CHRISTMAS EVE with festive fixtures set to be finalised TODAY… and are weighing-up moving some December 30 games to New Year's Eve'
Only one match in Premier League history has been played on December 24
Christmas Eve proposals in the past have been met with widespread negativity
Listen to the latest episode of Mail Sport's podcast 'It's All Coming Up!'
Premier League supremos are reportedly looking into scheduling at least one match on Christmas Eve this year. 
Talks will finish on Friday to determine the festive fixture schedule.
It would be just the second match to be played on December 24 in the Premier League era after Leeds United's 3-1 win over Manchester United in 1995. 
The Telegraph reports that although it is unconfirmed, club sources believe one of the games from December 23 will be pushed back to the Sunday. 
Other insiders have told the newspaper that some of the games originally meant to be played on December 30 could be moved to New Year's Eve. 
The Premier League is reportedly considering moving one match to Christmas Eve this year
The match between Liverpool and Arsenal is understood not to be the match in question 
Your browser does not support iframes.
Attempts to move games to Christmas Eve have proven unpopular in the past amid concerns over how fans will travel to and from games with limited transport services. 
In 2017 the Premier League tried to move Liverpool's trip to Arsenal to Christmas Eve but changed tack due to supporter backlash. 
Incidentally, the Liverpool vs Arsenal showdown this year is one match supposedly not in the running to be bumped back to December 24.  
The Premier League reportedly declined to comment to The Telegraph but one insider explained that 'not all changes are just for broadcast'. Security reasons could be one example of a reason for change. 
It recently emerged that the Premier League is considering paying the police up to £10million in what is viewed as a controversial attempt to allow clubs to play 'risk' matches in lucrative late television slots.
Sky were behind the Christmas Eve proposal in 2017 but even Liverpool themselves objected, saying that it showed 'zero regard for supporters' and travel arrangements. 
Christmastime rail travel was plunged into chaos last year as tens of thousands of rail workers went on strike between 6pm on December 24 and 7am on December 27.
Tony Yeboah scored as Leeds beat Manchester United 3-1 in the only match ever to be played on December 24 in the Premier League in 1995
Boxing Day fixtures are a proud tradition but playing on Christmas Eve would likely mean the involved clubs don't play on December 26
Boxing Day fixtures are a proud tradition of English club football but many European nations have a winter break, including Germany, Spain, Italy, and France. 
It is currently unclear whether a match on Christmas Eve would have a ripple effect on subsequent scheduling. 
In 1995, Leeds and Man United both played on December 27 instead of Boxing Day after their Christmas Eve fixture. 
It is also unclear who has been consulted as part of the proposals.
IT'S ALL KICKING OFF! 
It's All Kicking Off is an exciting new podcast from Mail Sport that promises a different take on Premier League football.
It is available on MailOnline, Mail+, YouTube, Apple Music and Spotify.
Your browser does not support iframes.

Source: Read Full Article