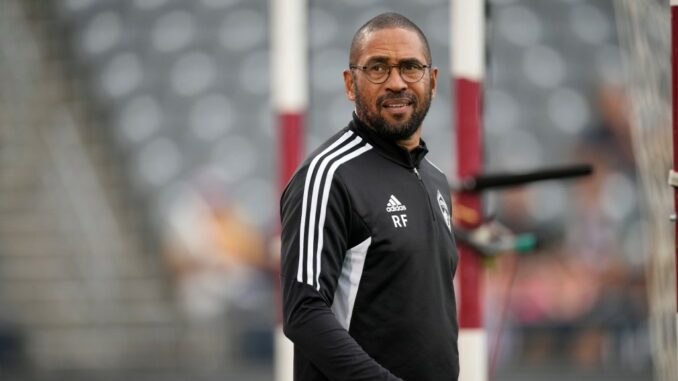 It was the final nail in the coffin for the Colorado Rapids' 2023 campaign.
A 2-0 loss to Real Salt Lake Saturday night on the road meant the neighbors from the Wasatch Range took the Rocky Mountain Cup in 2023 for a third consecutive season. The players have declared the team's slide a new low for their time at the club, but it doesn't mean they won't be putting in a shift with eight games remaining.
Now, they have to prove to the fanbase that they can still play for the badge and their pro soccer careers, no matter how far things have fallen this season. Colorado (3-13-10, 19 points) has been without a win in 17 of its 18 games, and 14 of 15 in MLS play as its historically bad season rages on.
Here are two takeaways from the game.
At a loss for words
Littleton native Cole Bassett was authentically himself at the postgame news conference, going through a wide range of emotions from outright anger to wholly crestfallen about what's happened to his hometown club.
"I've never been on a losing team apart from my first half-season here and it's very frustrating," Bassett said. "We're trying to do everything to get out of it and it really just does not seem like anything is working."
Bassett apologized to the fanbase for the most recent setback, coming against a bitter rival no less.
"I genuinely am sorry," Bassett said. "It means as much to me as it does to (the fans). I hate losing to (RSL). I hate losing in general, but especially with these guys. Even if you are having a poor season, the one things that can bring the supporters joy is this Cup. I know how much it means to them.
"We've tried to get the whole team around the same feeling. And I hope that everybody knows that as well as I do. There's nothing I can say besides we apologize and we need to do better. This can't happen next year for whoever's here. I don't know who that will be, but this cannot happen."
Changes are no doubt coming from player personnel to maybe even the staff. The last time the Rapids even beat Salt Lake across all competitions was now over two years ago in August 2021.
Not adapting well
When asked if Bassett has found the message from the coaching staff to the team increasingly repetitive, the Homegrown wasn't ready to throw anyone under the bus but did concede it's been a brutal time for everyone.
"… It's tough for Robin (Fraser) because a couple of years ago our team was so good at doing that and I think you got accustomed to being able to switch stuff on the fly game to game tactically based on the other team," Bassett said. "And now I just don't think that this team is as well adaptable.
"It's a different group of players. We had a lot of smart players a couple of years ago and we were able to adapt and always outthink other teams. But it is just we have a different group of players. We need to fit to that style a little bit more. That's probably what I can kind of give you as an answer. I can't say much else."
When Fraser was asked what his message to the fanbase was, it was a stark contrast.
"We're going to keep working, I mean, that's really all we can do," Fraser said. "Keep working, keep getting better and keep working on the things that are going to make us win games.
"To lose the Rocky Mountain Cup in this fashion, this is certainly one we wanted to do for them. We need to do it for us, for our locker room, for the club, but we also need to do it for the fans. Disappointment is at the highest level at the moment."
Due to the upcoming international break, Colorado's next game will be Sept. 16 against the New England Revolution at DSGP.
Want more sports news? Sign up for the Sports Omelette to get all our analysis on Denver's teams.
Source: Read Full Article