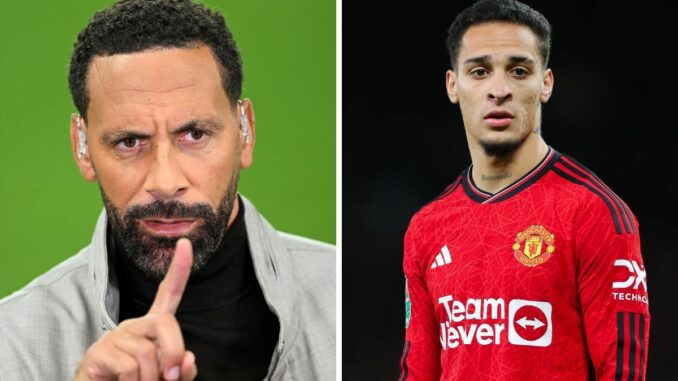 Manchester United icon Rio Ferdinand wouldn't be surprised by Alejandro Garnacho kicking up a fuss with Erik ten Hag if the Argentine is dropped for Antony when Marcus Rashford returns from injury. Antony has been heavily scrutinised ever since Ten Hag brought him from Ajax for a huge £86million fee.
United's poor performances this season have only heightened the pressure on Antony and Ten Hag to turn their fortunes around. But the Brazilian ace, who sulked on the United bench in their 3-0 defeat to Manchester City last week, failed to impress once again as Ten Hag's side scraped a late 1-0 win over Fulham on Saturday.
Ten Hag had to shift his starting line-up around after Rashford picked up an injury in training on Friday with Garnacho taking the England international's spot. It remains to be seen whether Rashford will be fit enough to make his return for United's crucial Champions League tie away to Copenhagen on Wednesday evening.
But Antony's display against Fulham had Ferdinand questioning the Brazilian's involvement in the squad going forward. Ten Hag has continued to stick by the 23-year-old despite his poor form and lack of productivity and Ferdinand thinks Garnacho would be well within his rights to question the United boss if he ended up being dropped for Antony.
"I don't know [how long Antony has] because you could smell the frustration from the fans, let alone hear it," Ferdinand said. "He's played 11 games this season and managed zero goals and zero assists – from an attacking player, that's not good enough, that's the hard fact.
"You've got a 35-year-old winger on the other end and if you didn't know their ages, or their career paths and you just saw them from today's performance, you'd 100 per cent pick Willian. He has to improve dramatically because when Rashford comes back, if Garnacho gets benched and Antony is starting ahead of him, he has to be scratching his head thinking 'How is this guy ahead of me?'.
"I'd be doing that and you have to have a competitive edge in the squad because if you're dropping someone to the bench, that player needs to know the player ahead of him will provide the goods and he's not doing that, he's not impacting the game. You can't argue it."
Don't miss…
Man Utd star Scott McTominay speaks out on banner held up during Fulham victory[LATEST]
Erik ten Hag shuts down Rio Ferdinand in frosty interview after Man Utd win[LATEST]
Christian Eriksen and Harry Maguire show true colours as Fulham star sobs[LATEST]
Advert-free experience without interruptions.
Rocket-fast speedy loading pages.
Exclusive & Unlimited access to all our content.
Ferdinand isn't the only former United player to be dismayed by Antony's performances. Andy Cole admitted this week that he wouldn't be able to cope with Antony as a team-mate.
"He would drive me absolutely mad," Cole said on Sky Sports. "He's an individual, we all know he's very left-footed, he's an individual who never goes to the right-hand side so as a centre-forward, if you're making a run to the near post you know you're never going to get it.
"He's going to check back, you're not sure when he's going to put it in the box. He doesn't score enough goals for me, he doesn't create enough chances for his teammates. So you look at that and say, 'okay, what are you giving?'. That's what you're expecting from him."
Source: Read Full Article