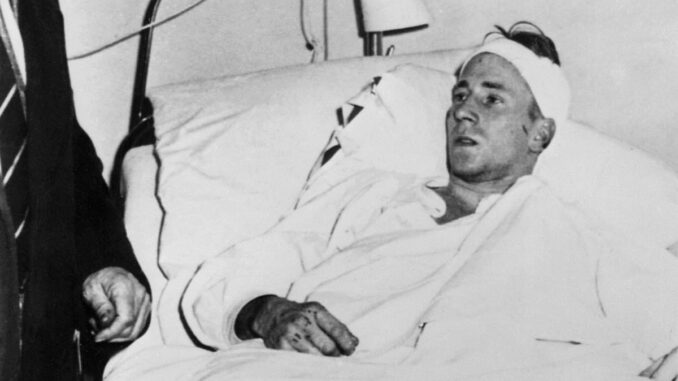 ROB DRAPER: Sir Bobby Charlton carried memories of the Munich Air Disaster all his life. That he wasn't defined by the tragedy showed just how extraordinary he was
Manchester United and England great Sir Bobby Charlton died at the age of 86 
He survived the Munich Air Disaster and dealt with much of the trauma alone 
It was hard not to stop and recall the horrors Charlton must have seen in 1958 
When Bobby Charlton, 20, awoke on the Munich airfield, still strapped to his airline seat, with debris all around him, the plane broken up and the blizzard still swirling, he turned to his side to see a team-mate lying dead. 
Dennis Viollet, the team's centre forward, who was nearby, started to come round and, bewildered, asked what was going on. 'Dennis,' replied Charlton. 'It's dreadful.'
In an age in which post-traumatic stress wasn't understood and survivors' guilt would have been considered an indulgence, Charlton dealt with much of this alone. 
A post-war generation of men who were familiar with sudden death – Charlton's doctor related how he had flown RAF sorties the day after watching a mate die – would have advised it was best to simply get on with things. In Charlton's case, that meant returning to be the figurehead of Manchester United and England and winning World and European Cups.
Yet whenever you met the amiable and imposing Sir Bobby Charlton in later life, the legend of English football, it was hard not occasionally to stop and recall the horrors he must have seen. 
Sir Bobby Charlton survived the Munich Air Disaster in 1958 and carried the trauma alone
After Manchester United's plane crashed, 23 people – including eight players – lost their lives
'There was very little wrong with me physically but I could not stop thinking about the accident,' Charlton once said. 'I felt drained of all emotion. Why me? Why should I be left?' 
There were 23 fatalities on that Munich runway from the aborted take-off of the plane taking the United team home from their European Cup quarter-final in Belgrade. Many were among Charlton's closest friends, such as the great Duncan Edwards, who had taken Charlton under his wing when he arrived at the club and again when they did national service together. 
Or the likes of David Pegg and Tommy Taylor, with whom he had shared digs as a United apprentice.
Charlton would have carried those memories all his life. That the remainder of his days were so extraordinary meant that he wasn't defined by that tragedy. 
But tempting though it is to measure out his life in terms of the trophies won – the 1966 World Cup, the 1968 European Cup, three league titles, the FA Cup – Munich must always have loomed, never far from his mind, as it would with any sentient human being.
Charlton was an old-school hero who links 21st-century England to another age, to the thriving pit village of Ashington, north of Newcastle, where he grew up. Working-class communities living in the small terraced houses where the Charltons lived were the bedrock not just of English football but English society. 
Many of those who died were Charlton's close friends and he carried those memories with him
He dreamt of becoming a local hero and went on to become his country's greatest ever player
Social and sports clubs were at the heart of his village and though work was dangerous and excruciating – older brother Jack had one day down the pit before deciding Leeds United was definitely a better option – it was plentiful.
Yet the chance to be a local hero and escape the pit was always a dream. His four uncles on the side of his formidable mother, Cissie, all played professional football. His father Bob wasn't interested and loved boxing but Cissie, a tomboy in her youth, would take part in the village kickarounds, and was steeped in the game. 
Cissie's cousin was Jackie Milburn, Newcastle's leading scorer until Alan Shearer, and regarded with similar reverence at St James's Park, both with statues there. Bobby, from good stock, was always the prodigy, with brother Jack more of a plodding defender.
Bobby was made sports captain at primary school because of his football prowess and you didn't sign for Manchester United, even in the pre-glory days, at the age of 15 unless you were special. Cissie had even persuaded the local school authority to switch the grammar school they had allocated him to as their first choice played rugby, not football.
But the closeness of that relationship would be marred by Bobby's marriage to his wife, Norma, whom he had met at an ice rink in 1959 and whom he married in 1961. Jack and Bobby were never especially close thereafter and his relationship with Cissie would eventually break irrevocably. 
'It quickly became apparent that my mother would never freely embrace the girl with whom I intended to spend the rest of my life,' Charlton wrote in his autobiography.
Post-Munich Charlton had to fight back not just from collective trauma but also from doubts over his best position – outside or inside-left – with some team-mates considering his defensive contributions a 'liability', a story related in Jonathan Wilson's Two Brothers. 
These days he would probably be described as a false nine, playing just behind the striker. The arrival of Denis Law and George Best at the club would transform the team into the continent's best.
In the midst of that rise, he would lead England to World Cup glory, his goal against Mexico in the group stages considered one of the greatest ever. Later, Wayne Rooney and then Harry Kane both surpassed him as England greatest goalscorers.
Charlton and his brother, Jack, were not close after the former's marriage to his wife, Norma
United and the rest of the football world remains in mourning after Charlton's death aged 86
When the final whistle blew on that fateful day at Wembley and the players fell to the turf to celebrate winning the World Cup, there is a moment when Bobby embraces Jack, the brothers united in the historic moment. 
'Our lives will never be the same,' Bobby recalls Jack saying, while Jack remembered he said: 'What is there left to win now?'
It turned out there was still more and now, whenever the greatest ever English player is debated, it will be Charlton's name that dominates alongside Sir Stanley Matthews, Bobby Moore, Sir Billy Wright, Paul Gascoigne and Rooney. 
And yet, the sheer scale of his achievement for club and country, means many will for ever say he comes out on top of that list. And it will remain that way until someone equals his World Cup achievement.
Latest as Sir Bobby Charlton dies
Sir Bobby Charlton dies aged 86: England and Manchester legend passes away after long battle with dementia 
Sir Bobby Charlton death: Touching tributes paid to England World Cup winner and Manchester United great
Sir Bobby Charlton picture special
OBITUARY: With the death of Sir Bobby Charlton, the last gentleman of our national sport has departed 
Sir Bobby Charlton dies LIVE BLOG: The world reacts to the death of the World Cup winner and former Man United star at the age of 86 
What football legends past and present said about the Sir Bobby Charlton
How Bobby and Jack Charlton ended their painful feud of 42 years with a heartfelt hug after falling out over their mum Cissie – as real reason Bobby didn't go to Jack's funeral is revealed 
Sir Bobby Charlton's death at the age of 86 leaves hat-trick hero Sir Geoff Hurst as the SOLE surviving member of the England team that started the 1966 World Cup final 
Sir Bobby Charlton said a day did not go by when his mind didn't return to the Munich Air DIsaster in 1958 
PATRICK COLLINS: Bobby Charlton was a typically England hero 
OLIVER HOLT: Sir Bobby Charlton was more than a footballer
BRYAN ROBSON: Every kid wanted to be Sir Bobby Charlton… he was the role model for every young footballer 
Wayne Rooney admits he's 'still in shock' about the passing of Sir Bobby Charlton 
What sort of player was Sir Bobby Robson?  

Source: Read Full Article