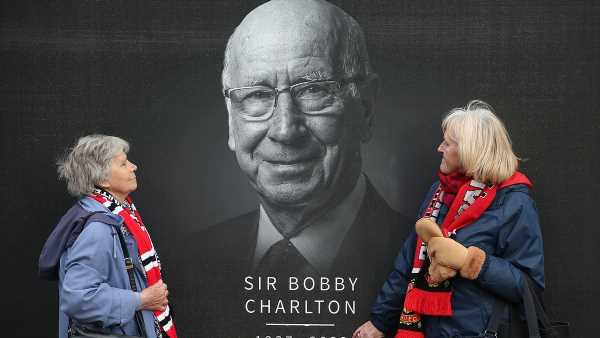 Sir Bobby Charlton elegantly glided around Old Trafford one last time: In a poignant farewell, the cortege paused briefly by the statue where the Manchester United legend is immortalised in bronze as fans paid their respect to an all-time great
Sir Bobby Charlton's funeral took place on Monday in Manchester
The Manchester United legend died aged 87 last month 
Sir Alex Ferguson attended the funeral along with former and current players 
Sir Bobby Charlton never forgot the first time he set eyes on Old Trafford. 
Manchester United's chief scout Joe Armstrong had taken the 15-year-old to lunch after playing in an England Schoolboys trial at Maine Road in March 1953, and their bus drove past the ground on its way to the station.
'I craned to take in the scene as the fans flooded down Warwick Road for that afternoon's United match,' Charlton later recalled. 
'I wanted to jump off the bus and join in the excitement. However, it did occur to me that I had some time to savour the prospect. All I needed was a little patience.'
On Monday, shortly after 1.30pm, Sir Bobby passed by Old Trafford one last time.
Sir Bobby Charlton passed by Old Trafford one final time on Monday afternoon 
Fans gathered at Old Trafford to pay one final tribute to the Manchester United legend, who died last month aged 86
Flowers, flags and scarves were left outside the ground in memory of Charlton 
Your browser does not support iframes.
The fans lining Sir Matt Busby Way broke into gentle applause as the hearse carrying Charlton's coffin edged alongside the place he christened the Theatre of Dreams under leaden skies.
The funeral cortege passed within yards of the Sir Bobby Charlton Stand and the Munich clock and plaque bearing the names of the eight Busby Babes who didn't come home. He never quite got over the feeling of guilt that he survived and his teammates did not.
Across the glass façade of the stadium, the two images of Charlton – one as a player, the other as a director and club ambassador – peered down upon the thousands of mourners either side of the words: Sir Bobby Charlton 1937-2023. Forever Loved.
One elderly fan threw a red United shirt onto the bonnet of the hearse. 
Another placed a scarf there as the cortege passed slowly between a guard of honour made up of academy players from the club's Under-18s and Under-21 teams. There was no better flagbearer for United's youth system than Charlton.
It's incredible to think that he left Stretford Grammar just three weeks after arriving in Manchester from Ashington in the north-east because the games teacher said he had to play for the school team rather than United.
Training as an apprentice electrical engineer, Charlton was often late for work because he couldn't afford a watch. 
He took to standing on the toilet in the bathroom of the digs he shared with some of the other Busby Babes so he could see the clock on Stretford Town Hall, sometimes in the middle of the night.
Fans of all ages gathered to pay their respects to the Manchester United great on Monday
They watched as the funeral cortege made his way down past Old Trafford 
The hearse slowly moved past the United Trinity statue, where Charlton (left) is immortalised alongside with Denis Law (middle) and George Best (right) 
A fan tied a United scarf around Charlton's neck on the statue outside the ground 
That patience Charlton talked about paid off, though. Boy, did it pay off. A total of 758 appearances and 249 goals for United, winning three league titles, the FA Cup and European Cup – not to mention, of course, a World Cup winner with England.
The evidence of it was there in the black and white pictures that served as a backdrop to the Trinity Statue yesterday where he is immortalised in bronze alongside George Best and Denis Law and where the cortege stopped briefly in a final, poignant farewell to Old Trafford.
The picture of a sweat-stained Charlton lifting the European Cup after scoring twice in the final 10 years after Munich, and planting a kiss on Busby's cheek.
Charlton and Eusebio either side of the famous trophy in their later years. Charlton being reunited with Best and Law. Charlton receiving the applause after the South Stand was renamed in his honour, or with Sir Alex Ferguson at the opening of the Carrington training complex.
A fresh-faced Charlton handwashing his own kit at home in Ashington and, many years later, in a suit and tie with that gentle smile of his.
Colin Nicholson was among the fans who turned up to pay their last respects. The 74-year-old fan was at the European Cup final in 1968 to see what he believes was Charlton's greatest performance.
'I was only a teenager but it was the first time I'd ever been to London,' he said. 'I managed to get a ticket for the final, I don't know how. What a privilege to watch him that night.
The late England star was a figure beloved throughout the world of football 
Charlton's funeral was held at the Manchester Cathedral on Monday afternoon
'He's probably England's greatest player. A World Cup winner, European Cup winner and loyal to his club which you don't see a lot today. I felt I had to be here, it's only right.'
Jim Gillan, from Stretford, used to work on security in the players' tunnel at United and remembers Sir Bobby regularly coming down to the dressing-room after games.
'Everyone has spoken about him in a high regard and it's all true,' said the 67-year-old.
'He would come through the directors' box down to the dressing-room every game, win or lose. That was his philosophy.
'Bobby was an integral part of United. Wherever you go in the world, Bobby Charlton was the biggest name they would associate with this club.
'I was brought up watching Georgie, Bobby and Denis in the 60s,' he added, nodding at the statue.
'Bobby is one of the legends of the club, and that's why everybody's here as you can see.'
Janet Warburton, from Urmston, was here on behalf of her family. 'It means everything,' she said. 'He was such an inspiration to everyone. Everything that he stood for behind the scenes at the club for all those years. We're going to miss him around.'
For all the love being shown to Sir Bobby on Monday, there were also traces of the fractured club he leaves behind.
Sir Alex Ferguson was among the thousands who attended the funeral service 
A host of former Manchester United players attended the funeral, including Roy Keane (left) and Paul Scholes (right) 
Harry Maguire (middle) headed a delegation of current United players, which also included Tom Heaton (left) and Luke Shaw (right) 
One banner from the anti-Glazer group, The 1958, paid a pointed tribute to the United legend, referencing Busby's 'red flag' quote to his assistant Jimmy Murphy as he lay seriously injured in the Rechts der Isar Hospital in Munich.
'Sir Bobby, the legacy you left us with. History, dignity and integrity. Our promise to you. We will protect that legacy and keep the red flag flying high.'
Whatever becomes of this great club in the months and years ahead, one thing is clear: there will never be another Bobby Charlton.
As he left Old Trafford for the last time on his final journey towards Manchester Cathedral, you knew that we won't see his like again.
IT'S ALL KICKING OFF! 
It's All Kicking Off is an exciting new podcast from Mail Sport that promises a different take on Premier League football.
It is available on MailOnline, Mail+, YouTube, Apple Music and Spotify.
Your browser does not support iframes.

Source: Read Full Article