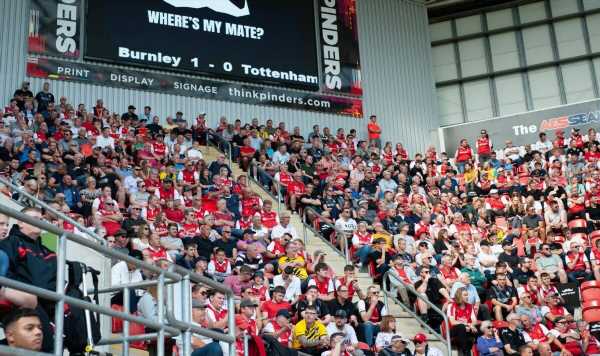 Empty seats at two football stadiums have been adjusted to highlight the message 'Where's my mate'? as part of a campaign to remind people to check in on friends and loved ones who could be struggling.
Rotherham United FC's AESSEAL New York Stadium, and Darlington FC's Blackwell Meadows Stadium, are currently home to the message from men's health charity Movember, with the Northeast and Yorkshire home to the highest suicide rates in the UK.
More than half (55 percent) of those in the Northeast support a local or hometown football team, while over a third (34 percent) of Yorkshire residents do the same, according to a study of 2,000 adults.
However, things are improving with over two thirds (68 percent) of men believing it's easier to talk about their mental wellbeing than it was 20 years ago.
The initiative forms part of the charity's 'Sport the Signs' campaign, which aims to educate men on how to spot initial signs that could warrant a supportive check-in, such as when that mate – who never misses a football game – fails to show up.
The charity wants to heighten awareness around male mental wellbeing in the lead up to World Suicide Prevention Day on 10th September after the research found an informal environment, such as at the pub, or watching a football game, is a time when men would be most comfortable checking in with a friend.
The research found just under half (44 percent) of men in the UK have suffered with their mental wellbeing.
However, two thirds (65 percent) would keep it to themselves if they were struggling, despite 48 percent saying speaking to a loved one has helped when suffering with their mental health.
Dr Zac Seidler, global director of men's health research from Movember, said: "We believe that every football fan holds the potential to make a difference in someone's life.
"With our 'Sport the Signs' campaign, we're turning Rotherham United and Darlington F.C.'s stadiums into platforms of hope for World Suicide Prevention Day.
"Through 'filling' these empty seats with such a poignant message, we want to remind people that noticing the signs, reaching out and supporting one another can truly save lives.
"The only goal we truly care about is to stop men dying too young, and through this landmark collaboration, we hope to equip men with the knowledge, confidence, and tools that could save another man's life."
It also emerged fewer than one in four (24 percent) claim to be good at opening up about their mental wellbeing to others.
While men are also much less likely to open up to a friend about their mental wellbeing (30 percent) than women (42 percent).
Additionally, over half (59 percent) of men wouldn't know the signs to look out for were someone they knew in crisis, and 55 percent didn't know how to reach out and start a conversation.
Despite this, 59 percent said they would be most likely to open up face-to-face about their mental health as when people have reached out to them in the past, 57 percent felt supported, 56 percent felt cared about and 32 percent felt relieved.
According to data, from the Office of National Statistics (ONS), three out of four suicides in the UK, are men, and it remains the leading cause of death among men, aged between 20 and 34.
Psychological research suggests that dominant masculine stereotypes that prevent men feeling like they can't talk openly about their feelings play a large contributing factor to this.
This is particularly true amongst football fans, with the study, carried out via OnePoll, indicating that almost half (48 per cent) of individuals in this community have grappled with their mental well-being.
The 'Sport the Signs' campaign is aiming to spread awareness of the key signs that can indicate that a male friend may be in need and encourage men that if they spot a mate whose behaviour is out of character – don't ignore it, reach out.
To equip people with the skills needed to have open and honest conversations with friends, the charity has created resources to reveal the key, but often missed, signals that could indicate someone is struggling.
"People are often surprised when they realise that the people they see the most are those who sit or stand around them at a football game. 
"We want to encourage people to reach out to those around them to help prevent them from reaching crisis point."
We use your sign-up to provide content in ways you've consented to and to improve our understanding of you. This may include adverts from us and 3rd parties based on our understanding. You can unsubscribe at any time. More info
Source: Read Full Article