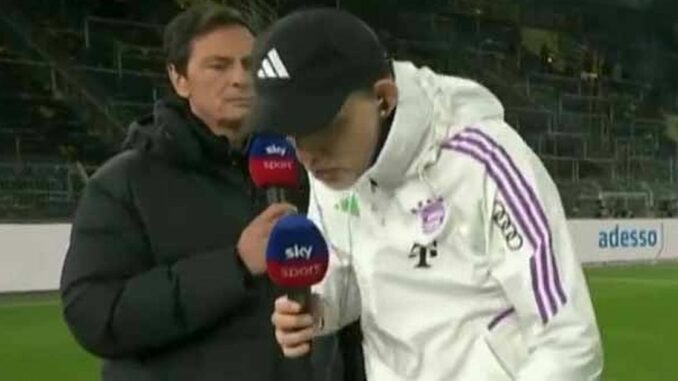 Bayern Munich boss Thomas Tuchel was in entertaining form on Saturday as he hit out at every reporter and Bayern critic in sight.
Tuchel has been under pressure at Bayern following an unconvincing start to the season by the club's lofty standards. But his team put Borussia Dortmund to the sword in Der Klassiker on Saturday as the Bavarians climbed two points off the top of the table with a 4-0 win.
A hat-trick from Harry Kane and another from Dayot Upamecano gave their gaffer all the ammunition he needed to go and take the fight to the press and Bayern icons Lothar Matthaus and Didi Hamann – who have both been critics of him and the team in recent weeks.
READ MORE: Harry Kane 'making a mockery of Robert Lewandowski's career' with Bayern hat-trick
READ MORE: Arsenal back Mikel Arteta rant with statement slamming 'unacceptable refereeing'
Fans said that Tuchel 'woke up and chose violence' after he hit out at one reporter who asked whether he felt any emotional connection to his former club Dortmund, to which he gave his first frosty response, replying: "Of course there are, you just interpret it this way. Of course, I know everyone here, it's my personal thing and we don't have to discuss this before the game, I am focused on the game."
The Bayern boss then took aim at the 'experts' who had thrown plenty of criticism his and the team's way after they were incredibly knocked out of the DFB-Pokal by third-tier side Saarbrucken via a 96th minute winner on Wednesday.
What did you make of Tuchel's comments? Let us know in the comments section.
Tuchel replied to a question why he was agitated speaking about Bayern, he pointed over at the pundits off screen and said: "I don't want to disturb when the experts are talking." The reporter then attempted to press further on Tuchel's reaction, but the German wasn't having it, asking to move on to the next question.
After Bayern's 4-0 demolition, Tuchel still remained in a sour mood as he spoke to Matthaus, who was a pundit at the game. His first answer saw him give a hilariously sarcastic response to rumours of a rift at the club, saying: "Even after tensions between the team and the coach, and the lack of improvement, yeah it's very surprising all of this."
Tuchel and Matthaus soon began a back and forth, but Tuchel was unable to look at the 1990 World Cup winner as he attempted to praise Bayern for their result and performance at the Signal Iduna Park.
As Matthaus wanted to expand on Tuchel's response to Bayern being top of their Champions League group and having to contend with injuries among the squad. Tuchel refused to entertain any more questions as he took out his microphone.
Having the final saying to Matthaus, the former Chelsea boss ranted: "I don't want to limit you, you're just doing your job and that's fine, but I don't want to be part of this discussion here. You have your job, you're allowed to discuss however you like."
The two then shared an awkward handshake before Tuchel stormed away down the tunnel. However, Tuchel's vendetta wasn't settled there as he again hit out at Matthaus and Hamann in his post-match interview.
He said: "For a team who have no progression and with a poor relationship between the coach and his players, it looked okay today, I'd say. And yeah, you'll find out the rest directly from the experts."
Source: Read Full Article