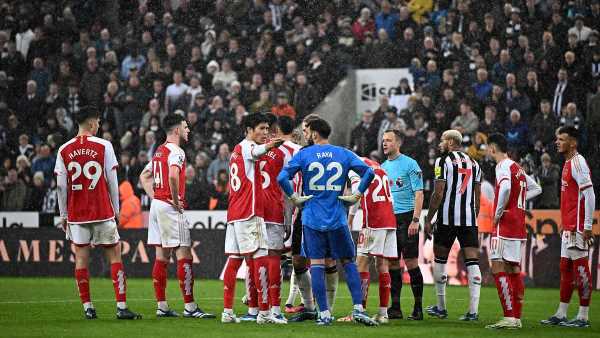 Was this the most complex VAR check EVER? Newcastle's winner against Arsenal was pored over for FOUR minutes, as officials inspected whether ball had gone out, if there was a foul, whether it was handball AND if Anthony Gordon was offside
Newcastle's 1-0 win over Arsenal involved one of the most complex VAR checks in Premier League history as officials took four minutes and six seconds to decide whether Anthony Gordon's goal should stand. 
The Magpies claimed a brilliant win over the Gunners at St James' Park thanks to a 64th minute goal.
With barely anything to separate the sides in a feisty encounter, Gordon tapped in the ball just a yard away from the goal line after Joe Willock's cross.
The former Everton man was the right person in the right place as the ball fell at his feet after Joelinton competed for the ball in the air with Gabriel.
However, match officials took nearly four minutes to decide whether it was indeed a goal and there were three separate incidents to investigate.
Players and fans were made to wait four minutes while a decision was made on the goal
The first issue VAR checked was whether Joe Willock managed to keep the ball in play
VAR first took a look at whether the ball went out of play as Willock attempted to rescue the ball.
It was then being checked whether Joelinton committed a foul on Gabriel as it appeared the Brazilian pushed his fellow countryman in the back.
After it was deemed that was not a foul, VAR tried to look at whether there was an offside as Gordon looked ahead of Joelinton. 
However, it was confirmed that there was no conclusive angle that Joelinton made contact with the ball which means they didn't know whether Gordon was offside.
Footballs fans were quick to criticise the length of time taken by VAR.
One fan said: 'I have seen more calls given for the extension of the arms with contact. This is a clear foul and this doesn't even consider how he jumps on Gabriel's back. Atrocious use of VAR.'
Another wrote on X: 'How on earth does VAR check for the ball being out of play, foul, and offside, and still gets all of them wrong? 
'It's really confusing what these people check and how they ascertain what they check. The most we can get now is a PGMOL apology but at what cost? Shambolic.'
Officials then tried to determine whether this was a push on Gabriel by Joelinton
After those checks, VAR tried to find an angle to show whether Gordon was offside

Source: Read Full Article