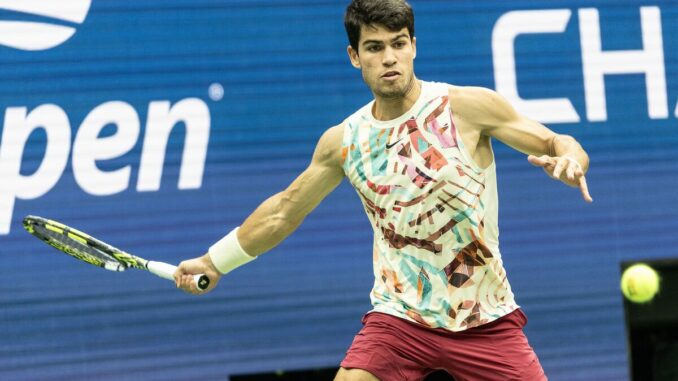 Carlos Alcaraz has been going against the grain at this year's US Open, opting not to train on his days in between matches. The world No 1 sparked concern when he wore strapping on his thigh during his match against Matteo Arnaldi but claimed it was just for precaution. And Alcaraz's explanation for taking rest days at Grand Slams has nothing to do with injuries.
A two-time Major winner, the US Open isn't the first or last tournament where Alcaraz has opted not to train entirely on his days in between matches. The 20-year-old used the tactic 12 months ago, as well as at this year's French Open and Wimbledon.
At the latter event, the Spaniard also chose not to practice on the day before the final. And he still managed to defeat Novak Djokovic in five sets, becoming the first man in 10 years to beat the Serb on Centre Court. Alcaraz has since reused the tactic in New York, as he didn't hit the day before his match against Arnaldi or before his quarter-final against Alexander Zverev.
"There are days when I dedicate my time to fitness and not tennis," the reigning US Open champion explained, per the ATP.  "There are a lot of days when I prefer to work on load training and fitness, rather than practise tennis."
Click here to join our WhatsApp community to be the first to receive breaking and exclusive tennis news
Just in Gauff's coach takes aim at US Open rival and asks Sky Sports to change schedule[LATEST]
Alcaraz still practised on the days ahead of his first, second and third-round matches in Flushing Meadows. But at this year's French Open, he didn't step onto a tennis court on any of his days off. At the time, he said: "I haven't been training on the days I haven't played and it's worked well.
"I'm doing things very well and I feel good. Mentally, I'm fresh. Why change things if it's working?" At last year's US Open, Alcaraz arguably didn't need any extra time on the court after some of his thrilling matches.
The world No 1 needed five hours and 15 minutes to defeat Jannik Sinner in the quarter-final as the match finished at 2.50am, becoming the latest in US Open history. He needed another four hours to beat Frances Tiafoe in the semi-final.
We use your sign-up to provide content in ways you've consented to and to improve our understanding of you. This may include adverts from us and 3rd parties based on our understanding. You can unsubscribe at any time. More info
Don't miss…
US Open star set to fire her boyfriend as coach despite success at home event[QUOTES]
Ben Shelton ends 30-year unwanted US Open streak ahead of Novak Djokovic match[ANALYSIS]
Novak Djokovic locks horns with F1 icon as plans for after US Open confirmed[UPDATE]
Alcaraz's path has so far been more simple this year, dropping just one set in his first four matches. But things are set to get tougher as he takes on Zverev, who leads their head-to-head 3-2 and won their only Grand Slam match at last year's French Open.
If the Spaniard can make it through to the semi-final, he will face either Daniil Medvedev or Andrey Rublev. And if he gets to the final, two wildly different opponents await. In the bottom half of the draw, either 23-time Grand Slam champion Novak Djokovic or 20-year-old Ben Shelton will reach the championship match. It remains to be seen whether Alcaraz skips training again if he continues to progress in New York.
Source: Read Full Article