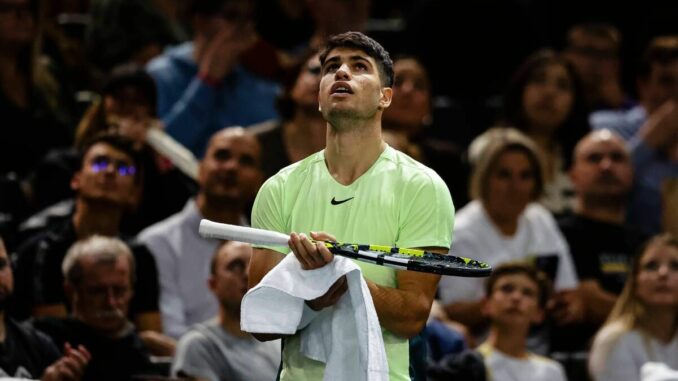 Carlos Alcaraz could soon receive a huge bonus payout if he outperforms his rivals once again at this month's ATP Finals. The young Spaniard has established himself as one of the biggest stars in tennis over the last few years, which continues to be reflected by the ever-increasing value of his bank account.
Alcaraz has already pocketed millions in prize money in the last 12 months after winning Wimbledon, Indian Wells and the Madrid Open.
He is also one of five players in the running to claim another hefty payout at the end of the year from the bonus pool of the ATP Masters 1000 and ATP Finals.
This year, the ATP will provide monetary incentives to the top 30 players with the most points accrued from Masters 1000 tournaments and the ATP Finals.
Details of the bonus breakdown are yet to be officially confirmed, but the top player is expected to receive a prize of around £3.23million.
Alcaraz is currently top of the pile, with the 20-year-old having earned 3,285 points over the course of this year. In second place is Daniil Medvedev, who also won two titles at Masters level in Miami and Rome but can still overtake Alcaraz depending on how he performs at the ATP Finals.
Jannik Sinner currently finds himself in third place and is trailed by Andrey Rublev and Novak Djokovic, with each player having won at least one title at Masters level this year.
The Serbian is fifth on the list with 2,270 points but has only played in four ATP 1000 events in 2023, winning two of them.
It remains to be seen if Alcaraz can stay at the top of the standings to claim yet another huge payout at the end of the year once the ATP Finals have been played out. He was surprisingly dumped out of last week's Paris Masters by qualifier Roman Safiullin and will be desperate to make amends in Turin later this month.
Alcaraz insisted after his defeat that he will be returning to the practice courts to hone his skills ahead of the ATP Finals, saying: "A lot of things to improve, a lot of things to practice. I didn't move well. In the shots, I think I had a good quality of shots but physically, in the part of movement, I have to improve a lot.
"He [Safiullin] didn't surprise me at all because I knew that he has been playing a great level these last few months, beating big guys, reaching finals. I knew that he was going to play a high level. I have time before the ATP Finals, a lot of days of practice to be able to reach that level, the level that I want to play."
Advert-free experience without interruptions.
Rocket-fast speedy loading pages.
Exclusive & Unlimited access to all our content.

Source: Read Full Article