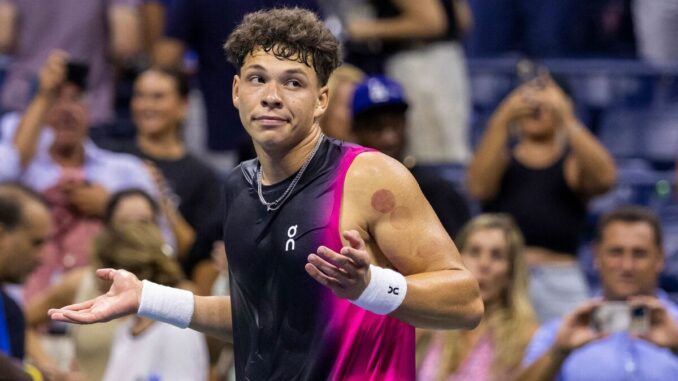 Ben Shelton has admitted that he'll have to try and look past Novak Djokovic's stellar Grand Slam record to focus on what he believes is his own 'advantage' over the Serbian tennis superstar. Shelton is living up to expectations at this year's US Open a little over a year after making his ATP Tour debut.
He shocked the world at the Australian Open as he made it all the way to the quarter-finals before losing to compatriot Tommy Paul. But he's gone one better at his home slam, beating Frances Tiafoe to set up a first meeting with Djokovic for a place in the US Open final.
Andy Roddick is the last male American player to reach the US Open final, back in 2006. To do that, Shelton will first have to overcome his toughest test to date against the in-form Djokovic.
While the 20-year-old is competing in his first Grand Slam semi-final, Djokovic will be playing in the 47th of his career. Twelve of those have come at the US Open alone with Djokovic losing just three semi-finals at Flushing Meadows compared to his nine wins.
Click here to join our WhatsApp community to be the first to receive breaking and exclusive tennis news
Shelton admits that those stats will play on his mind at some point during Friday's match, but he also feels he has an advantage against Djokovic with his unique playing style. He said: "Definitely a tough challenge. I think that whenever you play somebody for the first time and someone who has been in this situation so many times and come out victorious so many times, that's in the back of your head.
"You just know how, you know, rock solid the guy is and how mentally tough, how physically tough. So that's definitely something that I have to game-plan for.
Don't miss…
Novak Djokovic has sent warning to Ben Shelton ahead of US Open semi-final[LATEST]
Novak Djokovic has made feelings on Ben Shelton clear ahead of US Open clash[LATEST]
Alcaraz warns Djokovic what to expect in US Open final with brutal message[LATEST]
We use your sign-up to provide content in ways you've consented to and to improve our understanding of you. This may include adverts from us and 3rd parties based on our understanding. You can unsubscribe at any time. More info
"I also think that, you know, it's an advantage with my game style playing someone who's never played me before. I think that I can bring some things to the table that maybe you don't see in your normal match that you play on the ATP Tour.
"So I'm definitely going to try to bring some things to the table that are different and hopefully disruptive on Friday." He added: "Going into the semifinals, I'm pretty pumped about the opportunity to go back out there and have the same feeling that I had today against, you know, another really tough opponent.
"I have been enjoying every minute on court, interactions with the crowds and just the tennis that's being played. So I hope that I can bring a high level again on Friday."
Source: Read Full Article