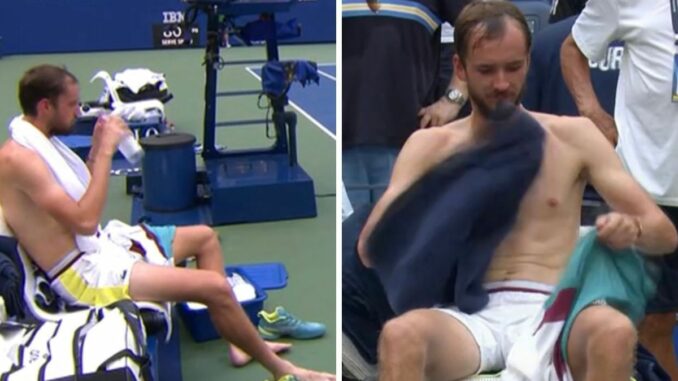 Daniil Medvedev struggled with the conditions during his US Open quarter-final on what was the hottest day of the tournament so far. The world No 3 called the doctor and used an inhaler after complaining of discomfort in his body. And Medvedev stripped down to his shorts to keep cool after taking a two-set lead.
Medvedev and Rublev had an extra opponent during their US Open showdown on Wednesday. As well as playing one another, the pair were battling with the hot and humid weather as temperatures reached the mid-30s.
Both men appeared to be struggling but there was real concern when the 2021 champion called for the doctor mid-way through the second set. Medvedev could be heard complaining about some discomfort as he pointed to the middle of his torso and told the medic that the pain made him want to "hunch over".
The doctor then examined him with a stethoscope before giving Medvedev an inhaler. The 27-year-old had also used an inhaler during his previous match against Alex de Minaur.
Click here to join our WhatsApp community to be the first to receive breaking and exclusive tennis news
Just in Iga Swiatek releases statement after losing No 1 ranking with US Open upset[LATEST]
However, the 20-time title winner struggled to use the inhaler during his fourth-round tie on Monday and later said: "I don't think it worked because I kind of don't know how to use it." This time around, Medvedev could be heard asking the doctor for advice.
And it seemed to do the trick, as the third seed went on to break his opponent and took a 6-4 6-3 lead. With the humidity still in the air, the world No 8 vacated the court for a change of attire break and returned in an all-new kit. Medvedev also took that opportunity to cool off in an unusual fashion.
The 27-year-old removed his shirt before taking his shoes and socks off as he was left on the court in only his shoes. Medvedev also draped an ice towel around his neck and stayed hydrated during the five-minute break before getting dressed once again and returning to the baseline.
We use your sign-up to provide content in ways you've consented to and to improve our understanding of you. This may include adverts from us and 3rd parties based on our understanding. You can unsubscribe at any time. More info
Don't miss…
Alcaraz explains reasons he skipped US Open practice after raising injury fears[EXPLAINER]
Gauff's coach takes aim at US Open rival and asks Sky Sports to change schedule[RECAP]
US Open star set to fire her boyfriend as coach despite success at home event[QUOTES]
It's not the first time Medvedev has struggled with the heat this week, as he looked to be down-and-out in the first set of his match against De Minaur before storming back to win in four. "Brutal match, brutal match, because brutal conditions. So tough, so humid today," he said after dispatching the Australian.
The good news for Medvedev is that the heat rule is in effect on day 10 of the US Open because of the high temperatures. But it could be irrelevant in his match against Rublev, as the pair will only get a 10-minute break if the match extends beyond three sets.
Source: Read Full Article