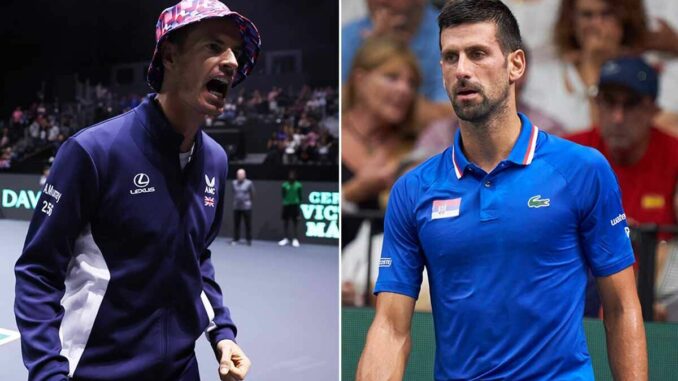 Novak Djokovic says he will 'keep going' after US Open win
Tennis stars Novak Djokovic and Andy Murray both agree changes need to be made to the Davis Cup. Both players are representing their respective nations at the latest stage of the prestigious team event.
But one of the biggest talking points regarding the tournament has been the lack of ticket sales. The current format sees one host nation and three other teams play on foreign soil and has led to a lot of matches being played in front of smaller crowds.
Therefore, it has been harder to sell tickets for ties that do not feature the home side. Both players agreed with tennis legend and Australia's Davis Cup captain Lleyton Hewitt, who branded the new format a "four-year disaster" and called for the higher-ups to be dismissed.
The Davis Cup used to feature home and away matchups, but following the International Tennis Federation's (ITF) $3 billion, 25-year partnership with the Kosmos group, the format changed. In 2019, top teams now play group matches at different cities with the Finals staged at one venue.
Djokovic, who helped Serbia defeat Spain 3-0 before they were beaten by the Czech team this past weekend, said the format needs an overhaul. "The format needs an overhaul, of course, but not being in the ITF I can't tell you what's going on," the 24-time Grand Slam champion explained.
"I hope they consult the players for the change because they never consult us. I think players should participate much more in these types of changes, we all have to sit down together and talk about the future.
"If the ITF doesn't do things right, I honestly don't know what will happen to this tournament. For the sake of tennis and its history, this competition must survive, because it is the longest-running team competition we have. There is nothing more important than representing your country, so we'll see how they redefine the format."
Don't miss…
Stefanos Tsitsipas suffers an absolute disaster in Davis Cup as Greece crash out[LATEST]
Andy Murray sticks middle finger up at boozy Draper after GB's Davis Cup win[LATEST]
Andy Murray wildly celebrates in pink bucket hat as GB may face Novak Djokovic[LATEST]
We use your sign-up to provide content in ways you've consented to and to improve our understanding of you. This may include adverts from us and 3rd parties based on our understanding. You can unsubscribe at any time. More info
Murray on the other hand, was part of a Great Britain team that had no problem filling Manchester's AO arena this past weekend. They reached the final eight in Malaga set to take place in November when Dan Evans and Neal Skupski saved four match points before winning a tense deciding match against France.
Murray was delighted with the victory but while speaking to reporters he claimed the current format of the tennis event is not a long-term solution and called for the previous format to return. "I was on the ATP player council when the initial discussions were had about this format, not one person on the council supported it," the former world No. 1 said. "We're fortunate here because we get to play all of the matches in a brilliant atmosphere, great crowd.
"It is a shame when France and Australia, two of the biggest tennis nations, they love their Davis Cup, and they're playing in front of what feels like an empty stadium. It feels wrong. I think the format will have to change if it's going to be successful again. All the players loved the home-and-away ties, I think the fans loved the home-and-away ties as well. Hopefully, there's a way we can get it back to that."
Source: Read Full Article