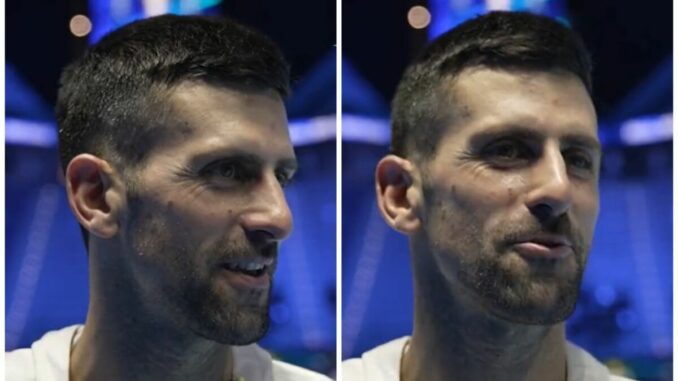 Novak Djokovic showed there is a fine line between arrogance and pure confidence after the world No 1 boldly declared that he only sees himself winning the ATP Finals. Djokovic is gunning to become the first player to win seven ATP Finals titles and the world No 1 has shown no signs of lacking self-belief after being asked about his chances of creating history in Turin with back-to-back titles.
The world No 1 has six titles to his name after winning the end-of-season tournament in 2022, putting him level with his fellow tennis icon Roger Federer.
And he is adamant that no other player has a chance of beating him, even discounting Carlos Alcaraz and Daniil Medvedev with a resounding verdict about his chances.
In an interview with the official Nitto ATP Finals account on X (formerly Twitter), players were asked for their boldest predictions for the tournament. And Djokovic exhibited his tremendous self-confidence about his ability to clinch a seventh title by suggesting in his eyes, there is only one winner.
Click here to join our WhatsApp community to be the first to receive breaking and exclusive tennis news.
READ MORE Novak Djokovic showed true colours after scary Paris Masters incident[INSIGHT]
Support fearless journalism
Read The Daily Express online, advert free
Get super-fast page loading
"If I don't want to be humble and [just] be honest, I'm winning the tournament," Djokovic said. "If I want to be humble… I'm also winning the tournament!"
Djokovic gets his tournament underway on Sunday night as he takes on Rune in a rematch of last year's final. And if anyone thought he had appeared somewhat arrogant in his interview, the statistics show he is currently unbeatable after a run of 18 straight wins since his defeat in the Wimbledon final.
His main rival for the Grand Slams this year and the man that beat him at SW19, Alcaraz, preferred to take a more measured approach: "It's going to be a close tournament, a lot of close matches," the Spaniard said: "I think it's going to be like that, in singles and in doubles."
DON'T MISS
Jack Draper wants Djokovic challenge as he sets lofty ambitions after heartbreak[NEWS]
Djokovic and Alcaraz discover ATP Finals group in 'best line-up in years'[REACTION]
'I'm a 17-year-old tennis wonderkid helping Alcaraz get ready for Djokovic'[PROFILE]
Djokovic's success in the 2022 tournament was his first for seven years after the tournament saw five different winners taste success in the London edition of the tournament when it was staged at the O2 Arena. Andy Murray, Grigor Dimitrov, Alexander Zverev, Stefanos Tsitsipas and Medvedev got their moment to savour before Zverev repeated his success in 2021.
But Djokovic broke the trend with a routine 7-5, 6-3 win over Casper Ruud and his form in 2023 would suggest he has every reason to feel invincible. After claiming three out of four Majors this year to move onto 24 overall, the 36-year-old has also won 51 out of his 56 matches this year – a win rate of 91 per cent.
His six titles this year has also moved him ever closer to catching Federer and Jimmy Connors, who leads the way with 109 singles titles in the Open Era. And wrapping up No 7 in Italy would be the perfect way to sign off after a supreme year for the Serbian.
Source: Read Full Article